Bautista comes back from De Miñaur and Spain achieves its first victory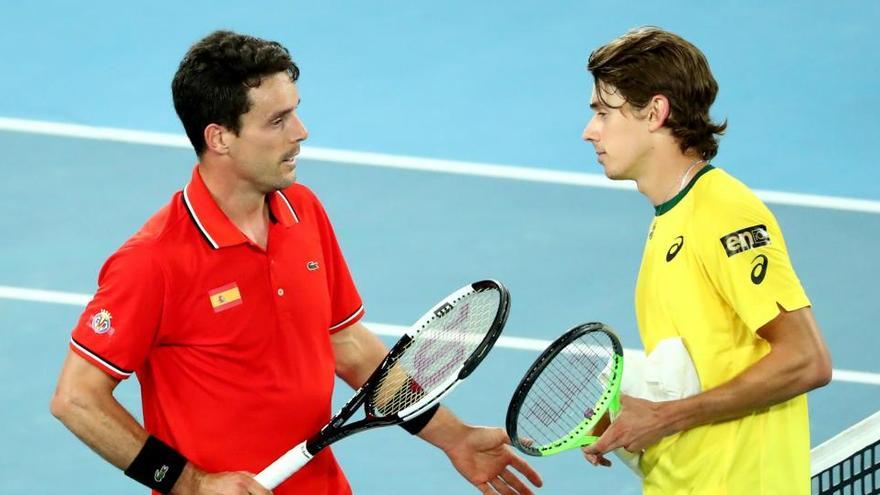 The Castellón Roberto Bautista the comeback culminated and beat local Alex De Miñaur by 4-6, 6-4 and 6-4 and granted, in this way, the first victory for the Spanish team in group B of the Cup ATP, ended with a 2-0 victory against Australia, in a duel in the Hispanic group could not count on Rafael Nadal, touched on the back.
"Everyone knows Alex, a great fighter. It took time to get back on track and get used to the speed of the track. It's never easy to play the first game of the season and I think I have fought well, "said Bautista at the conclusion of the game.
Bautista was surprised in the first set with the most aggressive version of the young Australian and his gestures of frustration towards the bench staged the best feelings that the 'aussie' experienced. "I don't move well, I'm uncoordinated," said Bautista, congested and with signs of despondency.
Nevertheless, his perseverance urged him in the second round after contemplating that his rival did not maintain the state of grace that he presented in the first set.
The gestures of despair this time reached the local bench and Baptist kept his discipline until a last heat that was awarded after maintaining the advantage caused by an early break.
It was the Spanish's first victory over the Australian after De Miñaur prevailed in the only two times they met in the Zhuhai (China) and Paris tournaments during the 2019 season.
The duel between the two came by surprise after the second world finisher Rafael Nadal will announce his indisposition for playing his planned match against the young De Miñaur as a result of back discomfort.
The victory of the Castellón was the first victory for the Spanish team since Asturian Pablo Carreño opened the locker after his exhibition on Australian John Millman.
The doubles match that will mean the third point of the night will not have any significance since the 2-0 result leaves the duel between Spain and Australia sentenced.