Baskonia takes air against a Real Madrid that does not measure up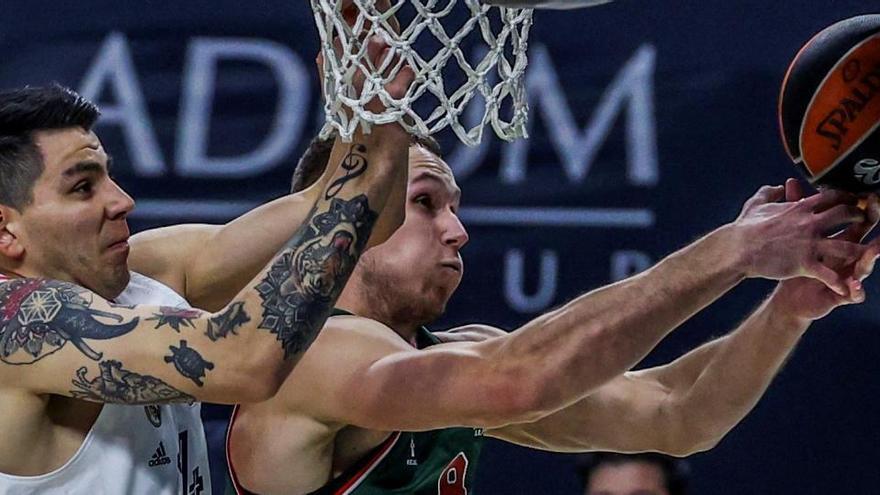 The TD Systems Baskonia stormed Baskonia(64-84) the WiZink Center in the Spanish capital on matchday 24 of the Euroleague, an obligatory victory for the Basques, always in control of the game to keep your playoff options alive, before a Real Madrid that he did not find his game to secure the fourth place in the table.
Those of Dusko Ivanovic Now they see the 'Top-8' two victories, with another victory over the whites as in the first day of this Euroleague. With hardly any margin for error, Baskonia knew how to enter with everything and endure Madrid's threat of reaction, with a Polonara from less to more (18 points) and a last quarter of bombardment to secure the 11-13 in the table. Those of Pablo Laso remain 15-9 and see the 'Top-4' tighten.
The Basque team played it and entered the Palace almost perfectly (15-28). In an unusual quintet only Abalde worked and Laso did not change until he saw a 9-23 against. Madrid lacked rhythm and success, while Baskonia got almost everything, even the last one on Henry's horn, his first basket but with six assists. Nor did the triples enter the whites (1/5).
Jekiri contributed from the inside and the visitor's success was above that of a Madrid that was slow to enter the game. This happened to Tavares, unknown at times, but with five triples and a step forward in defense, Laso's men changed the script (19-9), to go to a basket at halftime (34-37). The Baskonia got caught up in bad decisions and only Diop and Giedraitis responded.
Madrid returned with the defensive line that Rudy marked with his entry but Baskonia maintained control with the actions of Polonara. The champion of the Endesa League needed all his arsenal and the Italian signed up by going in to kill and with two triples. Ivanovic's men protected the rebound and arrived with a good cushion in the last 10 minutes, with another on Henry's horn (52-60).
After complicating it with losses, Madrid found the initial solution with Abalde, but Baskonia unleashed to finish the play at the Palacio and win away from home a month and a half later. Vildoza, Peters and Polonara took the visitor's income to twenty (62-82), to leave a couple of placid final minutes for the Basques, who can believe in the comeback to the 'Top 8'.
Data sheet
Outcome: Real Madrid, 64 – TD Systems Baskonia, 84 (34-37, at halftime).
Equipment.
Real Madrid: Llull (5), Abalde (12), Deck (8), Garuba (2) and Tyus (6) -initial quintet-; Alocen (7), Taylor (-), Causeur (7), Rudy Fernández (6), Thompkins (5), Tavares (6).
TD Systems Baskonia: Henry (6), Giedraitis (14), Peters (16), Sedekerskis (4) and Jekiri (9) -initial quintet-; Fall (2), Vildoza (13), Dragic (-), Raieste (-), Diop (2), Polonara (18).
Partial: 15-28, 19-9, 18-23, 12-24.
Referees: Lottermoser, Latisevs and Vyklicky. Without eliminated.
Pavilion: WiZink Center.