Baskonia separates Joventut and joins the semifinals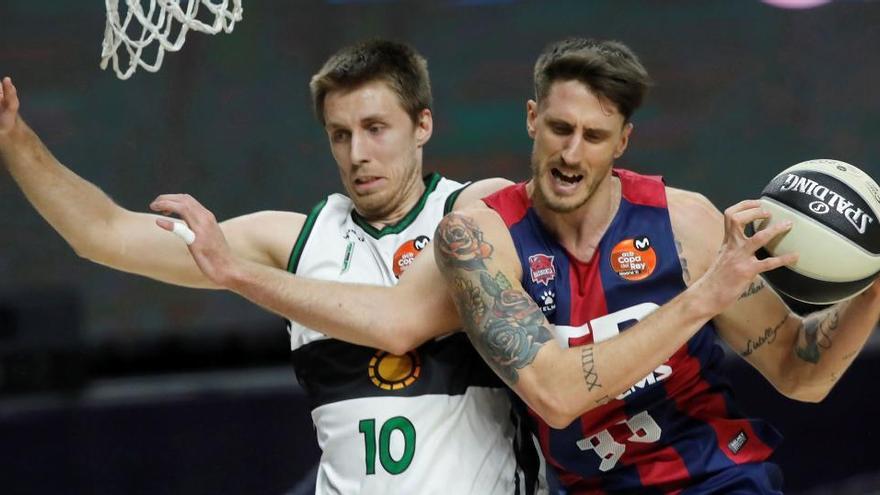 The Baskonia qualified this Friday for the semifinals of the Copa del Rey by beating the Joventut for 96-87 in a match where always dominated on the scoreboard and had the reins of the game.
Without apparent effort or big fuss in their game, Baskonia dominated the game from the beginning (16-6, min.5), with a Joventut who held the pull as best he could.
Rokas Giedraitis and Pierria Henry dominated the first minutes with solvency, while Grigor Dimitrijevic was the most successful of the green and black, although at no point in the first quarter, 28-17, did they give a feeling of being able to balance the scoreboard.
The entrance of Youssoupha Fall was not good news for the 'Penya', since it dominated the hoops at will during the first minutes. However, it was Demetrius Jackson who best understood the game his team needed to try to close the gap, 35-28 (m.13).
But everything remained in an attempt, because neither Joventut gave the feeling of power, nor Baskonia broke the game definitively (55-47 at halftime).
Henry and Aquille Polonara, with their usual dynamism, were the best among the people from Vitoria, while Jackson, Dimitrijevic and an irregular Ante Tomic stood out at Joventut.
There were not too many changes in the third act. Henry continued to dominate and Xabier López-Arçostegui entered the scene on the right foot. Joventut tried to climb a step in defense, but had no results, beyond an approach (68-61, m.25) after two consecutive baskets by Ferran Bassas.
Joventut wanted to, but couldn't, and TDS Baskonia seemed to feel comfortable with an advantage of around ten points, perhaps not to wear out more than necessary. The third quarter ended 78-68.
A 9-0 start in the truth room and almost five minutes without scoring ended up giving the finishing touch to Joventut (87-68, m.34.30).
Baskonia sailed with a firm hand towards the semifinals where they will face the winner of Barcelona-Unicaja.
96 – Baskonia (28 + 27 + 23 + 18): Jekiri (4), Henry (16), Peters (17), Giedraitis (19) and Polonara (19) -five start-, Raieste, Vildoza (7), Sedekerkis (2), Fall (5) and Dragic (7) .
87 – Joventut (17 + 30 + 21 + 19): Dimitrijevic (8), López-Arçostegui (12), Bassas (5), Parra and Tomic (14) -starting five-, Dawson (3), Ribas (6), Morgan (7), Brodzianski (18), Jackson ( 12), Ventura and Birgander (2).
Referees: Carlos Peruga, Antonio Conde and Jorge Martínez. Without eliminated.
Incidents: Third game of the quarterfinals of the King's Cup of basketball played at the Palacio de Deportes (WiZink Center) in Madrid behind closed doors due to the coronavirus pandemic.