Basketball: Zion Williamson, LeBron style | sports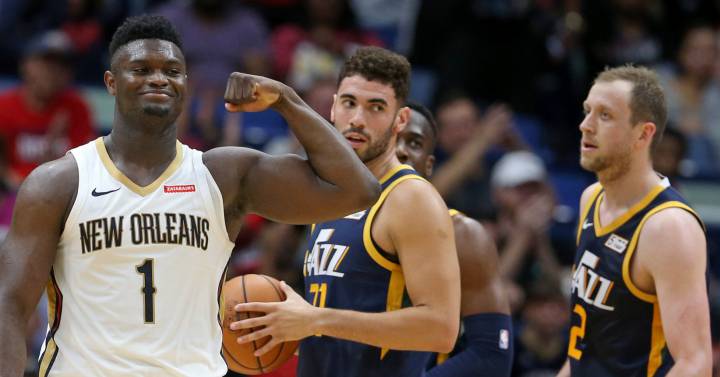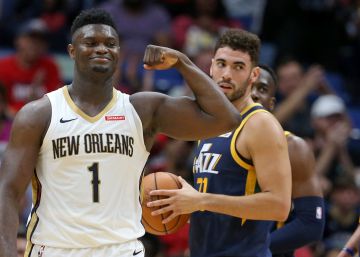 The phenomenon of Zion Williamson extends and multiplies in the NBA. Nothing attenuates him, even when the preseason has just finished dawn and he has played only three friendly preparation. It is enough for this kid who turned 19 in July, 15 days after being elected number one draft For New Orleans Pelicans, have signed amazing performances. Everyone wants to see it, in the 'highlights' or, the most fortunate, up close, even in training. The first was attended by more than 10,000 spectators. The expectation and the clamor were such that the vice president of the franchise, David Griffin, asked him to make a mate to meet the demand of the fans.
In his first game in the NBA, against Atlanta Hawks, he left the first drops of what this force of nature can achieve, a player who has shrunk from 2.01 meters to 1.98 after the new measures officers required by the NBA. Although it weighs 129 kilos, it is all muscle, strong, agile, fast, smart, portentous. His 16 points and 7 rebounds that day were hardly a brushstroke. In the third game, against Utah, with victory of the Pelicans by 128-127, he got 26 points, with a fantastic series of 9 baskets in 12 field shots, with a triple included, and 7 of 9 free throws, five rebounds and an assist in 23 minutes.
"You can't compare with anyone," said fellow Josh Hart. "No one can do what he does with that body, it is a force of nature." Zion has 21 baskets of 25 pitches, 75% effective, in his last two games, something that according to the ESPN had only achieved Shaquille O'Neal (Lakers, 1999), Kevin Martin (Kings, 2008) and Rudy Gay (Kings, 2015).
The phenomenon has been announced for some time, since it began to stand out at Duke University, under the orders of Mike Krzyzewski. Many see in Zion a player that can cause the same impact that produced Lebron James when he arrived in the NBA in 2003, when he had not yet turned 19. Alvin Gentry, the Pelicans coach, relativizes: "We are not going to ask him to put on the cape and fly to save our franchise. He will really be a good player, and every day will be better, and for me the most important thing is that every day works for it. " The warning of Gentry was to be expected. The presence in the team of two bases with very good vision of the game and very good pins, Jrue Holiday and Lonzo Ball, it can be very beneficial for Zion. "He is capable of doing many things: he bounces, penetrates the basket, goes to the free throw line, is aggressive, is agile and is amazing how he moves for how big he is," says Holiday. "Trying to stop him is a huge challenge. With 19 years, his ability to control his body is incredible despite how big he is, his speed and how high he can jump," says his teammate, Italian Nicolo Melli , which often, in training, is responsible for trying to stop him.
Zion has not stopped all summer. Signed his first contract with the Pelicans for four seasons and 44 million dollars, about 39.5 million euros. Not too much compared to the four-season contract he signed with Jordan Brand, the shoe and sportswear brand of Michael Jordan, a subsidiary of Nike. The agreement was for five seasons, and according to the US press, 75 million dollars, 69 million euros. The summer of the new NBA star has been very dense. He has also signed contracts with Gatorade, NBA2K and Panini. Williamson, excluded from the pre-selection of the United States that played the World Cup, has worked during the summer to improve his physique and adapt it to the demands of the NBA. Charles Barkley considers that its weight is excessive for its height. David Griffin, president of Pelicans operations, explains that they are in it. "I still don't know if we can determine a weight. Zion keeps growing. One of the things that is lost in this whole process is that, like Jaxson Hayes (19 years, 2.11 meters), Zion is getting taller. We are not exactly sure when it will stop growing. We will look for the best conditions so that you can develop your enormous strength and speed while controlling your athletic preparation. " And he added that, due to its physical characteristics, Zion is also very similar to LeBron James.
Williamson takes it easy. "That's what the dream was about: getting to the league and having an impact," he says. "I think people will see what I am doing and will say that it is very stressful, but I am having fun. All these meetings, meeting my new teammates and trying to empathize with them is a fun process. I am 19 years old. Two years ago. years, I was in the last year of high school and now I'm sitting here, so I think about that. " The Pelicans, in the last season of Anthony Davis, concluded in the 13th position of the Western Conference with 33 wins and 49 losses. Now, with a quintet formed by Lonzo Ball, Jrue Holiday, Bandon Ingram, Zion Williamson and Derrick Favors, and reservations such as JJ Redick, Alexander-Walker and E'Tawn Moore and Jahlil Okafor, he hopes to return to the playoffs, as in 2018 and, above all, they start a new era, the era of Zion Williamson.
You can follow EL PAÍS Sports in Facebook, Twitter or subscribe here to the Newsletter.