Bartomeu: "Neymar wants to leave, but PSG will not let him. There is no case "| sports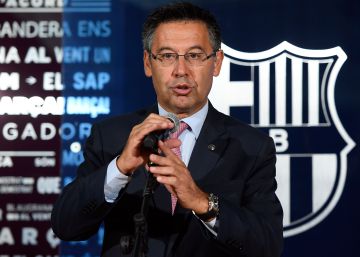 The resignation of Jordi Mestre as sports vice president of Barcelona has nothing to do with the possible signing of Neymar. This has been stated by the president of Barcelona, Josep Maria Bartomeu, during a press conference, this Friday afternoon. "The resignation of Mestre has nothing to do with Neymar or 200% (when the director said that the player would not move from Barcelona). We know that Neymar wants to leave PSG, but we also know that PSG does not want to let you go. There is no case. "
Bartomeu argued: "Two days ago, Jordi Mestre explained to me the reasons why he wanted to leave the sports vice-presidency, one of them was the discrepancies with the sports area and there is also a fatigue of many years the front of the sports area of ​​football "The president of Barcelona added:" It does not mean that there is any crisis, in the end it is about doing it with enthusiasm, and from each situation we are stronger, they are wearing down, there have been many changes, we have desire, hope and project. Today we present to De Jong" He also pointed out:
The general director of Barcelona, ​​Óscar Grau, held a meeting on Thursday with the CEO of Atlético de Madrid, Gil Marín, to talk about the pass of Griezmann to the Barça team.
Bartomeu explained that he assumes the sports vice-presidency, the position left vacant by Jordi Mestre. "I'm used to taking on responsibilities when I play. I already did it when Susana Monje resigned with the economic vice-presidency and when Manel Arroyo did it. It is not a difficult challenge, I know how the market is, although not in these last days. But I will approach again. It's something I like. " He explained that the club wants Dembélé to remain on the staff of Ernesto Valverde. He added that soon the club will make a proposal to Víctor Valdés, who has directed the youth team of Moratalaz.
He was asked about the continuity of Pep Segura, one of the key men in the sports organization chart. "Segura is the general manager and, in a few days, I will do an analysis and, if we have something to communicate, we will communicate it," he said.
Regarding the negotiations to incorporate Nikola Mirotic Next season, Bartomeu said: "I would like to, but I can not confirm it. We are talking to your representatives. I can advance that is advanced, not closed. " Mirotic, who last season played in New Orleans and Milwaukee, is 28 years old and has been in the NBA for five years, since joining the Chicago Bulls in 2014, from Real Madrid. Barcelona intends to incorporate it next season, as well as Álex Abrines.
You can follow EL PAÍS Sports in Facebook, Twitter or subscribe here to the Newsletter.