Barrios Orquestados premieres a musical with 190 of its students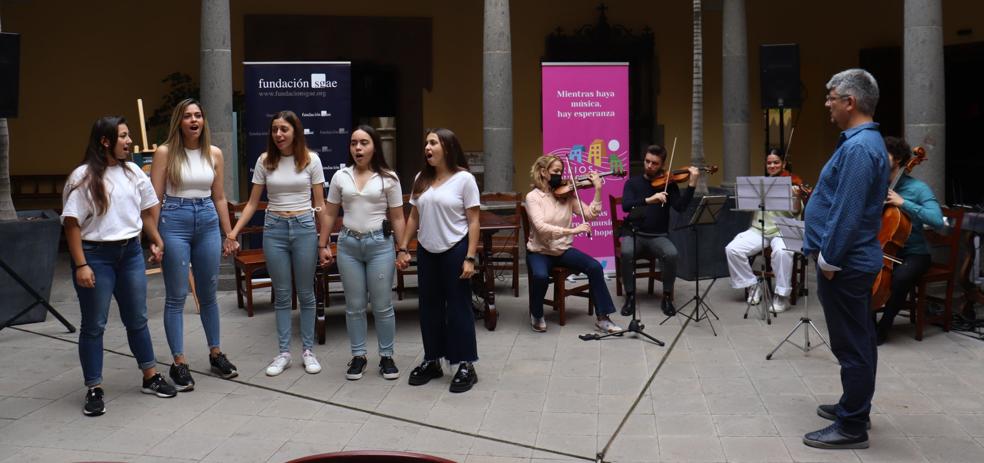 The show 'Casamundo: Entre el mar y la folía', for charity, opens on Sunday at 7:00 p.m. at the Pérez Galdós Theater
On the occasion of his
10th anniversarythe Barrios Orquestados project presents its first musical,
'Casamundo: Between the sea and the foliage', a show that reflects on the consciousness of the human being and his relationship with nature. The goal is to create community and foster the spirit of resilience through art. The next one opens
Sunday, May 8, at 7:00 p.m., at the Pérez Galdós Theater.
The project, in co-production with the
Auditorium and Theater Foundation of Las Palmas de Gran Canaria, has the special collaboration of Fundación DISA, Fundación
SGAE and the City Council of Las Palmas de Gran Canaria, in addition, through the program 'Culture in Action'.
The public will enjoy a show that includes a total of
twelve unpublished pieceswith the intention of evoking the different cultures of each of the mysterious islands inspired by the regions of
Lesvos, Sardinia, Cádiz, Santiago de Cabo Verde and La Palma.
The pieces have received musical influences from multiple styles such as the cantu a tenòre from Sardinia, the morna from Cape Verde, the Canarian folía or
Balkan and flamenco rhythmsamong others.
This charity show raises
funds for the Barrios Orchestrados project in Honduras, with some 700 beneficiaries between students and families. Tickets sold out in just a few weeks, however, there is the option to collaborate through the
zero row.
The plot

The plot tells the story of a boat trip of six young people through five fantastic islands who, faced with an environmental crisis, have had to act and commit to change their future.
During this
exciting journey, and hand in hand with the amazing locals who inhabit these islands, the group of adventurers will live unique discoveries, finding the answers to the questions that emanate from their restless souls.
The musical features the participation of
190 students from Barrios Orquestados from seven neighborhoods on the island of Gran Canaria and represent the citizens of each of the islands on this intrepid journey. The voices of the students will be accompanied by six actresses and live music from the
Master Valley Orchestra.
Trajectory

The Orchestrated Neighborhoods project, which turns a decade this year 2022, was conceived in 2011 by
Joseph Brito along with a team also made up of his daughter Laura Brito.
It begins in the Gran Canaria neighborhood of
Tamara oil to create an orchestra with girls and boys from vulnerable neighborhoods at the socio-economic level and with difficult access to culture.
Since then, it has spread to fourteen neighborhoods in
four islands -Tenerife, Gran Canaria, Lanzarote and Fuerteventura- and has crossed the Atlantic to
Chile and Honduras.