Barcelona's bold injection with Sergiño Dest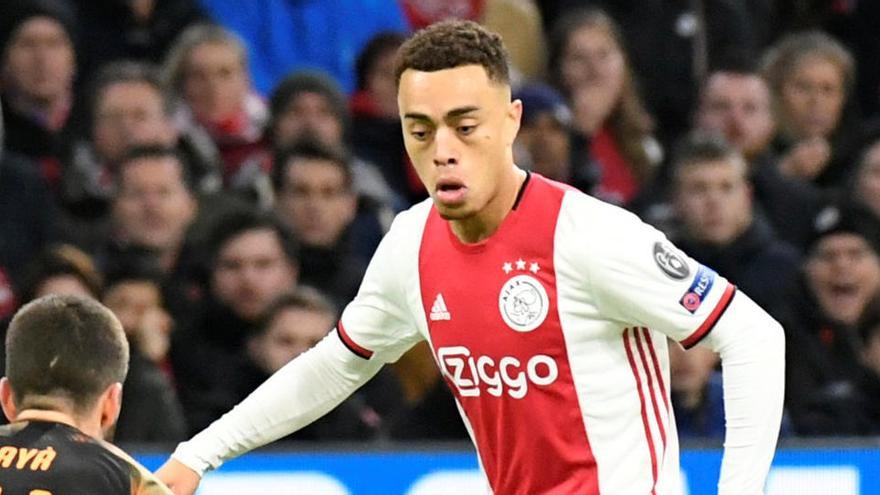 Without the pressure of price, with the curiosity that his origin arouses and the benevolence that his youth generates. This is how it arrives at the convulsed Barça Sergiño Gianni Dest, a different footballer to change the faces of the dressing room and the look of the team. Although it seems like a vulgar signing, because it comes from Ajax (the foreign club that has supplied the Barça squad the most) and it is a right-back, a position of little relevance for a team that aspires to be champion of everything.
Dest will arrive at the Camp Nou -in the absence of a negotiating accident- for 20 million plus 5 in variables, an acceptable price if it is to compete with the memory of the priceless Dani Alves (35.9 million in 2008) after the subsequent failed bets: Aleix Vidal (18 plus 4 cost), the criticized Nelson Semedo (30 plus 10 in variables), the unforgettable Douglas, the unpublished Wagué and the unclassifiable Emerson, half-signed with the Betis and still training at Villamarín.A player without fear
A blind faith places Barça on the very young Dest (20 years old will be on November 3), by giving him the responsibility of defending the entire right wing. And to attack down that lane, since That is the greatest virtue of the footballer, of an American father and a Dutch mother, born in Almere (Holland), half an hour from De Toekomst (The future), the sports city of Ajax, in that almost memorized journey that he has been doing since he was 12 years old.
Dest would be a winger on any team that played wingers. But at Barça he will do it in defense to contribute, however, his best quality: the ability to break into attack. "He's not afraid of making plays that would correspond to a more advanced player, nor to get into the area. She has the same dribble a winger would do. "Late for Holland
This is how Tab Ramos, the former United States U-20 coach, described him, who beat all the Dutch coaches to recruit Dest for his country. When Ronald Koeman saw that talent to lead him to absolute orange, it was too late. It was not too late to insist on his signing for Barça against the interest of Bayern Munich.
"As a child I only thought to play for Ajax and the Dutch national team. Never for the United States. But the Netherlands did not approach me," Dest clarified after choosing. Being an American made him want to leave on the stage that Ajax did in Qatar in January. "I traveled many times to Amsterdam to see him train, play, have dinner, meet his parents … This direct relationship is important for the players ", explained Ramos, a former Figueres player (1990-92), to the Tot Costa de Catalunya Ràdio program.
A winger with an extreme soul will sign Barça, although the defense's main virtue should be to defend. Quick reaction, it is not won in the individual duel, but he is vulnerable in the passing game and still weak in the charge.
The virtues are more striking. They weigh more. He drives with his head raised and, being right-handed, he handles left-handed with ease. His individual dribbling technique is typical of a striker and he dares to try elastic one-on-one. "Lots of energy"
Will be presented in Barcelona mastering the mechanisms of the combinatorial game of passes. Maybe get that Messi look at his back and give him a ball to take advantage of the Barça right wing. Since Dest is 19 years old, she still has "a ton of stamina" to regain position after each attack. "The important thing is to defend well," said Ramos, who also passed Konrad de la Fuente, the winger that Koeman had promoted in the preseason.
Sergiño and Konrad provide an easy and perhaps free comparison on the procedures and standards that Ajax and Barça follow. One has exploded and He has already reached the elite until his debut with the absolute with 18 years. It was in November against Canada (4-1), against Alphonso Davies, the left-handed Bayern winger, that Semedo was sentenced.
After half a season at the subsidiary, Dest debuted with the first team in July 2019 in the Dutch Super Cup. He played as a left back, instead of Nicolás Tagliafico, who participated in the Copa América with Argentina. He defended that position with such ease that he already stayed. "He knows how to defend, but he can also make a difference in attack", said Eric ten Hag the Ajax coach.
In September, the club invited him to extend his contract from 2021 to 2022 to have bargaining power when they came looking for his penultimate jewel. It's easy to imagine Marc Overmars sitting in his sports director's office waiting for the call from Barcelona.