Barcelona thrashes bottom and is already four points behind Atlético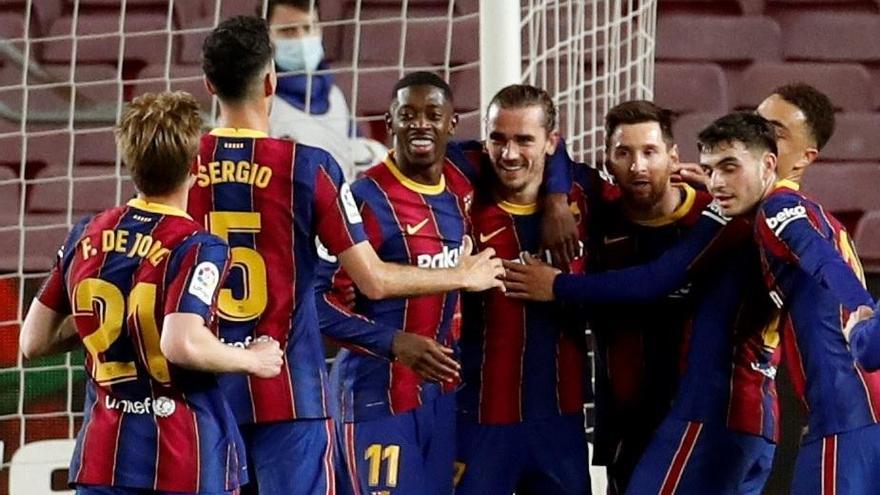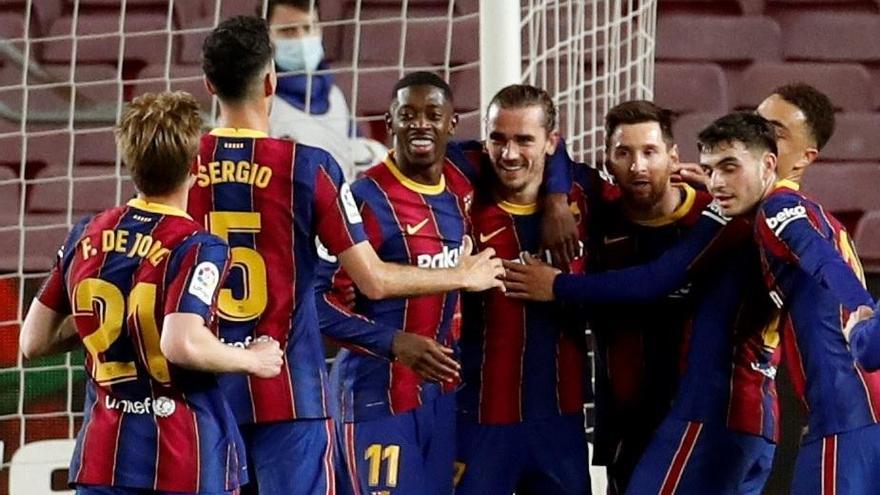 Finally the Barcelona lived a quieter night at the Camp Nou, with two more goals from Messi, and added before the Huesca a victory (4-1) for get closer to the leadership in LaLiga, held by Atlético de Madrid, from whom he is separated by only four points with eleven games to play.
Only four, because at the beginning of the year, Koeman's men were eighth, ten points behind Atlético, who also had a game to play.
But since then, the Catalans have been solid. They have added 45 of the 51 points at stake, but above all they know what they are playing. Koeman has hit the key and everything flows.
Two shots on the stick, two beautiful goals and a penalty that highlights the doubts generated by the VAR and its effective use. That is what the first half gave of itself, in about 45 minutes in which Koeman signed a good football, with solvency and without doubts, but which was clouded by a penalty at the last minute, which few understood.
Koeman put into play a 3-5-2, again with De Jong embedded as central, looking for the bands and the projections of his forwards.
Pacheta's men entrusted everything to the Cádiz tactic, which took a point from the Camp Nou, after much defensive work and a pinch of luck for a penalty designated at the last minute.
If it was not repeated tonight, it was not because of the penalty, very doubtful indicated in an action by Ter Stegen to Rafa Mir, but because Barcelona had gone ahead with two goals.
They were two great actions, two shots from outside the area. Messi's first, who opened the scoring in the 13th minute in his 767 game as a Barça player, after an exquisite oriented control after eluding Pulido and putting the ball in the right square of Álvaro Fernández's goal.
Messi was able to score 2-0 in the 15th and Alba, also in the 33rd, but his shot hit the crossbar and the post. Yes Griezmann scored in 35, after a combination with Pedri, and place the ball, more or less, in the same place that Leo had previously put it (2-0).
Barça could finish the game through De Jong, in 42, but who scored was Huesca, with a very rare penalty. Before that action, Maffeo, with a great individual action, put ter Stegen to the test in the 26th.
Shortly after the start of the second half, a Messi center was finished off by Mingueza (3-1, min. 53), in the first goal as a professional for the Barça youth center.
Shortly after Rafa Mir failed, under the sticks, a service from Escriche and the game from then on was flatter, with fewer shocks. Practically in the last action of the match, Messi scored from another distant shot to close the 4-1 and adds his twenty-first goal in LaLiga to stay ahead of the scorers table.
4 - FC Barcelona: Ter Stegen; Mingueza, De Jong (Araujo, min. 63), Lenglet; Dest (Ilaix, min. 69), Sergio Busquets, Pedri (Riqui Puig, min. 85), Alba; Griezmann (Trincao, min. 69), Messi and Dembélé (Braithwaite, min. 85).
1 - SD Huesca: Álvaro Fernández; Pulido, Siovas, Insua (Vavro, min. 78); Maffeo (Pedro López, min. 78), Ferreiro (Ontiveros, min. 78), Doumbia (Sergio Gómez, min. 60), Mikel Rico, Javi Galán; Dani Escriche (Seoane, min. 60) and Rafa Mir.
Goals: 1-0, min. 13: Messi. 2-0, min. 35: Griezmann. 2-1, min. 45 + 4: Rafa Mir. 3-1, min. 53: Mingueza. 4-1, min. 90: Messi.
Referee: Cordero Vega (Cantabrian Committee). He showed yellow cardboard to Escriche (min. 48) and Insua (min. 60).
Incidents: Match of the twenty-seventh day of LaLiga, played at the Camp Nou. No spectators.