Barcelona solve their visit to Elche without artifice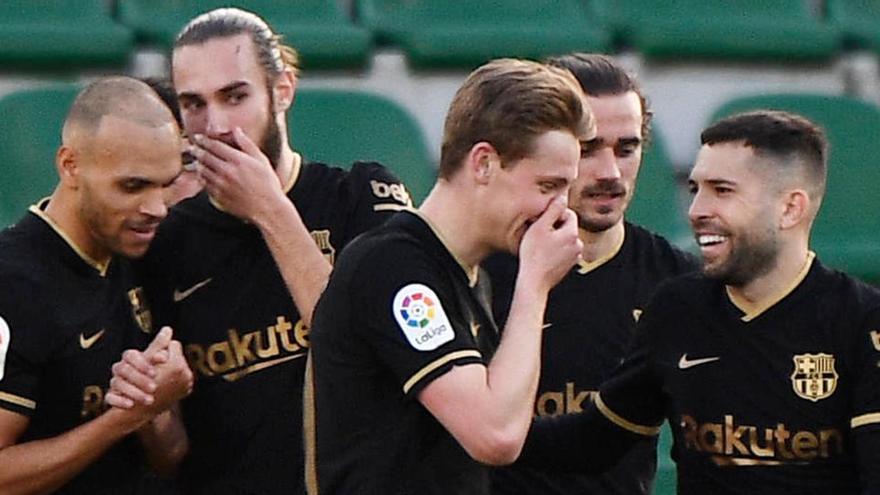 He Barcelona achieved a lackluster victory in Elche (0-2) That allows him keep up your winning streak at home in The league and it further aggravated the situation of the Elche team, which has its thirteenth game without winning.
A goal from De Jong at the end of the first half and another by Riqui Puig, in the twilight, were enough for the Barcelona carry out a commitment marked by the absence of Leo Messi and in which Ter Stegen was again providential by saving his team on the only occasion from Elche.
Ronald Koeman's team complied with the script from the first minute and assumed absolute command of the game against a Elche to profit from some mistake of his rival.
The Catalan team, with a slow and predictable rhythm in their engine room, loaded almost all their attack game on the side of Dembélé, who maintained a tough fight with their marker, the Colombian Mojica.
Barcelona, ​​very stuck and imprecise in their attack game, could only generate some danger in set pieces and in distant shots from Busquets and Pedri.
Elche, who did not suffer in defense, he was encouraged to launch the attack as the minutes passed and he went around Ter Stegen's goal with a header from Raúl Guti that went high.
Almirón's team felt more and more comfortable, since their collective work had achieved disconnect Gierzmann and Braiwhite from the party, while Pedri and Alba hardly had an impact on the game.
But an acceleration from Barcelona on the left wing of the attack allowed him to open the game at the edge of the break. Braiwhite won his back on the defense and sent a center to the area that De Jong transferred to the network on the line after a faulty clearance by Diego González.
Elche accused the emotional impact of the goal in the first moments of the second half, in which Barcelona played at pleasure, although with the passage of minutes it was advancing its pressure lines and accumulating players in attack.
He Elche's team had their great opportunity at the feet of Argentine Rigoni, to which Ter Stegen denied the goal in a heads-up after a very serious mistake by Mingueza.
Seconds later, it was Edgar Badía who stood out in the other goal by stopping a shot from Dembélé.
Barcelona, ​​very tired, did not allow the game to get out of control and he returned to lower the revolutions of the game with a slow football and without depth.
Almirón tried to reactivate his team with the changes, including that of veteran Nino, but it was Barcelona who came closest to the goal.
Badía twice prevented Trincao from making his debut as a scorer with his team, butor could not stop a great header from Riqui Puig, who had only been on the field for a few seconds. The goal put the rubric to a gray victory for Barcelona against a rival in free fall.
Data sheet:
0 – Elche CF: Edgar Badía; Barragán, Verdú, Diego González, Mójica; Josan, Marcone, Guti (Luismi, min. 74), Víctor (Nino, min. 81), Rigoni (Tete Morente, min. 74) and Lucas Boyé.
2 – FC Barcelona: Ter Stegen; Mingueza, Araujo, Umtiti, Jordi Alba; De Jong, Busquets, Pedri (Riqui Puig, min. 86); Griezmann, Braithwaite and Dembélé (Trincao, min. 73).
Goals: 0-1, min. 38: De Jong. 0-2, min. 88: Riqui Puig.
Referee: Pizarro Gómez (Madrid Committee). He showed a yellow card to Sergio Busquets and Griezmann, from Barcelona.
Incidents: Meeting corresponding to the nineteenth day of The league Santander played at the Martínez Valero stadium in Elche behind closed doors.