Barcelona overwhelms a defenseless Baskonia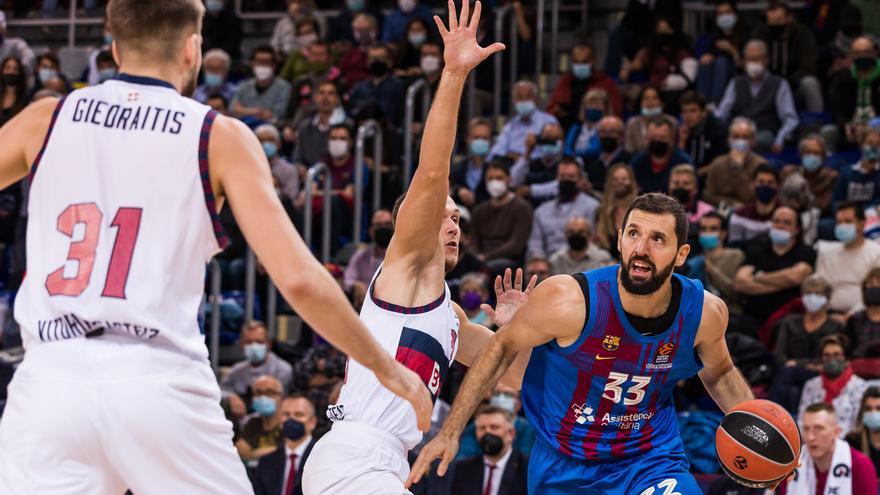 The Barcelona he had no mercy on the worst Baskonia that is remembered and met with victory (93-67) on the Euroleague in a match that was only competed in the first five minutes.
The people from Vitoria proved to be a team without a soul, which broke down at the first change and without defense or success in the triples (4 of 19) they had nothing to do against an opponent in need of a great victory after their last two defeats in Tel Aviv and Milan.
Nikola Mirotic showed off by scoring 25 points, with 7 of 7 in field goals and only one missed free throw, in addition to adding 8 rebounds and 2 assists to add a PIR of 37. In Baskonia, Steven Enoch stood out, the only one of Dusko Ivanovic's men who was at the height of the game, with 22 points and 8 rebounds.
The Vitorians started well with two dunks by Steven Enoch and a basket by Granger in their first three attacks (2-6, min. 2), with Nikola Mirotic answering for the Catalans with his points, but stopped short with 10- 10 before five minutes.
Two triples from Laprovittola, who took the place of the injured Cory Higgins in the five starter for Barça to add 11 points in the first half, and another from Sertac Sanli sank the Vitorians, who conceded a partial of 18-0 to see 18 points below (28-10, min 19)
With Brandon Davies on the track, the Vitorians lost their initial lead near the basket and the American pivot along with Kyle Kuric launched Barça to a maximum advantage of 25 points (48-23, min. 18).
Nothing worked for Dusko Ivanovic. Starting with his poor defense in transition. Wade Baldwin was on his usual bad line and Landry Nnoko couldn't compete with the centers near the rim. Lamar Peters made his debut but went completely unnoticed. Only Steven Enoch, with 14 points and a great block to Brandon Davies, was at the height of the shock.
The lousy percentage of success in the baskonistas' triples did not contribute to cut the Barça streak. His first basket from long distance was achieved by Giedratis in the last minute of the first half to leave a 1 of 7 from 6.75. A basket from Calathes left the scoreboard at halftime at 55-31.
Nikola Mitoric found the situation propitious to show himself with 3 triples from three attempts and a total of 11 points in five minutes that allowed Barça to put the difference back above thirty points (73-37, min. 28).
Baskonia were a lost soul and did not improve in the third quarter. Quite the opposite. He only added 10 points and continued at the mercy of a Barça that continued to insist on defense, again with Brandon Davies on the court, to finish the fourth 40 down (81-41).
Dusko Ivanovic's team managed to stop the bleeding in the last quarter spurred on by eight points from Matt Costello and Rokas Giedratis scoring two triples (88-62, min. 38) to slightly make up the final result by scoring 26 points in the fourth quarter.
Dusko Ivanovic gave Lamar Peters minutes to familiarize himself with the game and Sarunas Jasikevicius did the same with Michael Caicedo, to the delight of Palau Blaugrana. The young promising Barça player scored his first basket in the Euroleague when he finished off a counterattack with a mate, to the jubilation of the fans.
Data sheet:
93 – FC Barcelona (32 + 23 + 26 + 12): Calathes (9), Laprovittola (11), Hayes-Davis (2), Mirotic (25), Sanli (8) -starting team-, Davies (11), Martínez (3), Smits (4), Oriola (2) , Kuric (8), Jokubaitis (8) and Caicedo (2).
67 – Baskonia (15 + 16 + 10 + 26): Granger (4), Fontecchio (4), Giedraitis (14), Sedekerskis (2), Enoch (22) -starting team-, Costello (8), Peters (4), Baldwin (3), Marinkovic (4), Nnoko (-) and Kurucs (2).
Referees: Javor (Slovenia), Difallah (France) and Nikolic (Serbia). Without eliminated.
Incidents: Match corresponding to the ninth day of the Euroleague played at the Palau Blaugrana before 4,398 spectators.