Barcelona crashes against Levante and adds a point that takes them away from the title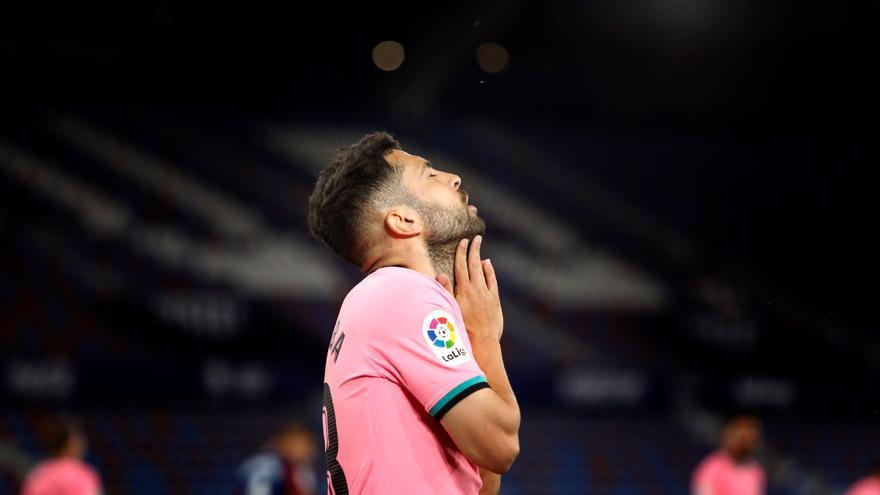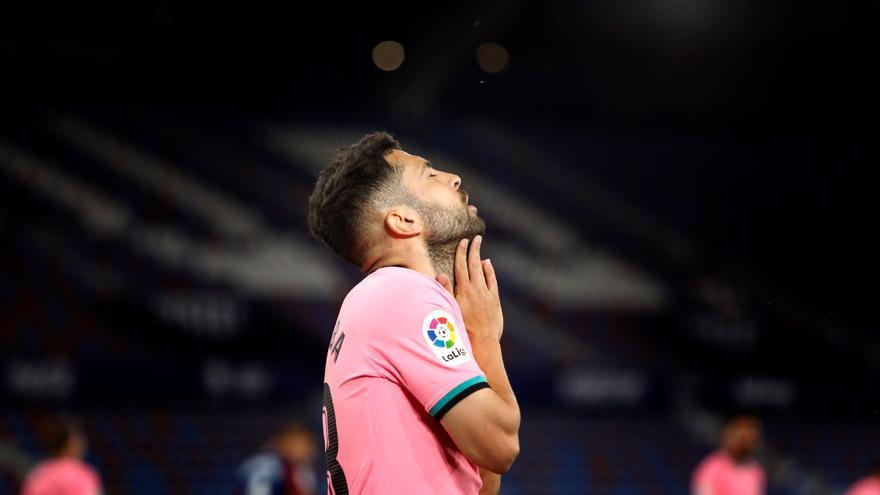 The Barcelona tied at three goals against an irreducible I raised and he left two points and a good part of his chances of winning the title of LaLiga, after a game that dominated by 0-2 at halftime and that again knew how to put his face when the Valencians drew, although a last goal by Sergio León was the final equalized (3-3).
Those of Ronald Koeman once again accused their defensive weakness and they gave life to a Levante that showed a lot of character and never fell apart, equaling for two occasions a game that was vital for Barcelona in their fight for the league title.
The Catalan team went out in a rush in search of the needy three points and in the first ten minutes he unraveled a Levante that survived thanks to the fact that Pedri was not lucky in the first two clear occasions of the match.
Slowly Levante managed to stop the momentum of the Barcelona fans and stretch towards the Ter Stegen area, although without generating excessive danger. The match unbalanced the same as always. In the middle of the first half, Messi finished off with a half volley, falling off a lateral center and opened the scoring. Just ten minutes later, Dembelé took advantage of his speed tip to win the game against Duarte and serve back, so that Pedri scored the 0-2 and will leave the game on track at halftime.
In the resumption, the lift stretched in search of a goal that would get him into the game and took advantage of Barcelona's relaxation to tie the game in a seen and unseen. Ten minutes after the restart, Melero won the position of Sergi Roberto and headed a lateral cross from Miramón to put the 1-2. Barça accused the blow and faltered. Morales saw how the first one who had it was blocked by a defender while the second, almost followed, went inside after a great volley after making a wall with Roger.
Levante went for the third but was hunted by Barcelona in a high recovery that Dembélé resolved with a powerful shot. The game in the second half was totally out of control and with the new script twist everything was possible. The Valencians brazenly sought to draw against a Barcelona that tried through possession to slow down the game to maintain their advantage, but Levante again took advantage of an error by the Catalan defense to tie after Sergio León took advantage of a Toño's side service.
Barcelona sought desperately a new goal to give him the long-awaited victory but ran into a well-ordered rival in defense who knew how to maintain and defend a point that ensures permanence.
Data sheet
3. Lift: Aitor, Miramon (Coke, m.75), Vezo, Rober, Duarte (Dani Gómez, m.61), Toño; De Frutos, Bardhi (Malsa, m.61), Melero, Morales (Giorgi, m.90); Roger (Sergio León, m.75).
3. Barcelona: Ter Stegen; Araujo (Sergi Roberto, m.46) (Riqui Puig, m.85), Piqué, Lenglet; De Jong, Sergio Busquets, Pedri (Mingueza, m.74), Jordi Alba; Griezmann (Braithwaite, m.81), Messi and Dembélé (Dest, m.81).
Goals: 0-1, m.25: Messi. 0-2, m.34: Pedri. 1-2, m. 57: Melero. 2-2, m.60: Morales. 2-3, m.64: Dembelé. 3-3, m.83: Sergio León.
Referee: Munuera Montero (Andalusian Committee). He admonished De Frutos and Morales for Levante and De Jong and Lenglet for Barcelona.
Incidents: Match corresponding to matchday 36 of LaLiga Santander played at the 'Ciutat de Vaéncia' stadium without an audience. In the run-up to the match, the president of Levante, Quico Catalán, presented Sergio Postigo with a commemorative shirt for his hundred games with the Valencian club in the First Division.