Barcelona assaults the WiZink and manages to defeat Estudiantes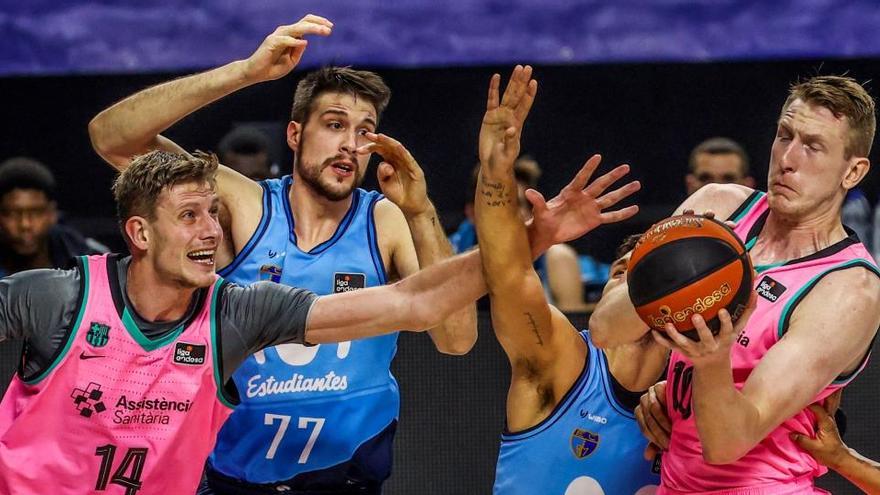 The Barcelona achieved a massive victory against the Movistar Students which was cemented, above all, in the first two quarters of a match in which the American John Roberson, with a PIR of 24, stood out in the collegiate team, and the Ukrainian Artem Pustovyi, who scored 18 points for the Barça team.
The Catalan team, on a roll in the Euroleague After chaining five consecutive wins, he started the game with a very high pace of play that surprised the Madrid team, especially with two triples by Alex Abrines and two others from Nikola Mirotic in the first room.
Movistar Students he missed his captain, Edgar Vicedo, on the track, who tested positive for coronavirus a few days ago and is doing well, with mild symptoms, recovering from the disease.
That trade on the track He had to be replaced by other players such as Serbian Aleksa Avramovic or American Alec Brown, who sustained his team at times, although Barcelona's defensive difference was also noted with the twenty-seven rebounds that he counted at halftime by only twelve of the locals.
In the third quarter the forces were equalized because Barcelona lowered their intensity, Although that did not translate into less difference on the scoreboard for Movistar Estudiantes, but rather that the Catalan team did not extend its advantage because it also began to waste free throws.
With little to decide, the last ten minutes of the game were almost purely formal. The college team threw pride to make up the result and reached twelve, almost at the end, with a triple from the American John Roberson, in a quarter in which the Ukrainian Artem Pustovyi and the Latvian Rolands Smits did take advantage of their minutes, who scored nine points each.
Data sheet:
78 – Movistar Students (14 + 13 + 25 + 26): Roberson (16), Giedraitis (9), Gentile (6), Brown (19) and Víctor Arteaga (9) -the starting five- Avramovic (12), Cvetkovic, Solá, Djurisic (2), Rubén Domínguez and Delgado (5) .
92 – Barcelona (25 + 23 + 24 + 20): Abrines (6), Higgins (7), Calathes, Oriola (11) and Mirotic (14) – starting five – Bolmaro (5), Smits (15), Hanga (5), Pustovyi (18), Kuric (6), Heurtel (3) and Sergi Martínez (2).
Referees: Esperanza Mendoza, Arnau Padrós and Carlos Peruga. They eliminated Gentile,
Incidents: match corresponding to matchday 10 of the Endesa League played without an audience at the Wizink Center in Madrid.