Barça's agonizing triumph against Fuenlabrada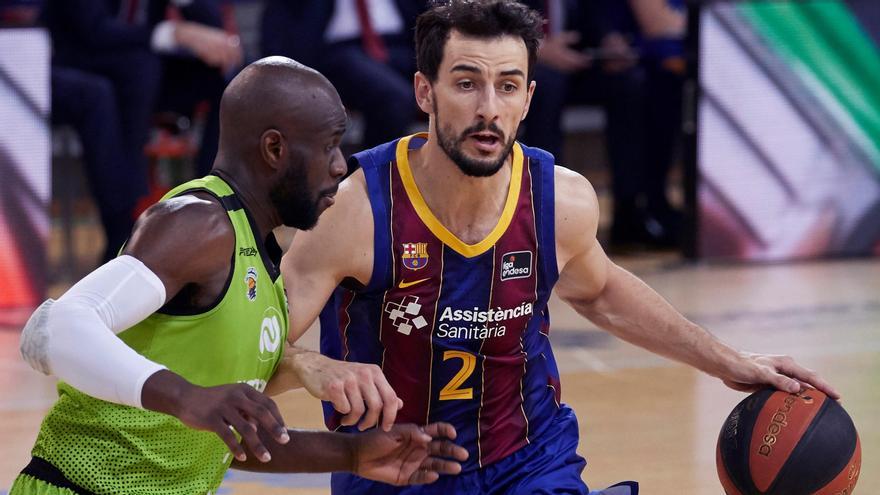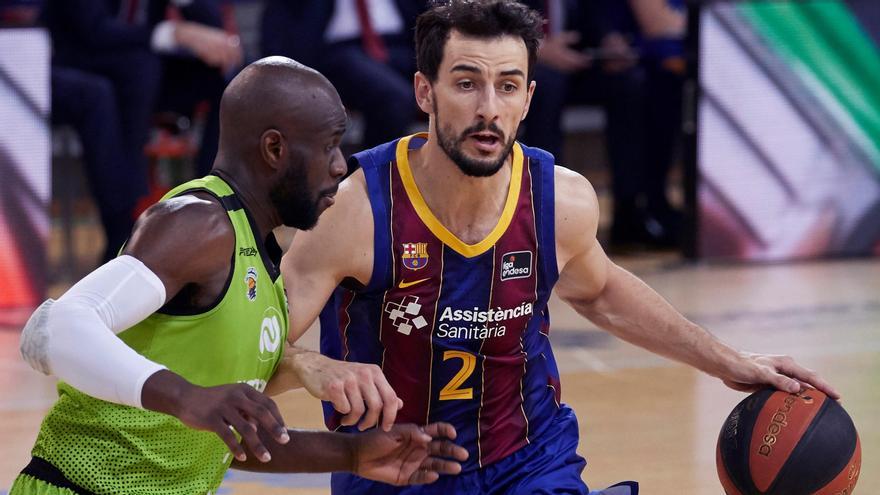 The Barça follows in the wake of Real Madrid after winning this Saturday at the Palau Blaugrana at Urbas Fuenlabrada by 81-79 and add his eleventh consecutive league victory, suffering until the last second against an opponent who never turned his face and who even had the option of winning.
The absolute dominance of Barça in the offensive rebound (19 sacks), with Brandon Davies and Rolans Smits unstoppable, was key to the visiting defeat that, despite their losses, disturbed the Catalans until the end.
Barça coach Sarunas Jasikevicius, with Cory Higgins injured, has ruled out Nikola Mirotic and dosed troops thinking about his very important match of Euroleague next Tuesday at the Maccabi track, which could mathematically give him the first place in the regular phase with two days left.
The Fuenlabrada today premiered its third coach of the season, after Paco García and Javi Juárez, the Catalan Josep María Raventós, who will have a difficult task until the end of the season, to try to save a team, sixteenth in the table and that has only added two victories in the last ten days.
Barça has gone far from their usual rhythm and this has allowed Fuenlabrada, despite not dominating the rebound (11 sacks to 2), with Pustovyi dominating the paint, hold the local attack, with Kyle Alexander very effective, in the first fourth (20-17). In the second, the Catalans insisted on shooting 6.75 (0 of 7), accumulating losses (11 at halftime) and after a partial of 0-11, the Madrilenians were placed with 22-29 (m.15), thanks Melo Trimble and Jovan Novak.
After 31-35 at halftime, The Catalans came out slow again and a triple by Obi Emegano made it 31-40 (m.21) in the electronic.
A triple by Abrines (2 e 15) and a basket after an offensive rebound by Rolands Smits cut (36-40, m.23). Those from Raventós did not lose their composure (40-47, m.25) although Brandon's entry Davies (4 points in a row) and another triple from Abrines tied the game (47-47, m.26).
An unsportsmanlike attack came on Bolmaro and the Argentine base made two free throws and a triple in a row to advance to Barca (52-47, m.27) after a 12-0 run. A basket by Eyenga and a triple by Trimble cut distances (53-52, m.29).
The Barça increased its intensity in defense, but failed to take off and Jasikevicius asked for time to order their attack, worse a triple by Novak and an action by Slovenian Ziga Samar left the score at 56-59 at the end of the third quarter.
Brandon Davies was the only one who was disturbing in the rival paint and a basket of his was advancing Barça again (63-62, m.33). There came the third triple of Abrines to place the 68-64 (m.34). But Novak also responded with his third (70-69, m.36).
The Barça left again (74-69), but Alexander and a triple by Emegano tied (74-74, m.38). Barça time, Davies basket (76-74) and visitor reaction with a free kick by Novak, 2 + 1 by Leo Meindl and a free kick by Trimble for 76-79 with 40 seconds to go.
Barça's response with a wild shot from Calathes, offensive rebound and 2 shots from Smits. Fuenlabrada attack error and 2 free throws for Davies with four seconds left (81-79) that decided a match, although Novqak failed the last triple visitor that was excessively complicated for Jasikevicius' team.
Data sheet
81 – Barça (20 + 11 + 25 + 25): Calathes (6), Bolmaro (13), Abrines (11), Smits (13), Pustovyi (9) -starting five- Davies (23), Westermann (-), Hanga (-), Oriola (-), Sergi Martínez (), Kuric (4) and Claver (2).
79 – Urbas Fuenlabrada (17 + 18 + 24 + 20): Samar (2), Trimble (17), Meindl (11), Eyenga (9), González (2), -starting five-, Alexander (12), Novak (14), Cheatham (-), Emegano (10), Urtasun (0) and Sharma (2).
Referees: Carlos Cortés, Sergio Manuel and Fabio Fernández Eliminated: Trimble (min.40) Incidents: Endesa League match of the twenty-eighth day, played at the Palau Blaugrana in Barcelona. No audience.