Barça suffers, but beats UCAM Murcia in its debut in the ACB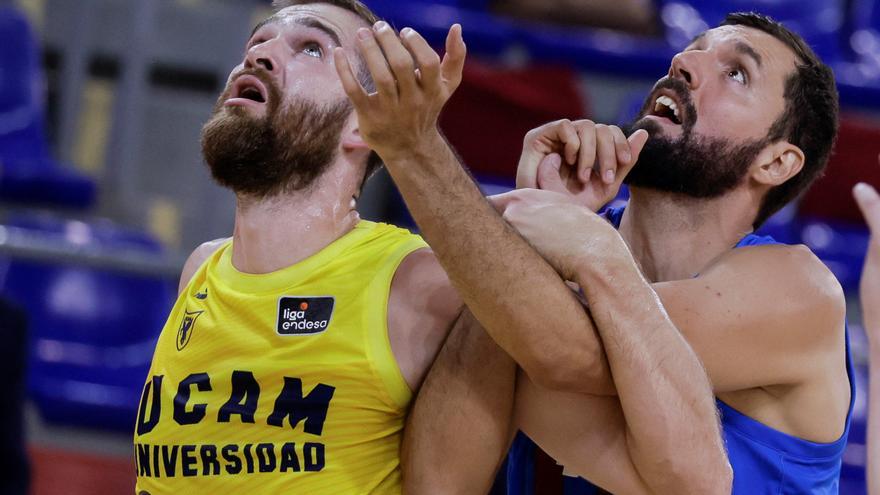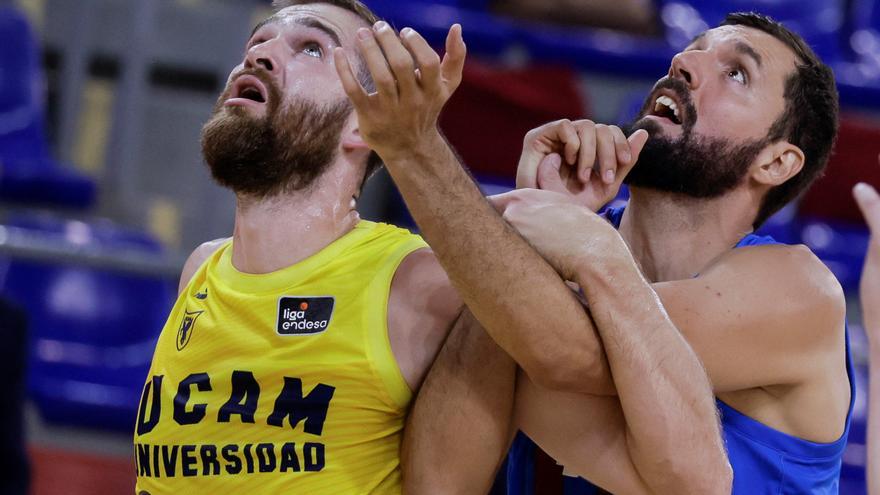 The Barça, current champion has debuted in the Endesa League 2021-2022 with a victory against UCAM Murcia at the Palau Blaugrana 85-78 after a match in which the Catalans suffered excessively after seeing a 17-point lead slip away at the beginning of the third quarter; in the end they decided the fouls and free throws.
Jasikevicius with known casualties due to injury to Alex Abrines, who will be off the slopes for four months, and the Turkish center Sertac Sanli, has also had Kyle Kuric's due to a muscular overload.
American forward Nigel Hayes and point guard Rokas Jokubaitis they have debuted in Liga Endesa. Hayes has been a good defender and the Lithuanian has gone almost unnoticed.
The azulgranas have come out with speed and aggressive in defense, with fluidity in attack through Cory Higgins and Niko Mirotic (17-7, m.6). Visiting coach Sito Alonso stopped the game because his attack was not working, especially the outside shot.
His reference this season Thad McFadden has taken six minutes to achieve his first basket and Barça has gone 16 points up (22-7, m.7). The entrance of Augusto Lima has given him defensive consistency and has cut the local streak at the end of the first quarter (26-14).
Lima has launched his team on the attack (26-18, m.11) and Saras has had to ask for time although the Murcian area stopped the Catalan onslaught (34-26, m.18) although the Barça rotations and the good mark of Sergi Martínez on McFadden managed to reach the break with 42-28.
Nick Calathes extended, with a triple, the local advantage (45-28, m.21) although UCAM reacted well through the veteran Tomás Bellas and James Webb (49-40, m. 24) and his zonal defense continued to stop the Barcelona offensive.
Jasikevicius asked for time while Lima and Brandon Davies they neutralized each other, although the Brazilian center and a very effective Webb cut the gap even further. And in an incredible way a 2 + 1 from Isaiah Taylor tied (51-51, m.27) with a partial of 6-23.
Taylor's triple he advanced to UCAM (54-56, m.29) in the middle of the Barça downturn and not even the change from Calathes to Laprovittola gave Jasikeviciius results.
With 58-58 and after a 16-30 run in the third quarter everything was left for the last period. There came the maximum Murcia advantage (58-61, m.31) through Taylor. Calathes, Higgins and Davies were back on track.
A Taylor technique, his fourth foul, with Higgins free throws They advanced to Barça (63-61, m.33) and Davies, who surpassed Lima, placed the 69-63 in the electronic.
Alonso asked for time (min.35), Webb was back on track and the score was tightened again thanks to Lima (69-68, min.36). Mirotic still did not score for several minutes and Brandon Davies with Higgins held their team up with free throws. What's more Mirotic woke up at last (75-68) in the absence of 3:30.
Visiting errors in the free kick (11 missed in total) seemed like they could no longer recover, but a technique to Saras and a McFadden triple they made it 78-75 on the scoreboard with 1:40 to go. The fouls and free throws made by Barça decided in the end the contest
Data sheet:
85 – Barça (26 + 16 + 16 + 17): Calathes (9), Higgins (18), Hayes (4), Mirotic (18), Oriola (7) -starting five-, Laprovittola (-), Rolands Smits (10), Davies (17), Sergi Martínez (-) , Rokas Jokubaitis (2), Badji (-).
78 – UCAM Murcia: (14 + 14 + 30 + 20): McFadden (14), Jordan Davis (5), Rojas (3), Webb (11), Cate (-) -starting five- Bellas (9), Taylor (18), Czerapowicz (-), Nemanja Radovic (3), Lima (15), Malmanis (-) and Kostas Vasileiadis (-).
Referees: Hierrezuelo, Araña and F. Fernández. Removed: Rojas (m.40).
Incidents: Meeting corresponding to the first day of the Endesa League 2021-2022, played at the Palau Blaugrana in Barcelona before some 2,500 spectators.