Barça succumbs to UCAM Murcia led by a great Jordan Davis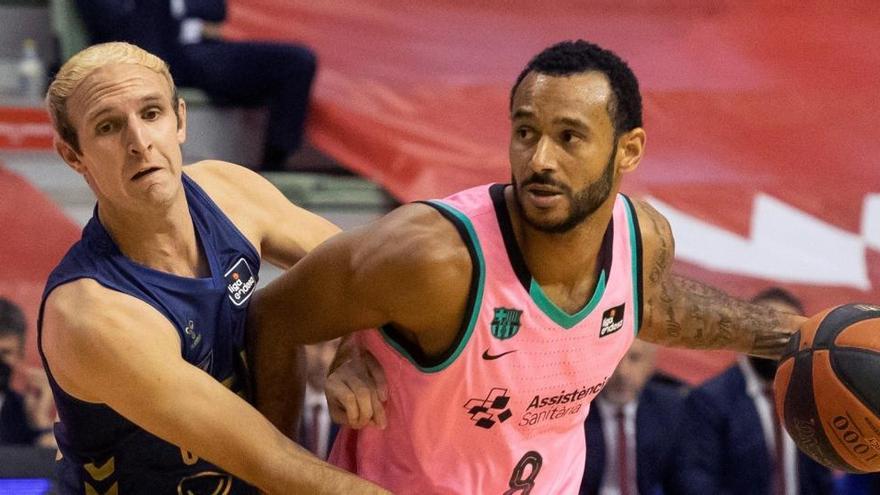 Barça fell 77-73 on Tuesday against UCAM Murcia led by a great Jordan davis, author of 27 points, and based on the collective effort of the team, in a match in which the locals were overwhelming at the start and then knew how to suffer.
The meeting started with two triples by David DiLeo and two personal fouls by Augusto Lima in less than two minutes and from that 6-0 UCAM CB, with a good defense, took the initiative. The start was devastating and a new triple, this one from Conner Frankamp, ​​made it 17-6, which caused Sarunas Jasikevicius to stop the match with his first time-out after the halfway point of the initial period.
After the time-out, the game, far from changing, was for the worse for the Catalans with a 10-0 that left the 27-6 with the granas passing over the Catalans, this Tuesday in pink.
Nikola Mirotic broke a partial that was already 17-0 and in the final minutes of this quarter, Barça woke up to reduce its disadvantage with a 2-9 that left the scoreboard with 14 points difference (29-15).
With a Barcelona so erratic, yet improved on defense, Mirotic came to the rescue and a dunk from Brandon Davies a triple by Adam Hanga they put their team less than 10 points (34-25) in the 16th minute. That reaction did not have continuity in the following moments and at halftime the local income was still remarkable with the 43-31 with which the players went to the changing rooms.
In the resumption Barcelona, ​​pressing back and with Alex Abrines Seeing hoop, he placed five (45-40) still with 17 minutes to play in a game that no longer resembled the first 10 minutes.
Sito Alonso's men had the merit of not collapsing and they kept the pulse of Barça in a confrontation that became increasingly physical, a scenario in which UCAM CB, with Jordan Davis as main stiletto, it felt quite comfortable. In fact, he caught air again (59-47) with two triples from Frankamp and Nemanja Radovic and working hard to contain each opponent's offense.
The quarter ended with -10 for Jasikevicius's (59-49) and the last period was played with pick and shovel with the locals trying to hold out and the visitors looking to come back, all with more momentum than success.
The Catalans tied at 56 seconds from the conclusion with two free throws made by Abrines (73-73), but Davis scored after an offensive rebound a key basket, as were the two free throws with which he sentenced the crash (77-73) six seconds from the honk .
Abrines, with a triple attempt and Cory Higgins, with a shot of two, could give Barça an advantage or take the game to extra time, but the victory remained in Murcia.
Data sheet
77. UCAM Murcia Club Basketball (29 + 14 + 16 + 18): Frankamp (10), Davis (27), Rojas (7), DiLeo (9) and Lima (6) -starting five-, Twones (-), Luz (-), Radovic (9), Jok (3), Cate (6) and Strawberry (-).
73. Barcelona Soccer Club (15 + 16 + 18 + 24): Hanga (3), Higgins (14), Abrines (7), Smits (2) and Davies (10) -starting five-, Bolmaro (-), Heurtel (2), Oriola (4), Sergi Martínez (-), Kuric (4), Mirotic (19) and Calathes (8).
Referees: Antonio Conde Ruiz, Jorge Martínez Fernández and Joaquín García González.
Incidents: Match corresponding to the eighth day of the Endesa Basketball League that was played without an audience at the Palacio de los sports of Murcia.