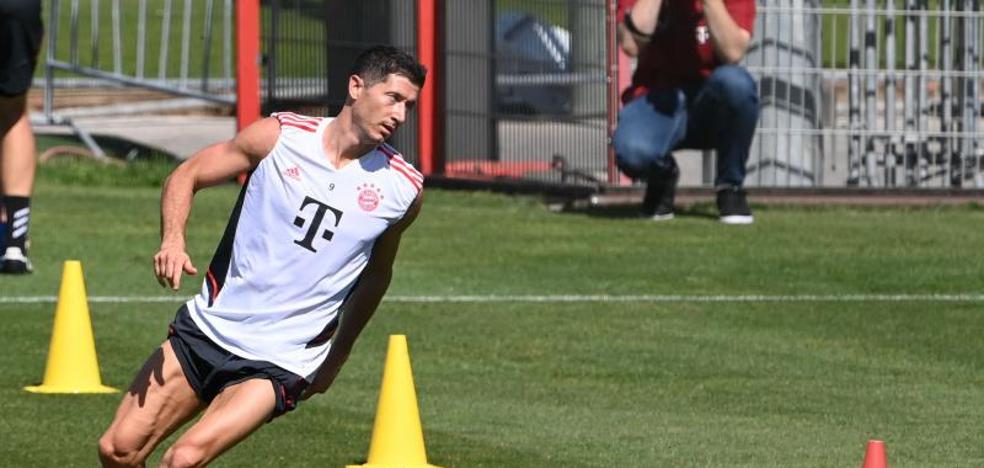 Market
The Polish striker will sign for the culé club until 2025 after paying 45 million plus five in variables to Bayern
Robert Lewandowski is already a Barça player. The Polish striker will be the spearhead of Xavi Hernández's project after the culé entity and Bayern Munich have reached an agreement around 45 million fixed euros plus five in variables. 'Lewy' will sign until 2025 and will fulfill his desire to wear Barça after a summer of continuous tug-of-war between both clubs that has ended with the nine where he wanted to be, at the Camp Nou.
The soap opera of the summer has come to an end and Barcelona have what they wanted, the dream striker, Robert Lewandowski. Gone are the ambiguous answers, the delays of the player in the sports city of Säbener Strasse and the accounts of the milkmaid to get hold of one of the most sought-after battering rams of the last decade. Lewandowski is culé after up to four attempts in the form of offers that have finally ended with Bayern giving in to the final proposal, that of 45 million fixed and five more in variables that add up to 50 'kilos' in which from the first moment castled the German club, inflexible before the departure of one of its referents.
To reach this situation, Barça and Lewandowski himself have had to sweat Chinese ink. Bayern did not want to sell a player who continues to be fundamental in the plans of his coach, Julian Nagelsmann, and Mateu Alemany entrusted himself from the first moment to the will of the footballer, who was going to press his exit to unsuspected limits given his long career in the German team. "It is possible that he played my last game with Bayern," he said at the end of the season.
It was the starting point of a long path of wear and tear that continued throughout the summer. "It is about finding a solution, I have asked the club for the go-ahead for a transfer," said the Pole in June, two weeks before returning to Bayern training. There, on Säbener Strasse, an unknown 'Lewy' could be seen, unpunctual when arriving in the mornings and apathetic before a new preseason in which he was not in the desired place.
In parallel, Barça was immersed in a complex operation. It was for a club that had to activate the famous economic levers and it was for an entity that had to negotiate with a club that had planted itself at 50 million euros. Bayern was not going to lower that figure under any circumstances and it was the Mateu Alemany and company who had to approach those claims. Barça got down to work. He first offered 30 million, then 32, then 40 and, finally, 45 fixed 'kilos' plus five in variables, an irrefutable proposal for a player whose contract ends in one year, who turns 34 in August and who had already stated in several occasions his desire to leave Bayern. "We are waiting for the answer," Laporta said this Friday at the
raphine's presentation. By then she already knew that everything was going from strength to strength.
The nine dreamed by Xavi

Barça finally has, after the departure of Leo Messi, a star at the planetary level. Lewandowski has shown throughout his career that he is a player who has an infatuation with the indestructible goal. To date he has played 676 professional matches at club level between his time in the Polish league and in the Bundesliga with Borussia Dortmund and Bayern Munich. In that period he has scored 509 goals and has distributed 135 assists. His figures overwhelm even more as he turns years. Last season, with 33 'tacos', he scored 50 goals in 46 games. No one in all of Europe can boast of having figures like those that Barcelona's new stiletto still maintains.
Lewandowski lands at the Camp Nou to complete a dream striker. The Warsaw footballer will share the area with Pierre Emerick Aubameyang, curiously the nine who was his replacement when he left Borussia Dortmund. Both will be in charge of putting an end to an offensive flow in which Xavi will be forced to choose. In the right-handed profile Ousmane Dembélé and Raphinha will fight for a position, while in the left the options are even more abundant. Ansu Fati, Ferran Torres and even Memphis Depay, whose future is up in the air, will have to fight for a place in the eleven. All will be at the service of Lewandowski, the new Blaugrana torpedo.