Barça sells 'in extremis' 10% of its television rights for 207.5 million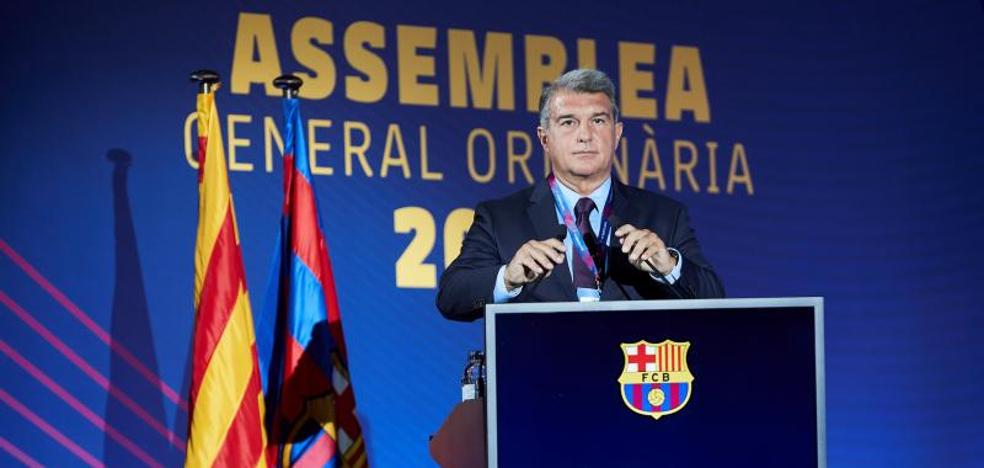 The operation with the North American fund Sixth Street allows the Barça club to activate the first lever announced by Laporta and save the current financial year
Barcelona has managed 'in extremis' to activate this Thursday the first of the two levers that it approved in the extraordinary meeting held two weeks ago. The club chaired by Joan Laporta has sealed the long-awaited agreement with the North American investment fund Sixth Street for the sale of 10% of the television rights over the next 25 years, an alliance that allows it to close this year on a positive note and balance the accounts before the end of June.
"We hope to get 200 million for every 10% of the rights," said Eduard Romeu, Barça's economic vice president, on June 16. Said and done. The commitment reached with Sixth Street is now official and complies with all the premises that the Blaugrana entity had set for itself. It arrives before June 30, the deadline, and allows the financial year to close with a capital gain of 267 million, as Barça has assured through its website.
This agreement is the first of those that the Catalan club has marked in red on its agenda. In total, it hopes to sell up to 25% of the audiovisual rights for the next 25 years in three packages that in no case would exceed 10% each. Sixth Street will receive, in this way, some 16 million euros per year from LaLiga, a figure that the North American fund hopes will continue to rise and that would allow it to raise around 400 million in a quarter of a century, twice the amount disbursed from initial shape.
Target, 600 million

This operation does not stop the need for Barça to continue activating the famous levers. "We need 600 million", said Joan Laporta in the extraordinary assembly, an amount that is beginning to be forged through this agreement, but for which there is still a long way to go. To reach it, Barça is keeping alive the negotiations for the sale of 49.9% of BLM, the company that is in charge of exploiting the retail business, and for which Laporta hopes to receive, "being very conservative", among the 200 and 300 million.