Barça opens in a big way in the Euroleague with a comfortable victory over Alba Berlin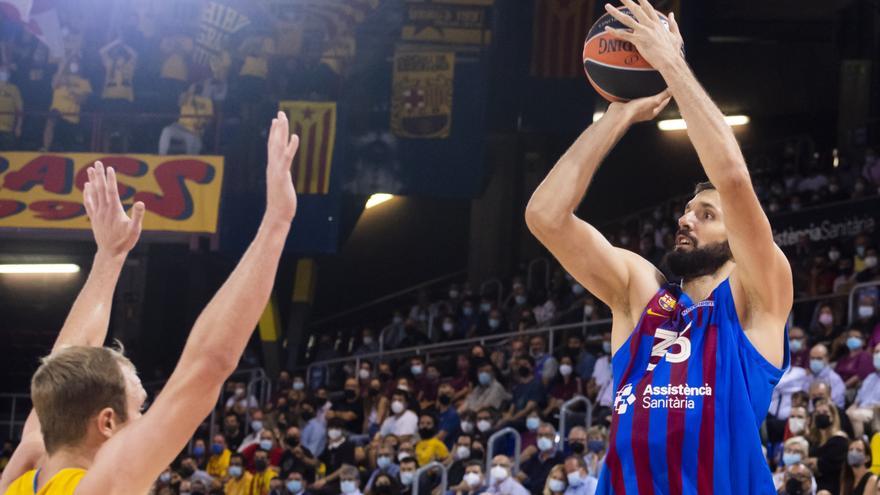 The Barça has won this Friday at ALBA Berlin (96-64) at the Palau Blaugrana, on the first day of a Euroleague 2021/22 that the culers opened in the best way, with a comfortable victory to send a message and, in addition, with an excellent debut from one of the new faces, the Lithuanian Rokas Jokubaitis.
Good European debut, in a big way, from a Barça that has things to improve, such as avoiding lows at specific moments – this time in the third period – but that has the means to dream again and opt for a Euroleague of the which is current runner-up.
With maximums that came to pass 30 points at the end of the clash, Barça liked each other, found each other and also overcame that little bad moment. It was not necessary to put or 'band-aid', with the reaction signed by Nikola Mirotic (22 points) and, above all, a surprising Rokas Jokubaitis who left a cover letter of 12 points, 3 rebounds and 6 assists.
The Blaugranas quickly got rid of any milligram of pressure they could have for their debut in this Euroleague. With a Palau in the middle of the ticket, which gives the pandemic, but tightening like never before, those of Sarunas Jasikevicius they quickly took comfortable rents and, on the verge of rest, they won by +22.
A whole lecture before a lost ALBA who went on hiatus thinking about the fate of the calendar. Making your debut at the Palau is not an easy task. And less when, in the resumption, Nikola Mirotic He does a 3/3 in triples to catapult the maximum. Of course, a 0-6 partial that ended up being 4-11 to close the third quarter adjusted the contest somewhat, but gave rise to the final, forceful and victorious reaction of the Catalans.
In this premiere, the new faces debuted with good marks. Lithuanian stood out more Rokas Jokubaitis, with minutes on the court with the weight of creation in his hands, also contributing points and character in defense. He also approved the pivot Sertac Sanli, and something more discreet, for now, they were the base Nico Laprovittola, that went from less to more, and the forward, holder, Nigel Hayes-Davis.
Data sheet
Barça: Calathes (5), Higgins (5), Hayes-Davis (2), Mirotic (22) and Davies (8) – starting quintet -; Sanli (8), Martínez (6), Smits (6), Oriola (7), Laprovittola (9), Kuric (6), Jokubaitis (12).
Alba Berlin: Lo (12), Eriksson (2), Zoosman (5), Sikma (16) and Schneider (2) -initial quintet-; Smith (7), Delow (3), Mattisseck (3), Olinde (6), Blatt (6), Lammers (2).
Partial: 28-15, 22-14, 13-17 and 33-18.
Referees: Belosevic, Nedovic and Thepenier. Without eliminated.
Pavilion: Palau Blaugrana, 3,049 spectators.