Barça finds no opposition to Bilbao Basket in Miribilla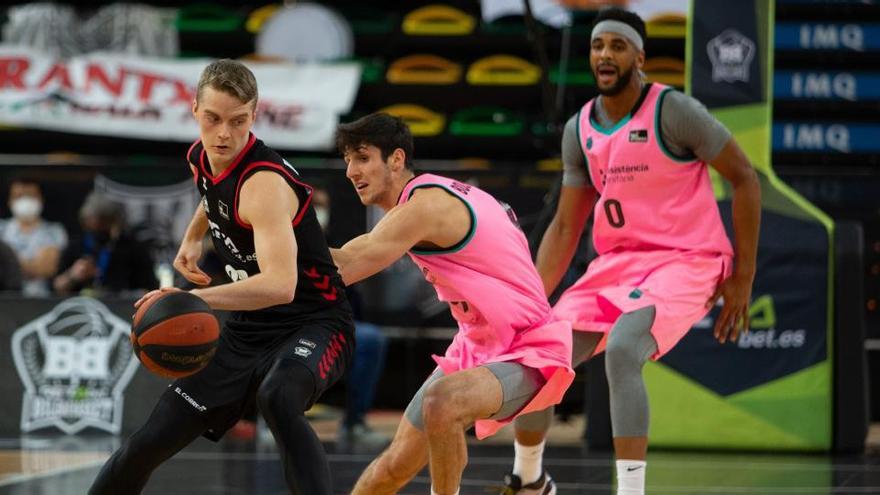 Barcelona propped up its second place in the table of the Endesa League clearly beating RETAbet Bilbao Basket in Miribilla (73-90) in a clash with good first minutes for the locals but that was sentenced in a third quarter in which Sarunas Jasikevicius's men did not give their rival a choice.
It was an expected story between a Barça with great resources and a Bilbao Basket little game and, above all, morals. Something that is penalizing him greatly and that keeps him in descending positions with less and less maneuverability. A full-blown beating with all visiting players, this Saturday in pink, with their share of prominence and among those who statistically Nikola Mirotic stood out (12 points and a PIR of 16), Brandon Davies (14 and 15) and Adam Hanga (11 and 17).
To the Bilbao Basket, which the 21 minutes they were able to hold against such a powerful rival, until 42-45 at the start of the second half, has to serve in his intention to reset during the three-week break that comes now for the Copa del Rey, where it will not be, and the next window FIFA. The best among Alex Mumbrú's were Ondrej Balvin (14 and 15), his most important players, and while the game was alive Goran Huskic (10 and 15) and Jaroslaw Zyskowski (13). Although the bad night of his best shooter, John Jenkins (-4) helped his sinking.
Bilbao Basket came out plugged in against a clueless Barcelona and launched by Balvin and Zyskowski he got seven up in just three minutes (11-4), but a time-out by Sarunas Jasikevicius fixed the matter and a 0-10 finished off by Mirotic in just over two minutes (11-14) already put visitors ahead.
The 15-22 to which those in pink rose in Miribilla made a weak local team fear in situations like this. But those of Mumbrú reacted to end the first quarter 23-25. He threatened again to escape Barça with two three-point plays (23-31) and later rising nine up (26-35) but two triples of theirs from Rousselle rescued those in black and three baskets from Zyskowski allowed them to reach the break alive (39-45).
The locals came a little closer to the locker room with another peculiar triple from Rousselle (42-45). But that's how Bilbao Basket came, which conceded a 0-9 (42-54) and already saw how Barça, increasingly focused and intense in defense, weakened him.
Some chaotic minutes of those that are used to this year by the people of Bilbao who finished the game and left the only unknown for the end to reach distances that Calathes on the horn already opened to an incontestable 51-75 at the end of the third quarter. The 12-30 of those third ten minutes saves more explaining.
With everything already more than decided, Bilbao Basket, which tends to sink even more in this type of match, at least competed against a superior rival and won the last quarter (22-15) so that the final result did not reach more scandalous figures and remained at 17 points after a final triple by Kulboka (73-90).
Data sheet
73 – RETAbet Bilbao Basket (23 + 16 + 12 + 22): Rousselle (9), Jenkins (4), Zyskowski (13), Kulboka (9) and Balvin (14) -starting five-; Brown (4), Hakanson, Reyes (4), Miniotas (4), Huskic (10) and Dos Anjos (2).
90 – Barça (25 + 20 + 30 + 15): Calathes (8), Bolmaro (7), Kuric (10), Mirotic (12) and Pustovyi (6) -starting five-; Westerman (2), Hanga (11), Smits (8), Oriola (2), Davies (14), Martínez (7) and Badio (3).
Referees: Óscar Perea, Martín Caballero and Iyán González Gálvez. Eliminated for fouls Miniotas (m.40).
Incidents: Match of the thirty-third day of the Endesa League played at the Bilbao Arena in Miribilla behind closed doors.