Barça closes the signing of Junior | sports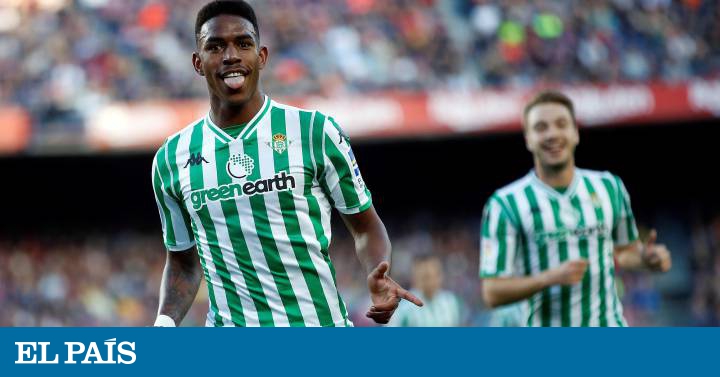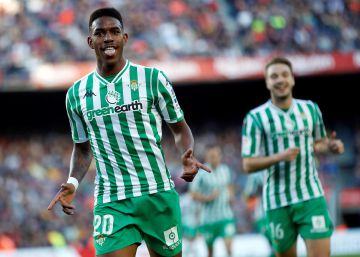 The Barcelona and the Betisthey have closed the transfer of the left side Junior to the Catalan team. Ernesto Valverde will thus have a footballer who wanted to compete with Jordi Alba in exchange for 25 million euros (a fixed of 18 this year plus seven next). In addition, another five million in variables are contemplated. Junior hits a jump in his career just a year and a half after having made his debut in Primera and after proclaiming last month European Under 21 champion with the Spanish team. The defender becomes the fourth signing of the current season after those of Neto, De Jong and Griezmann.
Junior's story begins when Betis technicians were amazed on the last day of the 2013-14 season. The Puerto Malagueño visited the sports city of the Andalusian complex and the first youth team from the south-west suffered the rush of a left side of enormous performance. Junior Firpo (Santo Domingo; 1996) was signed by Betis and began a career that has led him to finish in Barcelona. Junior emigrated with his family as a child of the Dominican Republic. His father insisted that he play football as a method of integration. Junior did not like a sport that was strange to him in his Caribbean childhood. The insistence of his father, a diehard Madridista, has ended up changing his life.
"Two training sessions were enough for me to realize Junior's tremendous potential. It has the best possible virtue in an elite footballer such as having a very well furnished head. He is the artist who grows as he acts on a larger stage. He will do well in Barcelona, ​​without a doubt, "says José Juan Romero, now at Ceuta and Junior coach at Betis Deportivo, a subsidiary of the Betic team. "In addition to his mental maturity, he has power, speed, goes well above, something important on the side, and excellent ball hitting. It even has a goal, "Romero adds.
Junior was polishing in the subsidiary what Romero calls "disconnections". Occasionally he lost the mark and was surprised by the rivals. "When Setién asked me about him for the first team, I didn't doubt it. It was time to make the leap and, curiously, he had the virtue of learning not to make the mistakes he had with me in the first Betis team. I think the branch was left over, "Romero points out.
Junior debuts with the first Betis team on February 12, 2018 in Riazor. Give the goal pass to Loren which is the Andalusian triumph. A week later, he gives another goal pass in the clash against Madrid. Quique Setién decides to keep it in the first template. "He is a soccer player with enormous potential. He has had some ups and downs in these two years with me, but it is normal for his youth and the huge leap he has taken from the Third Division to compete in a team like Betis, "says Setién himself. "There are some aspects where he has suffered, such as defensive concepts and adapt to the rigor and discipline of the elite, but a barbarity has evolved. And he has done it because he is intelligent and progresses every day, "says Setién.
That is why Junior, newly proclaimed European Under 21 champion with the national team, is getting closer to fulfilling the promise he made to José Juan Romero in the Betic subsidiary. In the spring of 2016, the Federation of the Dominican Republic contacted Junior to convene him for the Caribbean absolute team. Junior asked his coach for advice and Romero told him to wait because in a short time he was going to be summoned by the Spanish national team. Junior promised Romero his first shirt with the absolute from Spain.
"He has the capacity to progress and in a big one like Barcelona he will certainly do it. It is a side that knows how to pass when it arrives and not centers, it is not the same. He is very strong physically and has a great quality ", confirms Setién, the technician who made him debut in Primera. The Cantabrian has even used Junior as a left-handed center, where he has worked well thanks to his willingness to learn, which increases his versatility.
Junior has been a father recently and fellow veterans such as Joaquin or Guardado have watched with good eyes the football and mental growth of a soccer player who has matured a lot in this year and a half in which he has changed his life. Now, in Barcelona and with only 22 years, the boy who did not like football will dispute the position of one of the best left-backs in the world, Jordi Alba.
You can follow EL PAÍS Sports in Facebook, Twitter or subscribe here to the Newsletter.