Barça beat Fenerbahçe and secured first place in the regular phase of the Euroleague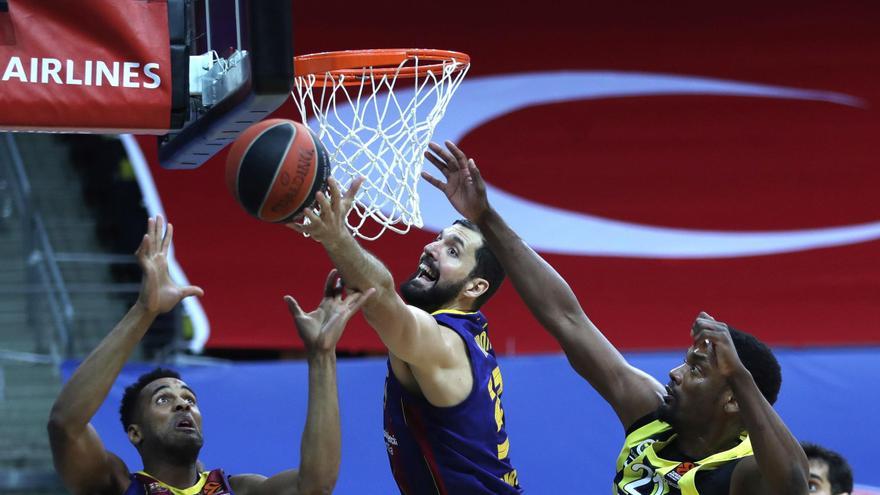 The Barça has been proclaimed 'champion' of the regular phase of the Euroleague after beating Fenerbahce this Friday on the penultimate day (73-82), victory commanded in attack by Kyle kuric (16 points and 4/5 in triples) and Brandon davies (13 points and 9 rebounds) against an opponent who has accused the injury of Jan Vesely.
In a very tight Euroleague to enter the 'playoff', Barça has earned the luxury of reaching the last game against Bayern with complete peace of mind, since neither CSKA Moscow nor Anadolu Efes can catch up with them. They will face in the quarterfinals with the eighth classified, a position that will not be decided until next week and that has several applicants, including the Spanish.
Faced with a Fenerbahce who was also classified for the 'playoff' and in a great moment of form, Barça completed a very solid task where Nikola Mirotic (12) and Leo Westermann performed well against his former teammates. In addition, the best inside of the Turks, Vesely, sprained his left ankle in the first quarter and had to leave the game.
Even so, the 'Fener', led by Guduric (19) and O'Quinn (17), dominated in the equator of the third quarter (56-51), but Barça tightened the pegs in defense and shot up on the scoreboard after adding a partial of 0-11, achieving a maximum income of 10 points (61-71) that they knew manage masterfully in the final minutes.
For more inri, the host ran into physical problems again and Nando de Colo took a blow to the knee during a penetration by Calathes that also forced him to leave the floor in the absence of just over four minutes.
Without her two best men Fenerbahce could no longer resist against a Barça that increased the toughness under the hoops and clearly dominated the battle for the rebound, adding 36 sacks (19 offensive) by 21 of his rival. Too many second options, almost always generated by a powerful Davies, the architect of the Barça living a placid end of the game at the Ulker.
Data sheet
Fenerbahçe: De Colo (12), Mahmutoglu (3), Guduric (19), Vesely (2) and Duverioglu (-) –initial quintet–; Brown (2), O'Quinn (17), Biberovic (-), Pierre (10), Barthel (5), Sipahi (-) and Eddie (3).
Barça: Calathes (5), Higgins (9), Abrines (4), Mirotic (12) and Oriola (2) –initial quintet–; Davies (13), Westermann (9), Bolmaro (-), Smits (4), Hanga (5), Kuric (16) and Claver (3).
Partial: 25-26, 17-21, 16-16 and 15-20.
Referees: Lottermoser, Koromilas, Peerandi. Claver eliminated for personal fouls.
Pavilion: Ulker Sports and Event Hall.