Barça-Atlético, a final for the League with Madrid on the prowl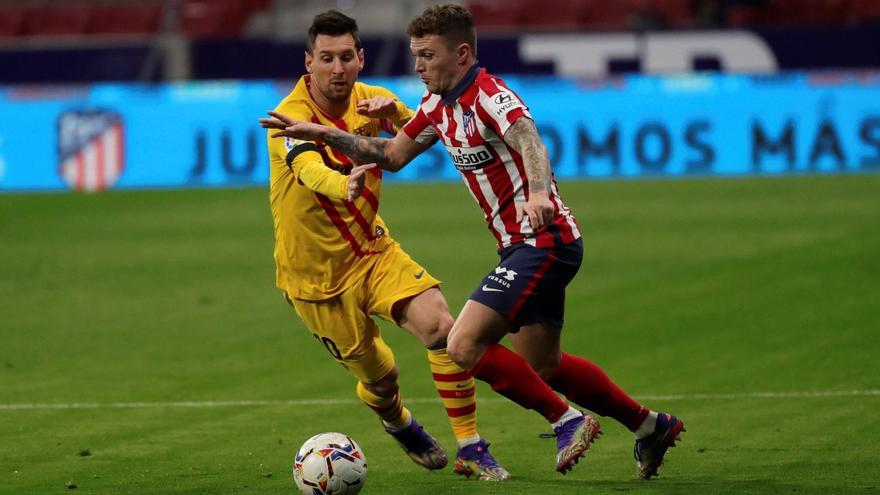 The Camp Nou welcomes this Saturday what could be one of the duels of the season (16.15 hours), with a Barcelona Soccer Club who receives the leader Atlético de Madrid with the intention of winning and staying alive in the fight for the title, to which the colchoneros aspire, although always looking at what Real Madrid and Sevilla do in Valdebebas a day later.
It is a key day, perhaps 'the day', with this double confrontation between the first four classified and candidates to win the title. And Barça and Atlético know that, to continue with integers, they must win and not think about anything other than adding three points. It will not be decisive, but it will be key. It is not a 'final', but almost. Yes it was the match of matchday 38 of the 2013/14 League, also at the Camp Nou, which ended with a draw (1-1) and an alirón for an Atlético that was crowned in the Blaugrana fiefdom. Barça had to win, they didn't, and 'Cholo' and Koke, Atlético's only survivors, took the title.
At Barça, from that bitter point survive Gerard Piqué, Sergio Busquets, Jordi Alba and Leo Messi. All of them lived in their flesh to lose that League. They were in the recent defeat against Granada, in which they lost a golden opportunity, and now they want to take advantage of this. Although they do not depend on them.
It will undoubtedly be a special match. For the almost direct fight for the championship, for being a high-flying and media duel despite the absence of public in the stands, but also for being the return of Luis Suárez to a Camp Nou where it shone and where it is still loved. Among others, by his friend Leo Messi.
As rivals the faces will be seen. Messi will fight to keep Barça and Suárez alive by being able to mark his former teammate Marc-André Ter Stegen and leave the leader of what was his home. The Uruguayan striker could not play in the first round, and fate wants his reunion with Barça to be in Barcelona.
In that first round match, Atlético took the victory thanks to a solitary goal by Yannick Carrasco, taking advantage of a defensive error by Barça and a false start by Ter Stegen. Golden goal, at this point, since if Atlético leaves the Camp Nou leader, they will have the goal difference in their favor.
Koeman, in the stands
A mattress victory would leave Atlético with everything in its favor to win this League, since it would depend on itself, to win everything. Barça is two points behind and, if they win, they will become provisional leaders but they would need a draw between Madrid and Seville to confirm such condition. A draw, if Madrid also draws or wins, and a defeat could say goodbye to the dreamed double.
Those of Ronald Koeman, who is sanctioned and unless the TAD pronounces at the last minute and forgives him will be in the stands, they do not need miracles. They need to follow the script that has led them to never lose, at home, to Atlético del 'Cholo', who are looking precisely the opposite; end his ill-fated streak, despite that aforementioned alirón. At Barça, Danish striker Martin Braithwaite is available again, recovered from his ankle injury, although there would be no surprises in Koeman's eleven, the gala one. At Atlético, Simeone has the doubts of Renan Lodi and José Giménez, in defense, although both could arrive on time and be in the game or on the bench.