Banderas: "I don't understand life without art, without music. I can establish a map with the songs that have been important to me "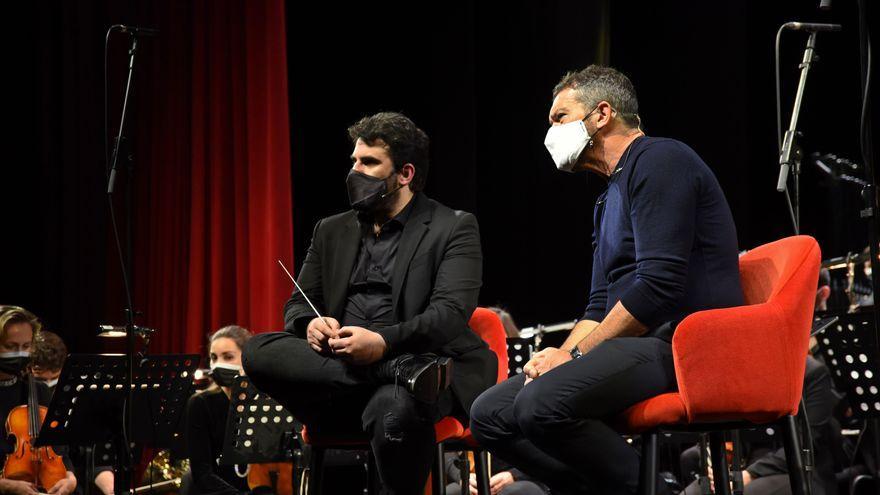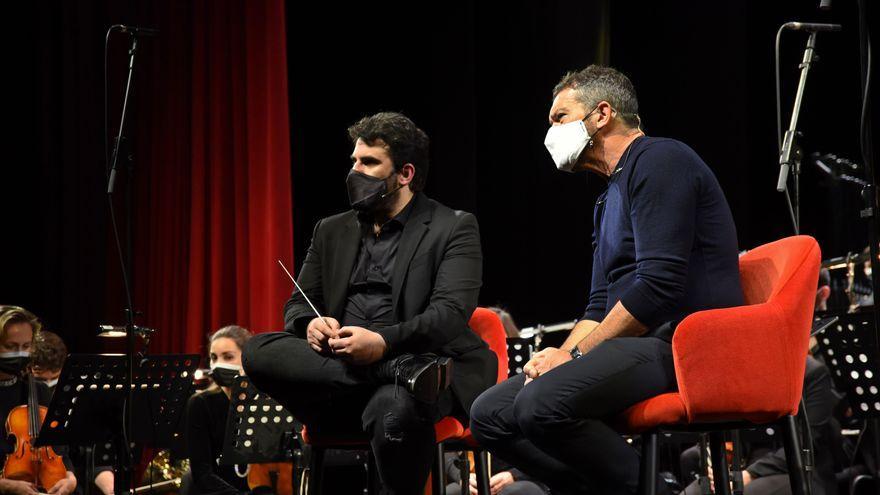 On stage, sitting on two red stools, Antonio Banderas and the musical director of the Theater, Arturo Díez Boscovich, have presented the Soho Pop Symphony which will be in charge of carrying out its first concerts from next Palm Sunday. Brotherhood music will be the main protagonist of giving life totraditional arches along with other more recent compositions.
In the midst of the circumstances that we are living, Antonio Banderas define this as a 'act of rebellion and fight against what is happening '. "We have tried to surf all the problems that have developed and now we present a symphony orchestra that is going to provide an incredible service to our project," he confesses. On the occasion of the Easter week, these concerts inevitably will bring memories to all those brothers and people who feel that passion to relive these moments of the year. Although it is not possible to go out into the street and follow each of the processions to which we were accustomed, this will serve to make them relive the moments that linger in the minds of the people of Malaga. Despite this, Banderas emphasizes that they are going to start acting at this time because it has been a pure coincidence.
The orchestra is made up of people mostly residents of Malaga and who were selected through auditions. "We tried to make them feel as comfortable as possible. There are many musicians who are talented and we don't know them. Normally, acquaintances are called and I have had very good surprises. Those who are here are the ones who gave us the best sensations ", highlights Arturo Díez Boscovich musical director of the theater. They will be in charge of interpreting a repertoire of traditional marches along with other more recent compositions, such as the inclusion of interpretations of classical music. In addition, there will be details that they prefer not to comment at all to keep the public expectant, but what Banderas does confirm is that not only will the music be present but there will also be images, poetry and arrows that will invite the public to get involved.
"These concerts are going to bring back memories. In rehearsal, you get excited because there are certain pieces of music that make you travel back in time. Suddenly I see myself holding my mother's hand in a corner watching a virgin go by when I was five years old, "recalls Banderas. For him, the celebration of Holy Week it is a hymn to the sensuality that can be felt in the smells, in the colors and in everything that happens on the street. "I do not understand life without art, Without music. I can map out the songs that have been important to me. Understanding Holy Week without music does not exist, it is absolutely linked ", he explains.
The objective of this Theater is clear: offer a living world where the musicals or concerts that are made are live and without prerecorded. Although new technologies provide facilities, Banderas emphasizes that this is a good way to 'embrace the profession of musicians'. They plan to offer a program for the public that is dynamic and creates a certain continuity. "This is something that we must achieve as time goes by. If people know that we offer concerts on Tuesdays, they will be aware of the programming ", emphasizes Banderas. Apart from those concerts or musicals that will take place, they will look for spaces during the year in which everyone knows that the Symphony Orchestra is going to perform, there will also be guest artists, soloists or people who can collaborate.