Baku, a perfect place to regain pride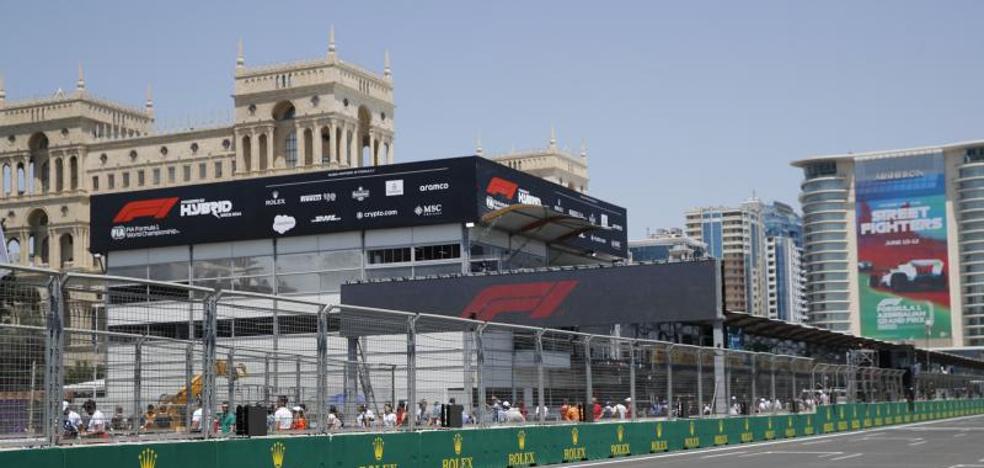 Azerbaijan GP
The intricate streets of the Azeri capital are home to a modern classic that pilots like and that also serves to claim
The Formula 1 Azerbaijan Grand Prix is ​​considered to be a continuation of the European round, although, strictly speaking, there are some doubts that it should be included in the Old Continent. Beneath the dark veil of whitewashing a quasi-dictatorial regime, the streets of the capital, Baku, are home to a modern classic that has always delivered great racing to drivers and fans alike.
Until the arrival of Saudi Arabia on the calendar, the Azeri event was pleased to be the one with the fastest urban circuit. Speeds above 350 km/h were reached on a track that has two well-differentiated parts: an industrial estate area that would not differ from any random circuit that populates other competitions such as Formula E or tracks already in disuse such as the Valencia Street Circuit; and a passage through the old town of the country's capital, with a spectacular 13th century wall where the pilots have to risk their lives so as not to end up against the wall.
In the past, numerous pilots know what it is to stay out of the race for a take away that corner, a braking pass or an illogical attempt to overtake like the one Sebastian Vettel and Lewis Hamilton starred in a few years ago and that ended with a crash of the first over second. Baku is also a perfect place for revivals, as Fernando Alonso showed in 2021.
There is no harm that lasts a hundred years or bad sports streak that does not stop at some point. For Fernando Alonso, the difficult start to his season back in Formula 1 saw a turning point when he arrived in Baku. A spectacular start and a more than reliable race allowed him what, until that moment, was his best position in his race until a few appointments later, a sixth place that he would sign right away with his eyes closed.
For the Spaniard, this is a circuit that could come in very handy. As it happened in Monaco, the previous appointment, the urban circuits are where the pilot's hands count more than the car, although the lack of power of the Alpine A522 will be noticeable in the long straights (including the two DRS zones). This is just one of the differences in a track that, as Alonso recalled in the previous one, allows you to see a show.
"It is very possible to overtake"

"Baku is a track where it is very possible to overtake. In my last three races there I have managed to gain a good number of positions during the race, so it is very different to Monaco in that respect. It has a mix of high and low speed corners and a very long straight, so setup wise you have to be prepared for this. It will be interesting to see how the 2022 cars perform at this circuit. In addition, Saturdays do not necessarily decide your race, and a safety car can completely change the order, "warns the two-time Spanish world champion. Alonso, just twenty days after his 41st birthday, has before him the challenge of continuing to add. For the first time this year he has chained two consecutive races among the top ten and in a weekend in which he can become the third historic driver with the most points in history.
Meanwhile, ahead - except for almost a miracle Alonso will not be in those conditions - there is much to decide. Sergio Pérez's victory in Monaco made it clear that Red Bull is going to take advantage of all the opportunities that Ferrari leaves him, either due to a terrible strategic decision, or due to the problems of any driver, such as an accident or a breakdown. Charles Leclerc was left off the podium at his house, confirming for another year that he is still jinxed by his neighbors, and arrives in Baku eager for revenge. Max Verstappen cut more points, but the Scuderia knows that he can get his hands on it. Not in vain, for the Dutchman this is a circuit with an unfortunate memory, since in 2021 a wheel burst left him out of the race.
In this fight of the titans, Carlos Sainz wants to win the award, who is wonderful on urban circuits, and whose challenge is not only to achieve his long-awaited first victory in Formula 1, but to silence the growing voices that place him as a minor squire next to his partner. The data plays against him, but it can serve as both a motivating spur and a slab if he does not manage it well: he is the only one of the top four (Ferrari and Red Bull) who has not achieved any victory. And he has no room to get lost. In a circuit like this, the Mercedes, which seem to have recovered their pulse slightly, can be a clear alternative. Will George Russell's run in the top five continue or will a Lewis Hamilton hit the table in need of the adrenaline rush of a podium finish?