Badosa reigns over the reborn Chirico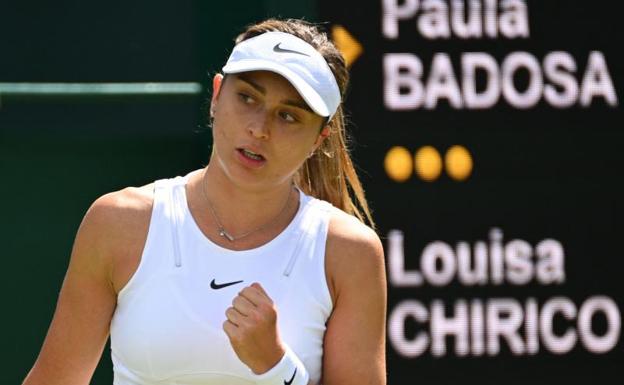 Wimbledon
The number 4 in the world warns her rivals that "it can be very dangerous"
Paula Badosa took her first firm step in the Wimbledon tournament, beating the American Louisa Chirico (6-2, 6-1) convincingly. The Catalan was happy after the game, because she had been aggressive and had managed well the challenges of playing with a wind that was not gale, but was constant.
They had never faced each other on a track and perhaps they do not know that they did vitally cross each other in opposite directions. In 2016 they both played in the Madrid tournament. Chirico was a promising 20-year-old tennis player, who was ranked the 58th best tennis player in the world. She played one of the best tournaments of hers. The passage of Badosa, which was the 220 at that time, was not memorable.
Chirico then suffered a chain of injuries that sank her. In the last few months she has moved up a hundred places and she is now 236th. She seemed overjoyed to have gotten into the draw of a Grand Slam tournament. She didn't make it at either the US Open in 2021 or Paris this year. She was eliminated six years ago in the first round at Wimblendon and played with a smile. It was her again.
take advantage of the wind

But smiles are not imposed in tennis. There was no facet of the game in which Chirico seemed better than Badosa. He was effective with his first serve, not because of his power but because of his good direction. In the rally she did not resist the thrust of the Spanish, who had lost in the first round of the Eastbourne preparatory tournament and created, according to her, unknown errors.
"I already said that I had played well and that I lost due to the rival's merit," Badosa explained after his victory. She herself and her team believe that she is in good shape. She has trained every day since the loss at Eastbourne and says calmly: "I think I can be very dangerous." The world number 4 wants to go further than last year's fourth round.
How does Badosa play on a windy court? "If the wind is in my favor, I play with spin, and if it's against it, I hit it hard, but not to clinch but to simplify." He had controlled the wind and avoided the risks of the grass: "always difficult, anything can happen." Another motto of the tennis player is that she learns from defeats. She will now face the Romanian Irina Bara.