Bad Bunny, the lion of the 'trap' | Culture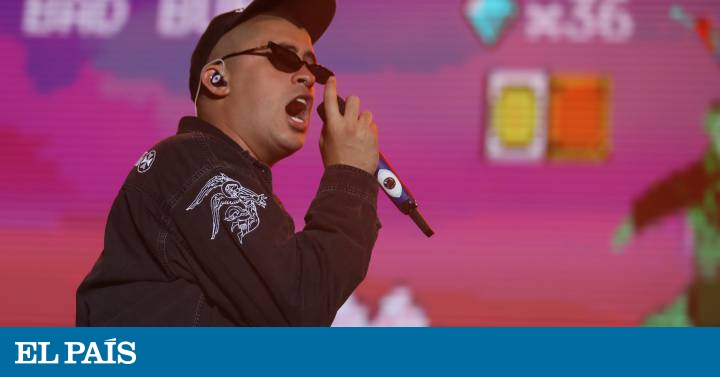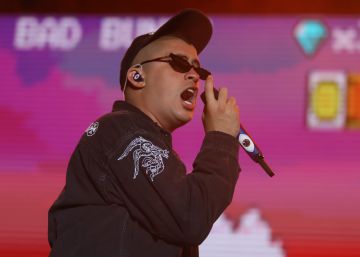 Four years ago, Bad Bunny worked as a replenant in a supermarket in his native Puerto Rico. On the night of this Thursday, when he appeared on the stage of Babel River festival in Madrid with a black windbreaker, hat, sunglasses and a mask around her neck, she had just snatched from her friend Rosalía the record of reproductions in 24 hours (3.6 million) on Spotify in Spain with the record she took by surprise with J Balvin last week, Oasis. His 25 years and his pose rag They seemed to say: "I deserve it, I am the best". His words, on the other hand, were of absolute gratitude towards those he calls his "fanatics", who he rewarded with a powerful recital and without truce.
Bad Bunny did not wait to get on stage (only four minutes late, almost Kantian punctuality in this type of concerts), nor to interpret his main successes. It started with Neither good nor bad and shortly after he sang I'm worse, two declarations of intentions with lyrics (sexist and sexual) of spite and disbelief in love. Opposite, 8,000 people chanted the songs almost without missing any strophe, danced and climbed nonstop images to Snapchat and Instagram, where the singer has 18 million followers. Sometimes, all at once.
Who you are, Mine, Hard, I threw you, Caro, La Romana... the singer was shelling themes in a clear commitment to the trap, with relatively little reggaeton-despite the remarkable presence of the latter in his recent album- and a display of effects and resources that compensated for the nakedness of his voice without the autotune. The absence of his video clips was replaced by fireworks, columns of smoke, a background of images inspired by the aesthetics of the video game and the accompaniment of six incombustible dancers. Neither was it necessary: ​​the concert was Bad Bunny. His attitude of neighborhood, his effort not to neglect for an hour and a half on either side of the stage, his ability to make the crowd dance uninterrupted at midnight with almost 30 degrees of temperature. "It's what I try to give people: something to entertain," he said last year in an interview. The bad rabbit (meaning of his artistic name in English) He was a lion trap.
The two words that most played during the concert were love and thanks. The first, as an error to flee from: "I got fucked up the last time I trusted someone, I do not fall in love again" (I'm worse), "I do not want anyone else to talk to me about love, those pains I've already passed" (Amorfoda, theme that asked to be strongly sung who identified with his lyrics), "I hate your messages when you say we have to talk" (We need to talk). Acknowledgments monopolized their messages to the public. "I know that many of you have been with the rabbit since day zero," he said. "Of course!", He sounded in response, and several hands raised with pinkies raised, one of the symbols of pseudomística communion that maintains with those who have aupado to stardom. To illustrate, he sang one of his first songs, Tell them "Thank you for making me successful and for making me fulfill my dream," he said at another point with a candor that contrasted with his status as a world celebrity. Wrecked in the rest of comments, more hackneyed, such as his calls to "be happy" or "take advantage of the small moments of life."
Halfway through the concert, when the number of phones on the cloud of heads declined, he shouted into the microphone: "Do you want more perreo, Madrid !?". He launched a couple of bets closest to reggaeton and, when he finished, he reclined a few seconds, with his hands resting on his thighs from exhaustion. The shy young man at the top of the Olympus trap He seemed human. The audience, as if they understood it, chanted their real name: Benito.
After a discourse of vindication of roots and identity, he interpreted I like it like that, the Latin beat success he shares with Cardi B and J Balvin. "Let him raise his hand if he feels proud of being Latino," he asked. They did it until the Madrid residents of seven generations. The public, especially twentysomethings of both sexes dressed with absolute normality – except for some rabbit ears around here or some impossible nails there – was the best proof that the trap is today the real music mainstream, regardless.
In the closing stages, Bad Bunny returned to the trap. Almost at the end, he asked that each one hug the person next to him. The people responded as if he were a priest calling to give peace to the neighbor in mass. He already said it in his abrupt dismissal, as timely as his departure: "It's the new religion."
(tagsToTranslate) bad bunny (t) lion (t) trap (t) singer (t) Puerto Rican (t) offer (t) concert (t) truce (t) first (t) day (t) festival (t) river babel (t) madrid



Source link