Ayuso and C. Tangana, portrayed as the Virgin and Jesus in a 'Piedad' from 'Art Madrid'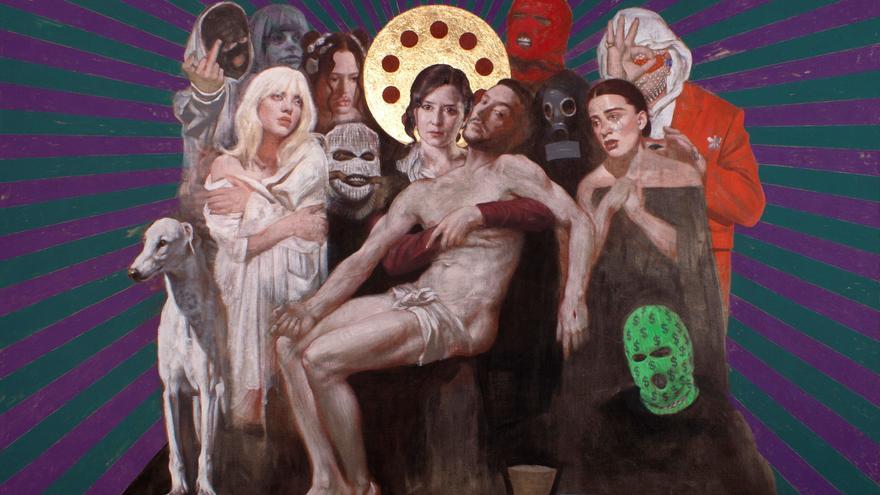 The Crystal Gallery of the Palacio de Cibeles hosts, until May 30, the contemporary art fair 'Art Madrid ', where one of the works that has garnered the most attention has been that of the artist from Burgos Silvia Flechoso (1991), who has represented the acting president of the Community of Madrid, Isabel Diaz Ayuso, holding the singer in his arms C. Tangana in a new version of the 'Piedad'.
Flechoso, who has added to the cast of the altarpiece other figures known as the singers Rosalía, Nathy Peluso or Billie Eilish, on a "reinterpretation from the perreo" of Michelangelo's sculpture.
"It is a reinterpretation of a religious motif that has been represented on numerous occasions. In my work there appear key characters of the entertainment with whom we dog daily", Flechoso, who works on his artistic project '33' on, has explained to EFE.religious scenes to explore inner transformation, our power and divine nature".
He adds that it is the viewer who stands "in front of a mirror" to draw their own conclusions about the work, which will be at the ArtMadrid art fair with the Inéditad gallery.
The deputy mayor of Madrid, Begoña Villacís, and the delegate of Culture, Tourism and Sports, Andrea Levy, They have visited the fair, where 31 galleries and more than 150 national and international artists participate, accompanied by the director of 'Art Madrid', Alberto Cornejo. Along with them, Natalia Alonso Arduengo, curator, independent critic and cultural manager, in charge of the curated tour 'El arte de habitar' and the collector Victorino Rosón Díez-Feijóo, owner of the Aldebarán Collection.
During the tour, Levy highlighted the importance of "art fairs being held in Madrid again in person after a very hard year in which many things have stopped".
Art Madrid will be open from 11 am to 9 pm, from Wednesday to Sunday. The price of the tickets is 15 euros for general and 12 for reduced for over 65s, unemployed and students. Access to the fair is free for children up to 12 years old.