Autumn dances to the rhythm of the Womad and says goodbye to 'The sterile jobs'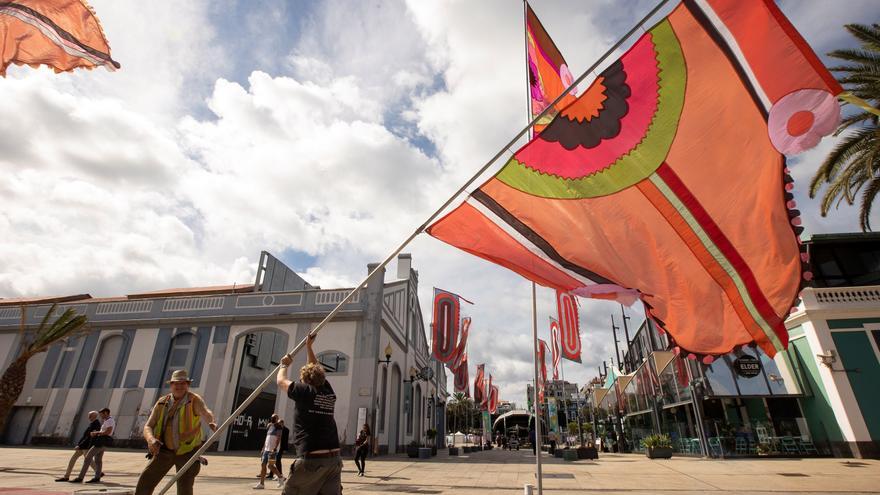 Whoever combines the love for culture, the frenzy of dancing (even standing up) and the skill of tetris can experience one of the best weekends of the year. After a year in suspension, the Womad Gran Canaria 2021 kicked off yesterday four days of music, dance and workshops on its triple stage in the surroundings of Santa Catalina, whose founder and ideologist, Peter Gabriel, dedicates to families affected from La Palma.
The lion roars in Santa Catalina: The Womad Gran Canaria 2021 sells out almost all tickets on the return of this great world event, which this year includes more than 40 activities, including 29 concerts by local, national and international bands from a total of 19 countries.
In addition, a few meters from the festival epicenter, those who lag behind the city's exhibition agenda still have the last opportunity to visit the multidisciplinary collective Los trabajo steriles, at the La Regenta Art Center. Also the Cultural Field of the English Court exhibits Blue Cinema, a pictorial sample of mythical faces of the seventh art that Pablo Roma signs. And in the Triana-Vegueta area, the Catalan artist Alicia Framis exhibits Sistershoop. Garments and Rights in the CAAM-San Antonio Abad room; while Luna Bengoechea exhibits Proyecto Salinas in Zulo.
Meta-art at Mata Castle: The Francis Naranjo Foundation returns to the capital's fortress with the international collective project Burning up, and the individual Horda non Orden, by the Chilean Victor Hugo Bravo.
In the theatrical section, Lucía Lacarra and Matthew Golding dance at the Cuyás Theater, while Argentines Mariel Martínez and Fabián Carbone pay tribute to Piazzolla at the Sala Insular de Teatro. José Luis Perales also sings his last ballads in one of his farewell concerts at the Gran Canaria Arena and the Aseres trio sets the pace at The Paper Club. And for nocturnal animals, DJs Del Nu and OswaldoH dress up the night at the Shack Bar, while Petri Clon (La Pulpa Dj) takes the dishes from Talleres Palermo.
The salt flats of Luna Bengoechea: The artist from Gran Canaria stars in Zulo's ninth exhibition (C / Cano, 22) with a reduced version of her Salinas Project, a critical and creative view from the island's salt flats.
X-ray of precariousness: The La Regenta Art Center (C / León y Castillo, 427) is hosting this collective exhibition of 13 leading artists from the national scene until tomorrow, who explore and question the precarious mechanisms that form the backbone of the contemporary art system.