Autonomous employment is still not cured of the crisis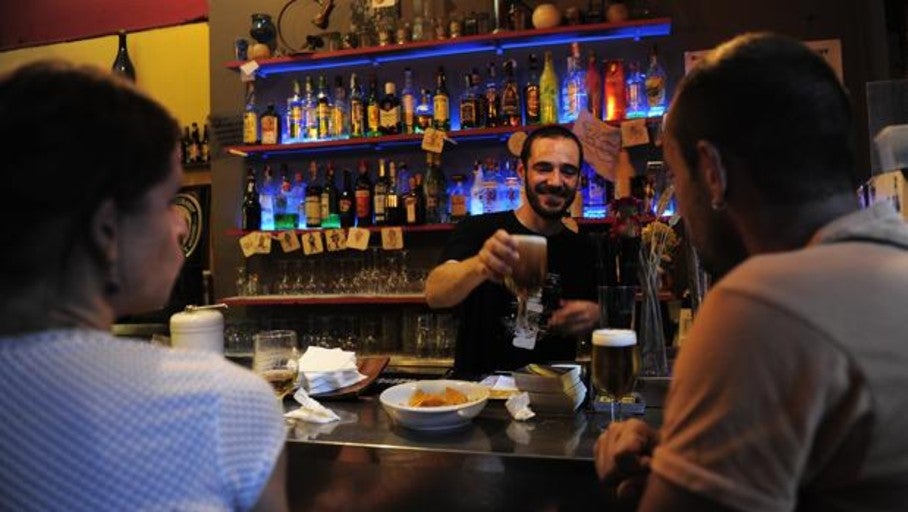 MADRIDUpdated:
Spain closed last June with a historic record of Social Security affiliates. However, the number of self-employed workers is still well below the pre-crisis figures. That is to say, the occupation has taken off with force in Spain in the heat of the economic recovery, but the enterprise continues to falter. In the last twelve months, the affiliation to the Social Security has increased 2.7%, but the self-employed segment only did it in a rickety 0.4%. If we count the last six years of economic comeback, since June 2013, the result is also strong: Spain has created more than 3.1 million net jobs, but of these, only 245,000 are self-employed. Entrepreneurs have represented only 8% of all this new occupation arising from the heat of economic growth. And while the Social Security affiliation it has increased 19% since June 2013, the self-employed group has grown less than half, 8%.
In 2014 and 2015, self-employment took off with some ease, with inter-annual rates of over 2%. But it was a fleeting comeback, not sustained. As of 2015, growth is very weak, especially since the second half of last year.
This trend is not very encouraging, for several reasons: first, because self-employment is still far from returning to the size it had before the crisis; second, because the greater or lesser dynamism of self-employment is what indicates how a society works in economic entrepreneurship and, third, because the self-employed form a fabric of activity with significant impact on the economic and even labor aggregate, although the vast majority of them are micro-enterprises of less than three workers -and there are many who do not have any employees in their charge.
It is evident that the autonomous employment has not yet detached from the crisis, among other things because the general economic recession 2008-2013 have been joined by the particular crises that support sectors such as traditional commerce, hit by that huge virtual supermarket that is Internet in which large platforms reign. And we must bear in mind that trade is the most autonomous activity, 24% of all those currently in Spain.
During the crisis, our country lost around 400,000 self-employed workers. Since the economic comeback, it has gained some 250,000, so the Spanish economy still needs to add 125,000 self-employed workers to return to pre-crisis levels. It seems like a complicated goal, given the disproportionate pace at which self-employment is advancing in our country.
FP, crucial
"Spain urgently needs a generational change plan in the self-employed group, with the training of new professionals that generate added value to the economy, well prepared, highly qualified, and for that, Vocational Training is crucial", says the president of the Union of Professionals and Autonomous Workers (UPTA), Eduardo Abad.
«The VET centers are called to be the space that perfectly qualifies the new self-employed», both in traditional trades and in new upward segments, in the case of those related to new technologies. Abad insists on the urgent need to articulate a national strategy that makes VT a great "incubator" of entrepreneurs, of new self-employed people who, among other things, ensure the replacement of those who are going to retire in businesses that "are working and that are not it would make sense that they would be lost because there were no new self-employed willing to take charge of them ».
This challenge of generational change will be of great caliber in the short term, warns the president of UPTA: "That is why we insist that there must be a plan with an eye on the horizon of the year 2025, because currently 40% of all autonomous workers in Spain are over 55 years old; if you count those who are over 57, there are 700,000. "
With the current dynamics, this relief will be very complicated, says Eduardo Abad, who gives as an example what happened in 2018: "Last year 700,000 new self-employed workers were registered in Spain, but there were 687,000 casualties".
Pending measures
From the Association of Autonomous Workers (ATA), its president, Lorenzo Love, It affects the worrying sluggishness that has settled in the figures of entrepreneurship in Spain. "Since the beginning of this 2019, month after month we recorded the worst growth data on self-employment in the last six years," says Amor, who considers it urgent to adopt measures that encourage entrepreneurship and deploy effective strategies to help sectors that are facing difficulties. and in which a reconversion is necessary. "One of the most autonomous sectors is losing is trade, we are seeing many establishments close and the Administration looks the other way," criticizes the president of ATA, which urges to deploy a "restructuring plan for this sector, which is the that more people use in our country ».
Lorenzo Amor believes that Spain has not yet resolved obstacles that come from afar and that hinder entrepreneurship, the birth of new self-employed workers. "It is still necessary to eliminate administrative obstacles, create an adequate fiscal environment, increase the social protection of the self-employed and encourage self-employment," he says. And he warns that political and institutional uncertainty does not help either. "We are experiencing moments of uncertainty in many areas, and that hinders entrepreneurship, for which Spain also needs a long-term strategy."
Few women
The group of self-employed workers is mainly male, as shown by the official records of Social Security affiliates. In Spain, today, and64% of the self-employed are men. It is something that does not happen in salaried employment, in which women account for practically half of the total occupation.
Trade, hospitality and construction are the activities with more autonomous: between the three they concentrate almost half of all the self-employed that there is currently in Spain. According to the latest data from the Social Security, 23.9% work in commerce, 11.7% in construction, 10% in the hotel trade, 8.8% work in the liberal professions, 8.1% are farmers or ranchers and the rest are divided into other branches of activity.
. (tagsToTranslate) employment (t) autonomous



Source link