Austria prepares its citizens for a possible large-scale blackout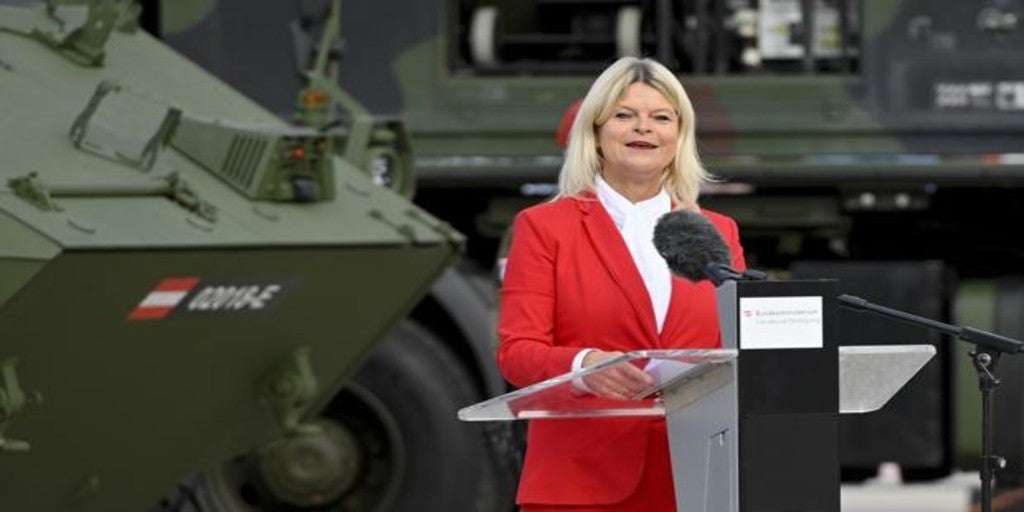 Correspondent in Berlin
Updated:
Keep

Stock up on fuel, candles, batteries, preserves and drinking water. Agree in advance with family and friends on a meeting point and lay the foundations for a neighborhood cooperation network. These are some of the advice of the Austrian Ministry of Defense to the population before a possible large-scale electricity blackout that you think might occur. To avoid chaos in such a situation, instruct citizens on the need to remain calm and expect that the most basic services will not work, at least for a while.
"The question is not if there will be a big blackout, but when," the Defense Minister, the conservative Klaudia Tanner, justified this advertising campaign, with space in the main media and more than 6,000 posters. Tanner herself has overseen a series of military exercises and awareness-raising initiatives on what she claims is "a real danger, although underestimated.
Tanner is based on risk reports prepared by the Austrian army, which after a new pandemic, consider a 'blackout' as the second most likely threat to the security of the country. So affirms it
the annual report "Sicher, und Morgen?", prepared by a group of experts who try to anticipate threats. The blackout, its specialists explain, could be the consequence of a new global epidemic, a terrorist attack or cyber attacks, even a peak in demand or an overload of the system. "A 'blackout' is a large-scale power failure lasting several days or several weeks," says the Ministry of Defense. a blackout, the lights could go out all over Europe. '
In the latest Austrian army security reports, starting in 2019, the 'blackout' issue has been playing an increasingly important role. "Among the technological risks, the 'blackout', a supra-regional and long-lasting blackout, occupies a prominent place", states the text of more than 370 pages, "in the opinion of the experts, the probability of this happening in the next five years is now very high». And the Ministry of Defense agrees that "a blackout is extremely dangerous and it is necessary to prepare the population for that eventuality."
"That is why we urgently recommend storing essential food, drink and medicine at home for at least 10 days. A well-stocked pantry is definitely not harmful in daily life and in an emergency it can be vital ", states in a statement the Ministry," in our guides you will find more tips and suggestions on how to prepare for a blackout that lasts several days, with information on mobile power generators, generation accessories, food and water supply, on how to cook without electricity and how to communicate without electricity, as well as basic knowledge on first aid, prevention and medical and civil safety in case of power failure.
Advertising posters call for instruction on "What to do when everything stops" and warn that a 'blackout' would mean that traffic lights, computers, ATMs, telephones, internet and many other services would stop working, exposing the fragility of a day to day increasingly digitized. As early as 1989, millions of people were left in the dark in Québec, Canada, due to a virulent solar or geomagnetic storm. Recent floods in Germany last July, and even Hurricane Ignacio last week, left tens of thousands of residents without electricity for days. Austria takes this scenario so seriously that from 2025 one hundred of its main military headquarters will be as self-sufficient as possible in terms of energy, fuel, clean water and food.
Lieutenant Colonel Pierre Kugelweis has reported that these barracks would be the base of support for civil organizations, such as firefighters and health workers, that require energy and coordination for their work, in the event of a blackout. "From 2025 there should be self-sufficient barracks in all the federal states toto guarantee the Army's response in the event of a blackout, and thus give civil organizations the opportunity to 'recharge themselves' ", the official declared. In the last 18 months, the Army has carried out several maneuvers in which the response to this situation and how to improve coordination with the police and other organizations were tested. «A blackout is a threat with a great impact on society. And it is important that all emergency services, such as police, ambulances or fire, continue to function. In the event of a blackout, the main task of the Armed Forces is to supply and support other emergency organizations, "summarized the military man.