Austria, a revalidation for Carlos Sainz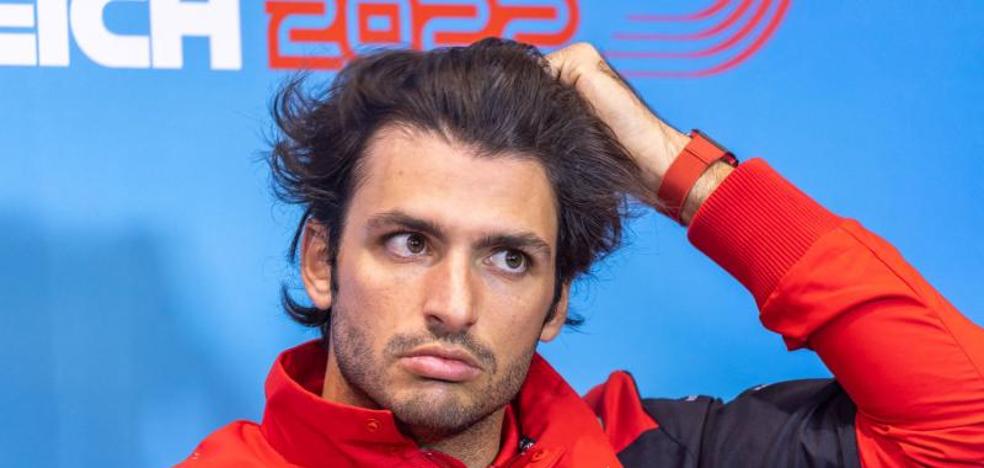 After his victory at Silverstone, the Madrid driver must maintain the bar or, at least, not fail in a weekend with a sprint format
The Red Bull Ring hosts this weekend the second Grand Prix of the 2022 season that will be held under a sprint format: qualifying on Friday, a half-hour race on Saturday over 24 laps and a normal race on Sunday over 71 laps. A different weekend to, perhaps, definitively change the 'status quo' of the current Formula 1. Carlos Sainz's victory at Silverstone a few days ago has caused a small earthquake.
Everything seemed to be more or less settled: Max Verstappen as the great favorite, Sergio Pérez as his squire and eventual alternative if Red Bull took a step forward, and Charles Leclerc as the 'yes but no' candidate due to the continuous and bizarre failures of Ferrari, apart from what happened behind with Mercedes, Alpine, McLaren, etc. Sainz did not count in this list: until the British GP he was the only one of the Ferrari / Red Bull quartet without any pole position or victory, two ballasts that he has already shaken off.
Shouting "stop inventing" (stop inventing), the Spanish pilot pulled out the guts to disobey his team in pursuit of a greater good: guarantee a victory. Not only his, which was his fundamental goal, but also Ferrari's. That, together with an improvable strategy around Charles Leclerc, has placed Sainz on a clear rise – the Monegasque chained several races after the Spanish, the last one that finished ahead was the Miami GP in May – and has opened a more than reasonable doubt : can he take the reins and become the Scuderia's first team?
Sainz does not want this to get him into trouble. Aware that he still has a long season ahead of him and that, in the end, he must continue under the unwritten law of 'you run for Ferrari, you win for Ferrari', the man from Madrid tried to settle the controversy at the press conference prior to the GP from Austria. "Ferrari won and I won, so it was almost never a wrong decision. It is true that Charles was left in a compromised situation, but in return he allowed Ferrari to have a clear position to win the race, which is the main objective. I had new wheels, it was very easy for me to pass Charles and for the team to understand my response and my arguments », he recounted.
They have been complex days at the Scuderia and in the Ferrari environment, not so much because of the result or because of that already classic reinvented "stop inventing" that Sainz released on the radio, but because they blame a lack of conviction in Ferrari's ideas. Having lost what seemed like a more than possible double at Silverstone hurts a lot among the 'tifosi' fans.
At least, as Sainz explained, the meeting after the race, in which the engineers and drivers exchange information and analyze what happened, was not too tense. "The meeting was normal, as it should be. Both after a normal race and a not so normal one. If something characterizes us at Ferrari, it is the team spirit, the respect between colleagues and all issues are under control, "he settled on the matter.
Rome wasn't built in a day

What seems clear is that it will not be Sainz's last victory, or at least that is what other drivers think. If he maintains perseverance, and is constant in his decisions, perhaps this will be the first of many. "It is always important to win the first race, especially when you race for Ferrari, because there are a lot of expectations", analyzed a Fernando Alonso whose first race with the Scuderia, in 2010, was a victory, in Bahrain. "I don't think it will change much, to be honest, for him or for the team, because it was just a matter of time, because you have one of the two best cars. Only Verstappen, Pérez, Leclerc and Carlos can now win a race and it had to come to him. I'm sure it won't be the last this year », he said, very happy.
«For everyone it was a joy, for Carlos, for Carlos father and for me, because we have shared half a life in F1 and outside, training in other specialized ones such as the Dakar. Carlos Sr. and I have been pioneers in our specialties with victories for Spain and it is a pride to see Carlos there winning in Formula 1 », he admitted. Alonso's advice to Sainz is clear: once he has crossed the Rubicon of his first victory in Formula 1, he just has to keep taking the same steps without stumbling. The rest will come by themselves.
Alonso was also critical of the stewards, recalling again those complaints he ironically made about Leclerc's movements in the last vibrant laps of the previous race. "At the beginning of the season, going off the track was not allowed in any case, there was a black and white line. At Silverstone they could go through the escape room at full speed and fight again in the next corner. It is a different criterion and it would be very good to clarify it here », he requested. Each one, with his war.