Australia wants the rhinos of South Africa | Society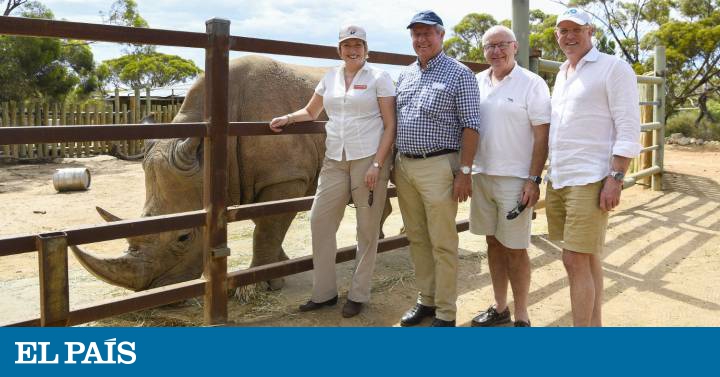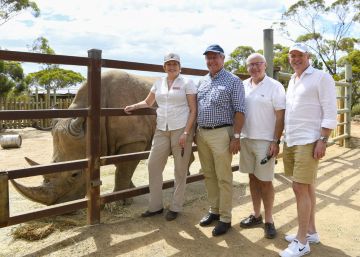 Put an animal of more than two tons in a giant box and take it more than 10,000 kilometers away to save it from extinction. That is the plan of The Australian Rhino Project, an Australian non-governmental organization, which began operations in 2014 and aims to bring 30 white rhinos from South Africa, "to improve the genetic diversity of the rhinoceros colony that exists in Australasia." It is not the first time that the oceanic country imports rhinos from South Africa, since in 2002 the Monarto Safari Park (in southern Australia) brought two of these animals. The 30 copies, if they are finally taken to the oceanic country, will live on safaris like this.
According to figures from the association (which is supported by institutions such as the University of Sydney), rhinos released can be extinguished in 2024 due to poaching. It is an animal especially prized for its horn, which costs more than 50,000 euros per kilo in the black market. According to figures from The Australian Rhino Project, between 2013 and 2017, more than 1,000 copies of this animal per year at the hands of poachers in South Africa.
In order to be transferred, these animals need to spend an initial quarantine period in South Africa, another about 12 months in New Zealand and another period in Australia, to prevent the spread of diseases. "Obtaining the permits of all governments and the funds are the most complicated parts of the project," says Elaine Bensted, one of the directors. The facilities where quarantine is carried out cost approximately one million Australian dollars (more than 610,000 euros). The money comes entirely from donations, as detailed by the association, which has a project management center at the Monarto Zoo and is currently building another one in New Zealand.
However, some environmental groups, such as Humane Society International, are not so excited about the idea of ​​bringing rhinos to Australia. "The subspecies of southern white rhinoceros is possibly the least in need of help. Despite the high levels of poaching, the population estimate is stable above 20,000, and there are already 800 white rhinos from the south in zoos around the world. The idea seems to be closer to wanting to get animals for zoos and attracting the public that pays for their conservation, "says Evan Quartermain, head of NGO programs.
"There is also no guarantee that the transfer of rhinos to Australia will keep them safe. In 2007, a rhinoceros at the Taronga Zoo in Sydney died cruelly. The autopsy discovered that the animal was expecting a baby and had 70 liters of sand in its intestines. In 2012, four of the seven white rhinos that were in the Taronga Western Plains Zoo died, after showing signs of neurological abnormalities the previous weeks. What really happened was not determined or kept secret, "adds Quartermain.
In 2016 a group of scientists published an article in Nature criticizing the project (which was then intended to bring 80 rhinos, more than double than now). "We suggest that money be better spent on field actions in South Africa. We believe that the project has echoes of the colonial era. Taking biodiversity assets such as rhinos to keep them safe in the West means an disempowerment just like the theft of cultural heritage, "they point out in a text headed by Professor Matt W. Hayward of the University of Bangor, United Kingdom. Bensted defends the project by ensuring that "the situation facing rhinos needs multiple approaches," which includes "their protection in nature, education and legislation."