Aurora García: "Aurora & The Betrayers hit a ceiling we never expected to touch"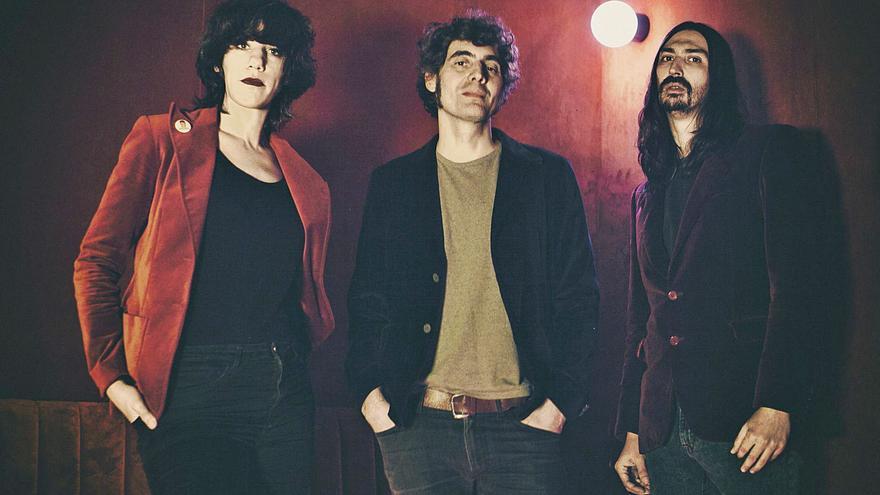 Aurora & The Betrayers presents at the Alfredo Kraus Auditorium the repertoire of Tune out the noise, a third album that reflects the continuous evolution and reinvention of the band. Would you say this was the consolidation album, as well as the farewell album?
Among other things, yes, Tune out the noise was the consolidation and the highest and personal point of the band. We got together in a peculiar way and with the third album we already began to know who we were as a band, with our aesthetics and our personality. And the truth is that, in addition to being risky, it gave us very good results and it is an album that we are very proud of.
Each jump without a net of the band landed in a good reception to a project that has never feared risk …
Fortunately, risk has always been good for us, because our approach was one of two: either we came up or we went headlong into the abyss with this album, but we found that risk sometimes works.
The crisis of the pandemic coincides with the separation of the band and many pending farewell concerts, how has the band reorganized itself from this turn to resume those live shows?
The reality is that Aurora & The Betrayers we separated a week before the confinement and we did an official farewell concert. Therefore, the situation is very peculiar, because then we had many pending cities in which to play this latest album, among them, all those in the Canary Islands. Then we saw that it became a privilege to play live, so we decided that, although it was a full stop, with the pandemic it would be a point and followed, which makes it even more special to go to play and say goodbye as it deserves.
The band showed that a proposal as risky, hybrid and in continuous metamorphosis as theirs can work in Spain. Could you explain some of the reasons for its dissolution?
After seven years together and three albums with a very intense creative process, with many changes and a lot of effort, the project was very difficult for us and we think that everything has a beginning and an end. I think Aurora & The Betrayers has reached a ceiling that we never thought we would play, because it was a very risky band, in English, in Spain, with a complicated proposal. And even so, we did very well and we are very proud, but over time we decided that moving forward as a band was going to be difficult and that all of us, deep down, were already looking for other paths.
"Risk has always been good for us: either we came up or we went headlong to
On the other hand, to what extent would you say that this crisis has shown the fragility of the cultural sector in Spain?
Without a doubt, if we are already nomads and this is an unstable life, this already makes it much more unstable and I believe that it also gives us all a lesson about how necessary culture is for our souls, because having lowered the level of adrenaline that we all feel when we go to concerts, when we make cultural plans or hug each other, I think it has been a huge lesson.
In a recent interview with Los Zigarros, whose latest album has their collaboration, they commented that Spain suffers from a lack of support for musical projects outside the mainstream sphere. Has this changed in recent years?
I agree, but the media feed on what the industry sells and the reality is that record companies do not like to bet on more complex proposals, because in the end it is easier and cheaper for them to support another type of more commercial projects. Therefore, in the end almost all the bands that get out of that mainstream environment are a bit relegated to the underground.
And as far as I can tell, what next projects are you planning to embark on?
I have had a jazz project for a long time, which is much more intimate and calm, which I love to do and which is less stressful than the big rock and roll stages. And it's also a bit of a transition into a rock and roll project that I'll be running on my own, but I guess I'm going to postpone until normalcy returns.
"Almost all the bands that leave the mainstream are a bit relegated to the underground"
What is your balance sheet of the Aurora & The Betrayers career?
In this story we got together with several people with different musical styles after many years of working on music to see what would come out: we did not want to put on our own label and we worked hard to remove all stigmas, so, without a doubt, it was a very project. risky, with a lot of work and without support anywhere. But having achieved what we have achieved is a pride, although it is an inhuman work and a fierce struggle to find concerts, that people know you and that they go to your concerts to be able to have money and reinvest in what it is and seems. It is not easy, and without this financial and publicity support it is very hard. A romanticism and a collective suicide, which is wanting to risk and want to live life.
Now, what do you ask of 2021?
At this point, cheers; Let this happen for everyone as soon as possible, because it is not only those of the music industry who are having a hard time, and on a personal basis, that this is normalized and that we can live life to the fullest, because we miss each other, from going to concerts and hugging to going down the street in droves, as we did before.