Atlético's treble against Osasuna with two goals from Joao Félix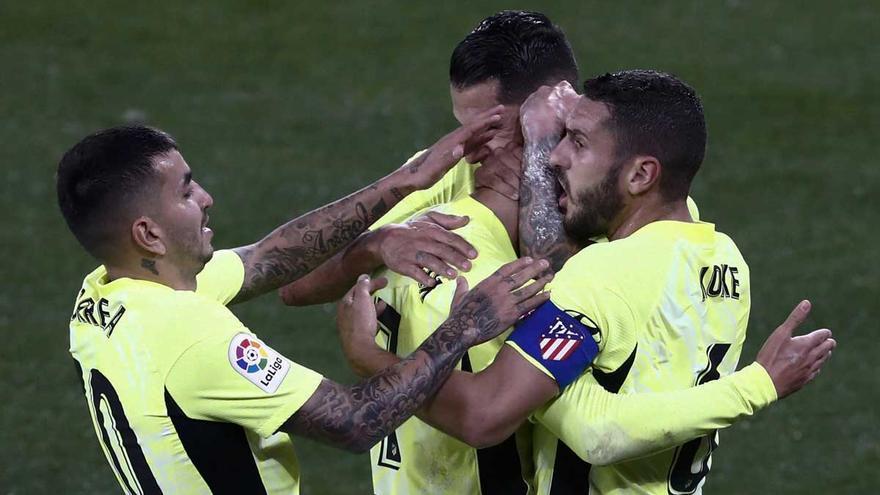 A Joao Félix double gave victory to Atlético de Madrid this saturday before Osasuna (1-3) in the eighth day of the League, a new leadership exercise for the young Portuguese who decided with his goals at the end of the first half and at the beginning of the second, he even had time to miss a penalty that would have allowed him to round his remarkable performance.
Joao Felix has taken the measure to the pamplonica stadium. It is his fourth goal that he has scored in Navarre in just two games and on both occasions they were vital for his team to emerge victorious from one of the most difficult stadiums in the country. Santander League. Atlético added their third consecutive victory after Betis and Salzburg; and it remains one of the few undefeated teams in all of Europe.
That has been the response of the 'Cholo' pupils Simeone to the win conceded in Munich 15 days ago in 'Champions'. Since then, three wins and a clear message of improvement. This Saturday he deserved to have achieved a higher income with a little more success in a precious quarter of an hour from the rojiblanco team at the beginning of the second round. Correa and Vitolo wasted the clearest ones.
Before, Osasuna and Atlético raised the white flag in a first half that did not make much fans although it was full of intensity. Enric Gallego warned after two minutes and Joao Félix himself failed to connect a very clear delivery from Correa before half an hour. Roncaglia put the replica of the rojillos with an impressive volley that brushed the net on the outside. The 0-0 was still in contention.
Until Vitolo appeared in an internship on the left wing and he placed his body with great intelligence to be brought down by the Osasunista defender. Roncaglia raised his arms in protest, but the referee had no doubts. Joao Félix executed it masterfully in a launch that Sergio Herrera did not reach despite his great stretch.
And as soon as the second half started, the other penalty came, this time with the emergence of the VAR after a hand from Oier in a Correa hat. The video changed Estrada Fernández's decision, but Joao Félix ran into the post on his second attempt. To make matters worse for the mattresses, Correa threw the rejection to the clouds with an empty goal.
Koke meets again
Simeone's men went further and Koke, one of the best in Pamplona, ​​met Correa with an exquisite leaked ball and he threw it at Herrera's body. Two minutes later the Argentine midfielder tried again in a great play and threw the leather to the wood and Vitolo completed the list of opportunities with a violent left foot that was very little. The goal was a matter of time.
That's how it went, 20 minutes to go Joao Félix redeemed himself from the mistake from 11 meters and took advantage of a good pass from Correa to mark the second and do justice to the merits. The 0-2 put the colchoneros to sleep in a final match that could have honored the night of 'Halloween'. Budimir, just entered the field, made it 1-2 with ten minutes to go and had to roll up his sleeves.
The end was most unexpected for Osasuna, whose attempts in the opposing goal made him neglect his own. Lucas Torreira, who had been on the pitch for just four minutes, took advantage of a Trippier cross and shot Herrera to end any doubts. Atlético consolidated the third position and is already focusing all eyes on the visit to Lokomotiv next Tuesday.
Data sheet
– Outcome: Osasuna 1 – 3 Atlético de Madrid (0-1, at halftime).
– Lineups:
OSASUNA: Sergio Herrera; Roncaglia, David García, Unai García, Íñigo Pérez; Oier (Lucas Torró, min.59), Moncayola; Rubén García, Jony (Torres, min.68); Adrián (Budimir, min.68) and Enric Gallego (Kike Barja, min.68).
ATLÉTICO DE MADRID: Oblak; Trippier, Savic, Giménez, Hermoso; Koke, Herrera, Vitolo (Felipe, min.91), Correa (Lemar, min.86); Llorente and Joao Félix (Lucas Torreira, min.85).
– Goals: 0 – 1, min.43, Joao Félix, from a penalty. 0 – 2, min.69, Joao Felix. 1-2, min. 80, Budimir. 1 – 3, min. 89, Lucas Torreira.
– Referee: Estrada Fernández (C. Catalán). He cautioned Sergio Herrera (min.42) with a yellow card in Osasuna; and to Koke (min.72) and Llorente (min.90) at Atlético de Madrid.
– Stadium: The Sadar.