Atlético shipwrecked in Ipurua | sports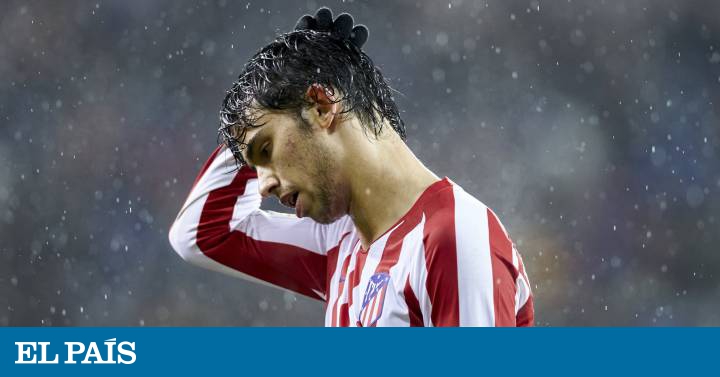 For Atlético de Madrid, the annual visit to Ipurua had always been a pleasure; Five trips, five wins. Neither Garitano first, nor Mendilibar later, had been able to blow Simeone's tooth, sharp fang trainer hard to crack. Eibar ceased to be Eibar when Atlético appeared through the gunsmith field. Or maybe it was the Eibar, and that's why, so transparent, it became the ideal model for the mattress team to deploy its resources. But this time it was Atlético who did not respond as usual, as if the five meters that the field has moved with the works of the last gallery had displaced them from minute one to ninety.

EIB
ATM

Eibar
Dmitrovic, Tejero, Esteban Burgos, José Ángel, Bigas, Pedro León (Cristóforo, min. 73), Inui, Orellana (Pablo De Blasis, min. 79), Edu Expósito, Sergio Álvarez and Sergi Enrich (Charles, min. 86) .
Athletic
Oblak, Savic, Santiago Arias, Felipe Monteiro, Saúl, Thomas, Héctor Herrera (Renan Augusto, min. 72), Vitolo (Óscar Clemente, min. 86), Correa, Morata and João Félix (Sergio Camello, min. 82).
1-0 min. 9: Esteban Burgos. 2-0 min. 89: Edu Expósito.
Jesus Gil Manzano
Esteban Burgos (min. 61),
Savic (min. 84) and
Saul (min. 58).
Stadium:Ipurua
It was a splendid morning in Eibar, with spring thermometers, but in the middle of the afternoon the valley of the Deba was covered with clouds and it started to rain. Non-stop. Atlético's day clouded over and the whole shower fell on the backs of their players, who lose rope with the head of the table. When football fails we must offer at least the same intensity as the rival, and this time it was not. The first part was already Eibar, which imposed its style. With the advanced defense, he hobbled the center of the athletic field. He squeezed when he should and eased the pressure at the right times, but he always went ahead of any visiting initiative. Duels always fell from the Barca side, from the beginning. With four minutes played he had already sent his first message an Eibar confident in his possibilities. Pedro León took a foul, which was poisoned. Oblak turned her into a corner when she sneaked in.
He did not learn the lesson Atlético, who was bleeding from his right wing, and in a corner kick that gave way on that side, the touch with the effect of Pedro León was extended by Enrich so that Esteban Burgos, on the second post, pushed the ball brand free. The assistant raised his pennant, but the VAR discovered two athletic defenses in the bilge. An improper failure of a team that boasts of its defensive strength. Eibar celebrated his deferred goal. It was the first goal of the Argentine center in LaLiga. Mendilibar has had to use him after many hours on the bench. He made his debut in Bilbao in the 20th minute against Athletic, due to Bigas' injury; He broke his nose in a clash with Raúl García and resisted until the end. Now play protected with a mask.
Without conviction
Everything remained the same for the next few minutes, with Eibar winning the disputes and a poor Athletic game, in which only Thomas, who was multiplying, seemed to make sense of his football. But with that it did not reach him to balance the situation or, of course, the result. He tried João Felix in a shot that Dmitrovic sent to the corner, and Correa in a header shot, but he lacked Atletico chicha. His game had no shaft. It was hard to link two or three passes in a row. Simeone's team had casualties, it's true, but it doesn't seem like a good excuse in front of an Eibar with half starting team out of action.
As he had to do, he squeezed Atlético after the break, but without too much conviction, and with just ideas. For a few minutes he put Eibar in his area, a situation that the armored team likes little. An occasion of Correa, after João Félix was left behind the ball, was the best attacking option of Simeone's. Nothing more, little baggage for a team that aspires to everything. Morata did not appear in attack.
The changes of Atlético, when Eibar was already beginning to recover its color, were significant. Simeone took hold of the quarry, Camel and Oscar, to spice up their attack, but they didn't fix anything. Moreover, when the clock reached 90 minutes, Eibar got the second goal, after a corner kick in which the ball fell to Edu Expósito, who from outside the area threw a tight and tight cucumber that did not reach Oblak .
As in the Metropolitan game, Eibar was ahead with two goals, but this time to win and score three points. Atlético came out wet and depressed from Ipurua. And away from LaLiga's head.
You can follow EL PAÍS Sports in Facebook, Twitter or subscribe here to the Newsletter.