Atlético feminina wins its first Super Cup against Levante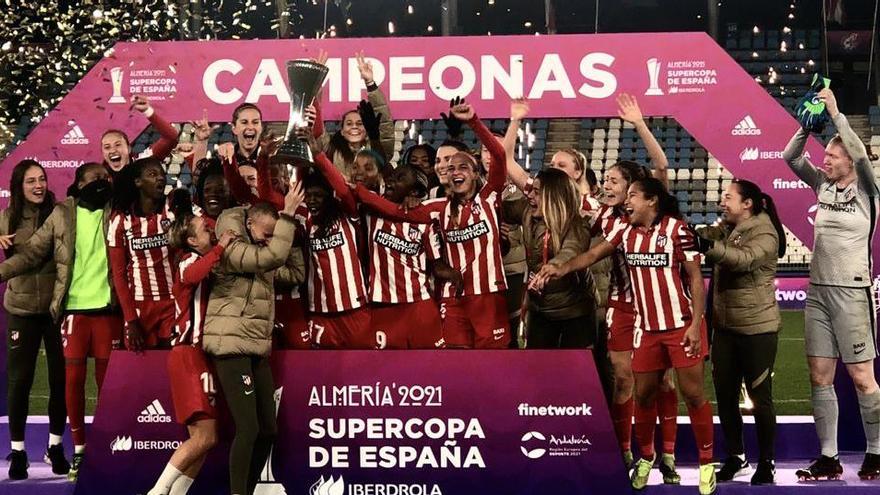 He Atlético de Madrid feminine won this Saturday with their first Super Cup after easily beating the I raised (0-3), in a final that from the beginning had red and white color, with the Madrid women showing very comfortable on the grass of the Mediterranean Games Stadium in Almería
It was the sixth minute when Leicy tested Paraluta. A little later Levante would react when Toletti sought to surprise Lindahl in a boarding school, running into the reaction of the Swede.
It was not yet the first twenty minutes when Deyna was ahead of the Madrid women, after a center from the right that the red-and-white soccer player finished off to break the Levantine lock.
Just a couple of minutes later, Tounkara, with his head, pierced the goal granota, but his goal was canceled due to a fault in the jump. But it was at minute 21 when Ajara, one of the winter reinforcements, did put the second. The Cameroonian received from the right side a pass from Ludmila and did not forgive.
It was so simple for the Madrid team that at half an hour the debutant Ajara signed the third, second of his private account, back to Ludmila's pass. The final was already practically sentenced.
From there and until the end of the meeting, Levante wanted to cut distances, but they found themselves again and again with the strong rojiblanca defense.
Data sheet
0 – Raise UD: Paraluta; Alharilla (Lucía Gómez, min. 88), María Méndez, Rocío Gálvez, Jucinara; Toletti, Zornoza, Irene (Banini, min. 61), Andonova (Alba Redondo, min. 61), Eva Navarro (Cometti, min. 81) and Esther.
3 – Atlético de Madrid: Lindahl; Guagni (Kazadi, min. 81), Alexandri, Tounkara, Van Dongen; Meseguer, Leicy (Diallo, min. 56); Ajara (Ajibade, min. 81), Deyna (Duggan, min. 67), Amanda (Knaak, min. 45), and Ludmila.
Goals: 0-1, min 18: Deyna; 0-2, min. 22: Ajara; 0-3, min. 31: Ajara.
Referee: Frías Acedo, from the Aragonese committee. Atletico Madrid admonished Diallo and Ajara.
Incidents: Final of the women's Super Cup played at the Estadio de los Juegos Mediterráneos (Almería).