Atlético fall to Feyenoord in a duel marked by the aggression and expulsion of Carrasco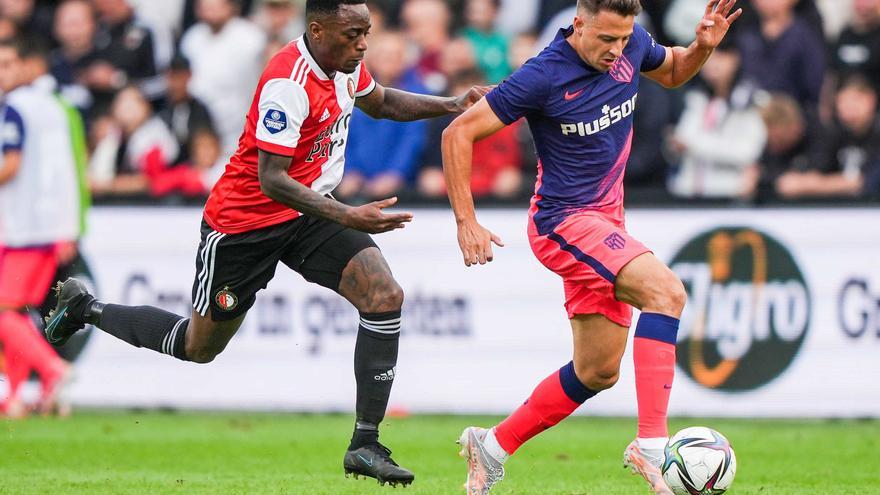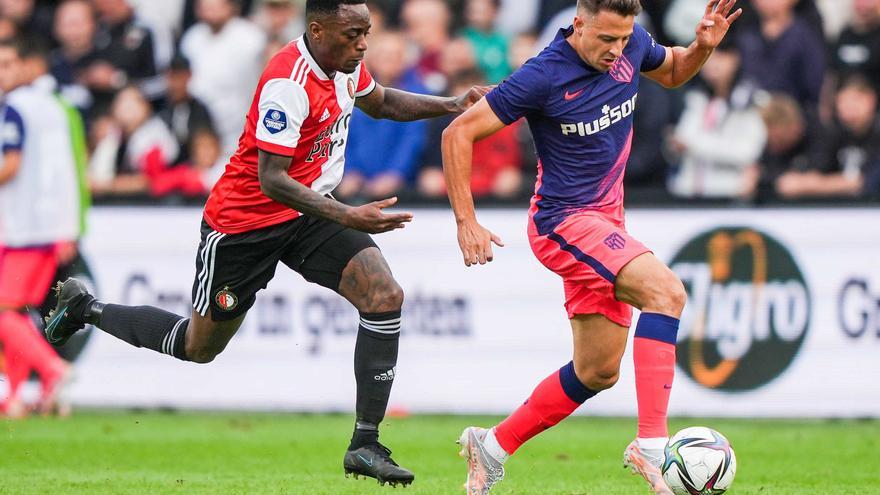 One week after entering the competition, the Atletico Madrid still looking to meet again, surpassed by him Feyenoord by physicality and by a goal in the last minute (2-1), without the firmness that he is used to behind and, above all, without the punch in attack that made him champion of the League, while he gets ready Luis Suarez, his most accurate scorer, and Ángel Correa maintains his streak.
When he already felt the tie was his, due to the definitive appearance of the Argentine '10', scorer at 1-1 in 83, a counterattack was culminated by Naoufal Bannis on the verge of the end, with Atlético outnumbered by the expulsion of Yannick Carrasco from 50 minutes before, he frustrated him with a defeat that was no longer expected.
The forcefulness always resonates in the speech of Diego Simeone (visibly outraged when the match ended with the referee Denis Highler, whom he addressed as soon as he whistled at the end, whom he pointed out several times and whom he reprimanded for a few seconds) and of his team as the most crucial element of all, in defense and attack, as the best sign of identity of the group that won the League last season, personified in a differential and decisive way in Luis Suárez, whose effectiveness is undeniable.
You don't have your '9' yet. And he notices it. Because, although Correa's 1-1 emerged later and beyond his numerical inferiority from minute 41, due to the expulsion of Yannick Carrasco with a direct red, when he turned on the ground in a bad way with Malacia, the Madrid team failed in the areas, but especially in the rival, where he forgave in the first half what was recently a goal.
The sequence of occasions of the first quarter of an hour evidenced it, with a few headers, with a series of corner kicks, with a couple of fantastic passes from Rodrigo De Paul and with a constant activity around Bijlow's goal that remained in nothing, of which the Feyenoord was remade suddenly, by demerit of Atlético.
It is not understood otherwise, even though the play rehearsed from the corner of the Dutch team was precise and conclusive, 1-0 against the 18th minute from his opponent, who benefited from Atlético's unthinkable permissiveness when in competition to connect a dozen touches, three decisive in the area, which led to Linssen's comfortable low shot, which beat Oblak.
It is true that he did not have Savic, his best defense of last season, who is already finishing his recovery from an injury and that he will be ready for Vigo, but also that there were two other starting centrals on the field (Mario Hermoso and José María Giménez, in addition to Nehuén Pérez) and that everything was caused by a short corner that the block did not even know about today in blue, overflowing without intuiting it in such a way.
Atlético was no longer bossy from the beginning. It didn't even look alike. But it is much better than Feyenoord, even with the difference in physical route between one team and the other – Feyenoord has already started to compete in the new 'Conference League – but then he missed the punch of Luis Suárez. It does not have Lemar, who was crossed by Biljow twice, nor Giménez, who headed against the crossbar.
Among the last chance for the French international, one of the four replaced at intermission, along with Koke, Marcos Llorente (both before their first meeting of this preseason) and Nehuén Pérez (the Argentine central defender has his future in the air), and the two previous occasions Carrasco was expelled: red in the 41st minute.
And there, already below in the physical, behind on the scoreboard, in numerical inferiority, due to a lot of readjustment of the team that Diego Simeone made from the bench, the game was already very different, while the changes occurred in the second act, among them Angel Correa, whose irruption in this preseason was conclusive.
With the Madrid team retracted, waiting for some counterattack, some set piece, some circumstance that would make it capable of having a chance, he had his, moments after one of Sergio Camello, and did not fail: he took advantage of a rejection, outlined and added the 1-1 with the right, like a pass to goal with which Atlético pointed to a tie that was not such later, with the 2-1 of Bannis, at edge of the end, no margin of response.
– Data sheet:
2 – Feyenoord: Bijlow; Pedersen (Hendriks, d. 60), Trauner (Haps, d. 46), Senesi (Burger, d. 60), Malacia; Jahanbakhsh, Toornstra (Hartjes, d. 60), Kokcu, Sinisterra; Til (Milambo, d. 60), Linssen (Antonucci, d. 60).
1 – Atlético de Madrid: Oblak; Carrasco, Nehuén (Vrsaljko, m. 46), Giménez (Manu Sánchez, m. 63), Hermoso, Saúl; De Paul (Arias, d. 58), Koke (Javi Serrano, d. 46), Lemar (Kondogbia, d. 46); Giuliano (Correa, m. 58), Marcos Llorente (Herrera, m. 46).
Goals: 1-0, m. 18: Linssen. 1-1, m. 83: Strap. 2-1, m. 93: Bannis.
Referee: Denis Highler. He sent off Yannick Carrasco with a direct red for Atlético de Madrid in the 41st minute. He admonished local Trauner (m. 45).
Stadium: friendly match played at the Kuip stadium in Rotterdam in front of some 30,000 spectators.