Athletic's future is in the 'Quinta de los Nicos': "Their mentality makes the difference"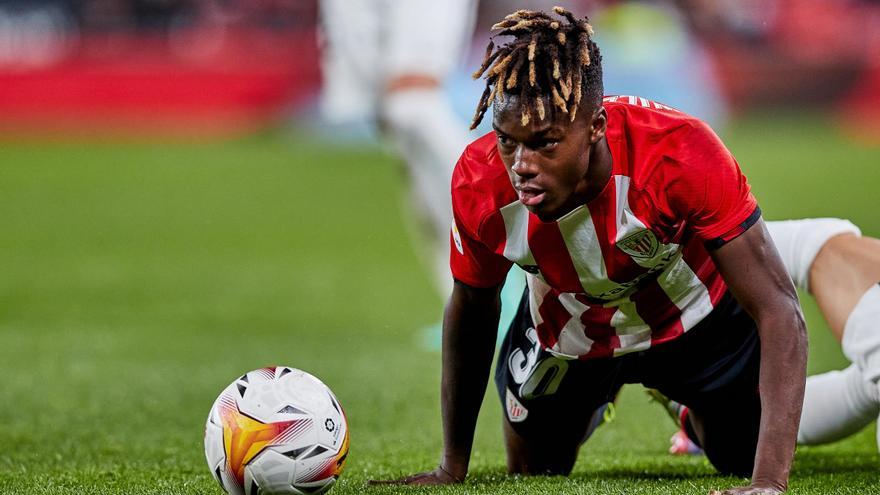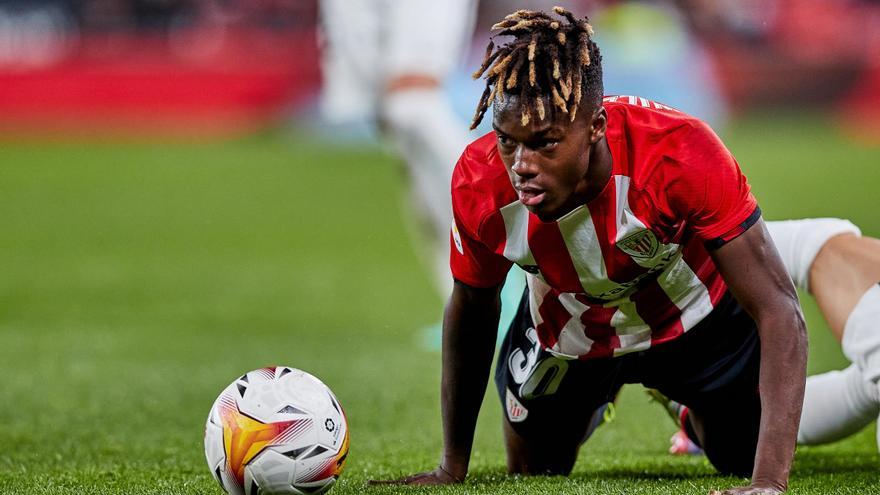 "When we decided to come to Athleticwe knew we had to change our chip. We had to make way for the young so that they were the future, because we are in a club whose characteristics force the quarry to be the focus of renewal and increase in the competitive level". Marcelino Garcia Toral spoke like that a few weeks ago how he and his assistants faced the challenge of training Athletic just over a year ago, as published The Newspaper of Spain.
His reputation, fair or not, was never that of a coach who bet excessively on the academy, but rather that of an effective achiever of results. But Athletic, you know, is different in many aspects and above all it is in its commitment to give way to the talents that are forged in Lezama.
Barely 12 months after his arrival, the Bilbao team enjoys the rise and consolidation of one of the best litter of recent times. could well be called the 'Fifth of the Nicos', referring to Williams (19 years old) and Serrano (18), the youngest of the seven boys who already have a leading role in Marcelino's plans. Together with them, Oihan Sancet (21), Julen Agirrezabala (21), Dani Vivian (22), Unai Vencedor (21) and Oier Zarraga (23) embody the renewal of Athletic.
"What characterizes all of them is their winning mentalitywhich is basic to make the jump to First. When we returned to Lezama, we immediately realized that there was a lot of potential in that generation, we had to give them continuity but also demand the most from them. I have trained them all and I know that they are competitors on a day-to-day basis, in each training session", he analyzes Joseph Etxeberria for The Newspaper of Spain.
The legendary former player, the third player who has played the most matches with Athletic (after Iribar and Rojo), was coach of Bilbao Athletic, the rojiblanco subsidiary, in the 2019/20 and 2020/21 seasons, which allows him to analyze with full knowledge of cause to each of the seven players who have made the leap to the first team in the last year.
Oihan Sancet
"He is the best of this generation and the best player I have trained", sentences Etxeberria. Interior during his training, Marcelino has placed him as a striker in his immovable 4-4-2. His adaptation was not easy the first few months, but after that time he has stood out as a differential footballer, reaching his peak until the moment in the triplet he achieved against Osasuna in the first game of 2022.
His progression was marked by an injury to the crusader that he suffered when he was 18 years old and Eduardo Berizzo was already counting on him to add minutes in the elite. "He Paralyzed his projection and caused it to take a little longer than expected to arrive, but is that it is a starI was going to do it sooner or later," says his former coach.
This season he has already added around a thousand minutes and four goals, exhibiting a great technical repertoire: "And He hasn't even shown 50% of what he is yet.. At 1.88 meters, he has coordination with both legs, an ease in turning, in orienting himself... He plays very fluently in three-quarters, which is not easy at all, but he finds solutions in very difficult situations because technically he is very good ".
Unai Winner
The Biscayan midfielder is the one with the most experience of all (44 games), since with Gaizka Garitano he began to gain a foothold important. The departure of the Beñat, Iturraspe, San José and Mikel Rico, players who dominated Athletic's midfield for almost a decade, opened up an opportunity for him that he has known how to take advantage of.
"He has always offered feeling of having more ground and experience of which his age says, since he came to Lezama from Santutxu as a youth", Etxeberria comments on the player who has the most stripes as the undisputed starter (for now) of this generation, almost always accompanied by a Dani García with whom complements each other perfectly.
His characteristics are those of the classic positional midfielder: "He has aggressiveness despite not being corpulent and it has adapted very well to the speeds of Primera. He has the ability to make the rest play, with a very high precision in short and long passes and that is a guarantee for a demarcation as specific as his."
Dani Vivian
Yeray's loss at the beginning of the season and Marcelino's waning confidence in Núñez gave him the opportunity to start for Athletic after a year in the military at Mirandés. Only an injury took him out of the lineups and now he has returned to them. His participation is a guarantee of success for his team: He has not lost any of the 12 games he has played, something that has not happened at Athletic with a player for 90 yearsaccording to the 'Adurizpedia' account.
"An example for everyone. It was clear to him since he was a child that he wanted to be a footballer. Being from Vitoria, he went to Bilbao every day to train with Santutxu and that tells you a lot about him," says his former coach in Lezama (he also directed him in Basconia, second rojiblanco subsidiary, in the 16/17 season), about a boy who last year, on loan in Miranda, received captain's stripes at just 20 years old.
"He is a very strong boy, very fast, with a lot of concentration for how young he was and still is. He always chooses well and has great power in the open field. We know that modern centrals need something more, but it has the main thing. And he is also a player who enjoys defending a lot, which is something vital for a centre-back", continues Etxeberria.
Nick Williams
Etxeberria spoke at the beginning of this report about the mentality and in the case of the youngest of the Williams, he stops to tell a key point in his training: "He came from scoring only six goals in the youth team and we worked with him to change his mentality, he couldn't settle for overflowing and giving assists, which he does because he has quality and speed. He had to score goals, because he also has a good shot with both legs. Despite it being his first year in the subsidiary, we gave him the responsibility of shooting penalties for that. She had to be more forceful in the scoring mentality, because that was what they were going to ask her for in the elite."
Said and done, Nico has been progressing in this facet and in this month of January he has scored his first three goals with the Athletic shirt, one of them the one that gave the Bilbao team the pass to the Super Cup final. Actions that have made him advance from a clear revulsive to fight with Álex Berenguer for ownership on the right flank of the attack.
He also enjoys the advantage of having the reference and experience of his brother Iñaki, "who will help him but will also be the one who will demand the most from him", according to 'Etxebe', who predicts that the youngest of the Williams "is called to mark a very important page in the club".
Julen Agirrezabala
Marcelino had to start the season with the absence of Unai Simón, on vacation after chaining the European Championship and the Olympic Games, and instead of betting on the second goalkeeper, Jokin Ezkieta, he decided to give Agirrezabala the alternative, despite being 20 years old at the time , already 21. His performances convinced and strengthened him as an alternative of guarantees.
During the season, Agirrezabala plays with the reserve team, but plays as a starter in the Cup and enters the call-ups for matches during the week, when Bilbao Athletic does not compete. All this so that he can continue to accumulate minutes of experience, with an imaginative formula that has allowed him to complete six games with the first team, conceding seven goals and without notable errors, following in the footsteps of Kepa, Remiro and Simón.
His profile as a goalkeeper is traced by Etxeberria: "For a lot, he has very good reflexes, he responds very well under the sticks. In training, in short games, he shows a reaction speed that is on another level, we saw it from the first day he arrived in Lezama. In addition, because of the way he is, he transmits a lot of calm to his defenses, which is something that makes you a better goalkeeper ".
Oier Zarraga
He is the oldest of this fifth (23 years), with a slower cooking than Williams or Serrano, and also the one that has been in the Lezama structure the longest, since he was 10 years old, in the juvenile category. An injury to Vencedor has given him more prominence in the last month of competition, establishing himself as a good alternative, with the ability to play as a midfielder and also to lie down on a band.
"He is the underdog of this generation, he always has been, climbing in the different categories of Lezama without making much noise," says who was his coach in the subsidiary. An injury left him without a leading role in the second half of last season, but now Marcelino has him, after releasing Unai López in the summer.
"Despite being an interior, he is very fast and that, added to the driving he does, allows him to overcome lines very easily. Although he is introverted, very quiet and polite, he has a lot of character and when he is training and playing he goes with everything ", defines Etxeberria.
Nico Serrano
The last to break down the door of the first team is also the youngest of all, just 18 years old. His first league start was resolved on Saturday with Athletic's winning goal in Vallecas, a magnificent cross shot inside the area. Pointed out since he was a child, Villarreal incorporated him from Pamplona at the age of 12 and at 15, Athletic paid 300,000 euros for his services.
This month, Marcelino gave the go-ahead to the departure of Jon Morcillo to Valladolid, relying on him as a replacement for Iker Muniain on the left wing of the attack. "His best virtue of him is that everything he does is to do damage. Even a backwards pass, because he knows that the next one is going to be forward. He has a lot of goalscoring instinct and a great strike," says Etxeberria about him. .
The former international also points out that still has to develop physically and that, therefore, fans should have patience with him. Mentally, on the other hand, he defines him as a boy "with very clear ideas and a well-furnished head".
The next?
The accumulation of young soccer players in Athletic's first team is causing the performance of its subsidiary is not that of past seasons. Currently, it is in the relegation zone in the First RFEF and it looks like it will be difficult to save the category.
However, there are footballers with the ability to make the leap and Etxeberria specifically points to three: "The two full-backs of the generation of 2000, Álvaro Núñez (right) and Imanol García de Albéniz (left, currently on loan at Mirandés), are full-backs modern, very offensive and technically very good. In situations where someone else feels pressured, they look for very easy solutions". The third is Beñat Prados, a year younger than them, "a midfielder with spectacular ball handling."