Athletic neutralizes Granada's comeback and saves a draw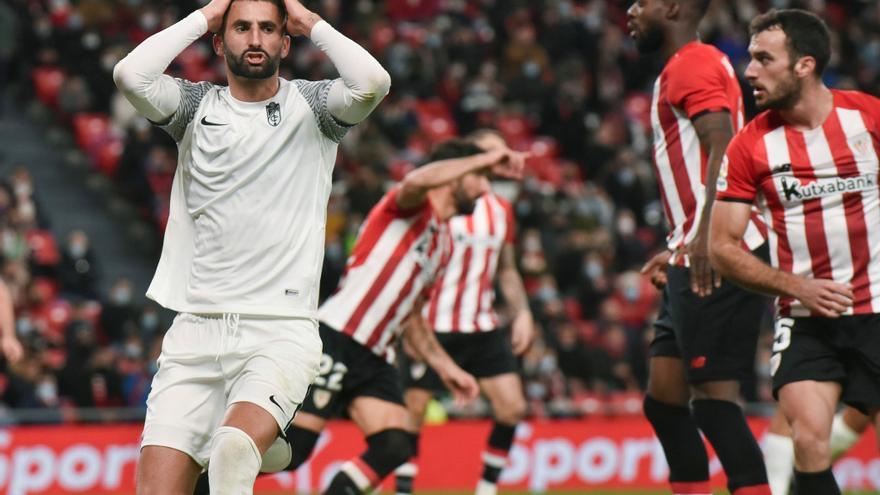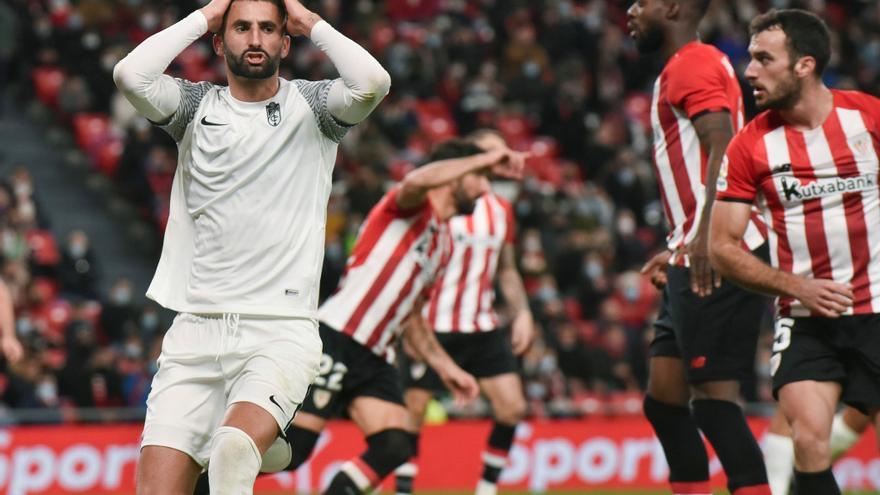 The Athletic and the Granada they tied at two goals in a crazy game in San Mamés, a clash that the locals soon opened with a bit of Raul Garcia, the Venezuelan came back before the break Darwin Machís and Jorge Molina, and Luis Maximiano tied, at own door, with Iker Muniain to the side, threatening.
With this result, Athletic is close to three points in Europe and Granada is one away from relegation.
With the surprise of the substitution of Iñaki Williams, and a little less that of Berenguer, Athletic soon faced the game in a ready play by Muniain, who stole a ball in a pass from Montoro at the ball exit visitor and yielded to Raúl García to cross at pleasure before Maximiano.
The Bilbao team wasted that stroke of fortune in a game that was something forced before their fans after the disappointing last two games.
The grenade and Machís gave a timid warning After that first goal and in the first play with options that were presented to him, the Venezuelan winger tied the game in his style. Facing his peer, Lekue, and crossing the shot to overtake Unai Simón.
The Nasrid set was animated, which He insisted again with Machís and Molina and scored 1-2 after half an hour. It was after an error in the local chain born of a dangerous loss by Muniain in a corner in favor and ended with an involuntary touch from Dani García that not only enabled a Jorge Molina in clear offside, but also assisted him to beat turn to Simon on his way out.
It seemed that Granada could extend distances before the break, but Athletic recovered and arrived twice in danger. But neither Sancet, who did not connect his header well, nor especially Raúl, who did not hook a good center to the near post of Nico Williams as he should.
Despite your need, it took the locals to create danger in the second part. And the first to do so was Raúl García, who hit the crossbar with a distant shot with which he sought to surprise Maximiano.
With Iñaki Williams on the pitch, neither his brother Nico nor Raúl were able to hit a good cross from the left on goal.
But the presence of the eldest of the Williamses became important and through him came tie two. An even more unfortunate play than Athletic's at 1-2. Raúl García prolonged an aerial duel, Iñaki touched the ball towards the visitor's goal before the departure of Maximiano, Torrente slipped when he went to get the ball under sticks and the Portuguese goal, with Muniain at his side, introduced the ball into his own goal when trying to avoid it.
It was the continuation of a final rojiblanco siege that Zarraga had started shortly before with a strong shot well stopped by the Portuguese goalkeeper.
After the tie Muniain had two occasions, but in both Maximiano was firm, that, despite the action of 2-2, signed a good game. First, a header and then a shot from the rojiblanco captain.
In a game that lasted 105 and a half minutes, there was still time for a dangerous foul for Granada and a red for Íñigo Martínez in that play, in which Yeray took a shot from Abram under the sticks.
Data sheet:
2 – Athletic: Unai Simon; Lekue, Yeray, Íñigo Martínez, Balenziaga (Petxarroman, m.76); Nico Williams, Winner, Dani García (Zarraga, m.59), Muniain; Sancet (Iñaki Williams, m.59) and Raúl García.
2 – Granada: Maximiano; Quini, Germán (Abram, m.45), Torrente, Escudero; Gonalons, Montoro, Rochina (Yan Eteki, m.65), Machís (Carlos Neva, m.53); Luis Suárez and Jorge Molina.
Goals: 1-0, m.10: Raúl García. 1-1, m.25: Machís. 1-2, m.34: Jorge Molina. 2-2, m.76: Maximiano, own goal.
Referee: Adrián Cordero Vega (Cantabrian Committee). He sent off Íñigo Martínez with a direct red card in the 99th minute. In addition, he showed a yellow card to Athletic's second coach, Rubén Uría (m.54), Zarraga (m.62) and the visitor Montoro (m.39).
Incidents: Match of the fifteenth day of the First Division, played in San Mamés before 32,651 spectators. Before the game, a mosaic throughout the stands dyed San Mamés purple on the occasion of the International Day Against Violence Against Women.