Athletic crushes Cádiz like a steamroller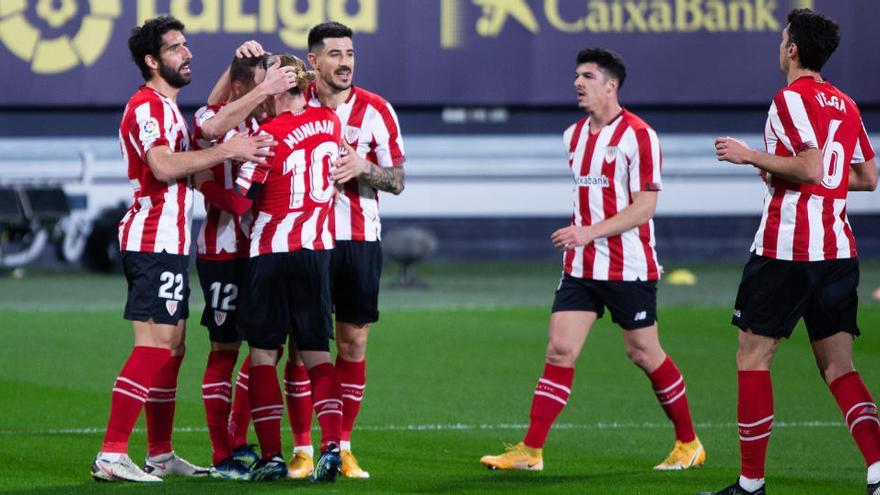 The Athletic Club de Bilbao beat the Cadiz 0-4 at the Carranza stadium with two goals from Álex Berenguer, one from Unai López and another from Iñaki Williams, in an encounter marked by the huge visitor superiority before a group from Cádiz that was very touched and lacked the ability to react.
Following this result, the Athletic is in tenth position with 28 points and he wins again in the league competition twenty days later, after his last triumph against Getafe, accompanying this win to his triumphal cycle in the Cup and the Super Cup. The Cádiz conceded its fourth consecutive defeat and is dangerously close to the queue positions, in a league stretch to forget with fifteen goals conceded in those four games.
Athletic came out like a cyclone in the first half and after four minutes he scored the first goal, after Iñaki Williams left Berenguer, who scored at mid-height after dribbling Pedro Alcalá with a pipe included. Cádiz, who still have not scored in the second round, conceded the second goal in the 14th minute in a direct free kick masterfully scored by Unai López from 23 meters.
Athletic followed his own, sweeping Cádiz in all game concepts, and scored the third goal at the stroke of half an hour, after a precise dispatch from Iker Muniain to Berenguer, who faced the Argentine Jeremías Conan Ledesma and beat him with a beautiful Vaseline. In the 35th minute, Berenguer was able to score again on an error by Ledesma, but his strong shot went high.
Shortly after starting the second half, Athletic scored the fourth, after a long send from the defense to which Williams ran like crazy, to step on the local area and score low (m.51). Álvaro Cervera, Cádiz coach, was not happy at all with his pupils and had already made four changes at half-time. One of the novelties, the Serbian Ivan Saponjic, put the international Unai Simón to the test, who took his shot with great reflexes (m.74).
Athletic lowered his offensive intensity in the second half, although not for this reason the attack flow of Marcelino's men was lacking to score the fifth, which could have come in plays by López (m.67), Muniain (m.68), Asier Villalibre (m.73) and again Muniain (m.82).
Data sheet
0 – Cadiz: Ledesma; Iza Carcelén (Martín, m.85), Cala, Alcalá, Espino; Fali, Garrido, Perea (Jairo, m.46), Salvi (Alejo, m.46); Lozano (Sobrino, m.46) and Negredo (Saponjic, m.46).
4 – Athletic: Simon; Capa (Lekue, m.78), Núñez, Yeray, Yuri; Vesga, Unai López (Winner, m.75), Berenguer (Ibai, m.78), Muniain; Raúl García (Morcillo, m.65) and Williams (Villalibre, m.65).
Goals: 0-1, M.4: Berenguer. 0-2, M.14: Unai López. 0-3, M.28: Berenguer. 0-4, M.51: Williams.
Referee: Hernández Hernández (Committee of Las Palmas). He admonished the locals Cala, Saponjic and Fali, and the visitors Núñez and Vesga.
Incidents: Match of matchday 23 played at the Ramón de Carranza stadium without an audience. A minute's silence was observed in memory of the former director of Cádiz Alfonso Jiménez.