Athletic Club knocks out Granada in the last breath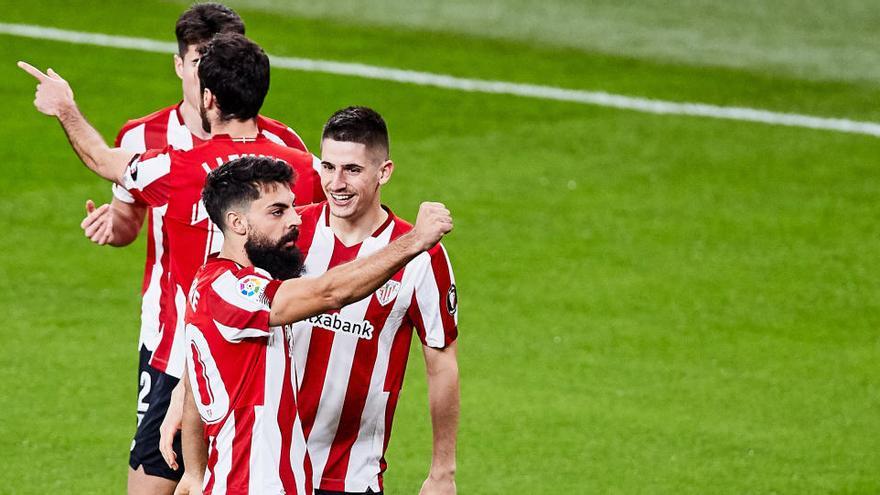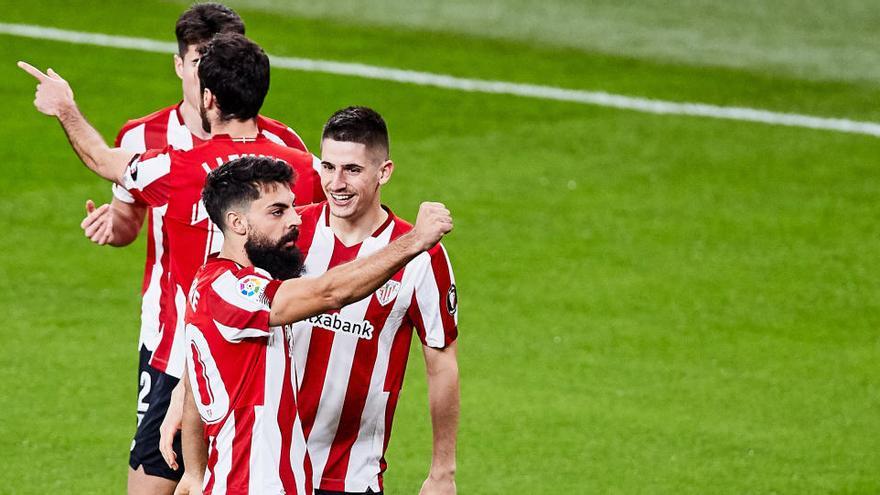 The Athletic was imposed by 2-1 to the grenade grenadein San Mamés in a clash in which both the Bilbao team and Alex Berenguer, who scored the goal of the discount victory, They showed that they are still sweet by transferring to LaLiga the agonizing joys that he was chaining in the Cup tournaments in the last weeks.
The Navarrese arrived in the winter market from Torino hooked a spectacular low angle shot to the near post who beat Rui Silva in the 91st minute to give Athletic the three points that it seemed to have almost assured since Asier Villalibre's 1-0 at two and a half minutes of play and that Jorge Molina had put into question with the tie at one at minute 78.
It was one more demonstration that this Athletic is irreducible and that with the arrival of Marcelino García Toral to his bench he seems to be touched by a magic wand.
With this 2-1 in addition, in addition, the Basque team rises to the eighth place in the table, that it snatches precisely from Granada, which it ties at 33 points, and directs the siege to some European positions that remain at 6 points, the sixth place, or 4, if finally the seventh, as usually happens, gives a continental ticket.
With two alignments almost unrecognizable for what they usually are in both teams, with nine changes with respect to the Cup for Athletic and eight losses for Granada, the game started entertaining.
Especially for the Athletic fans, who saw how their younger 'lions' made the first goal quickly. Somewhat precious from Villalibre, after turning to Germán, born in a dispute that Nuñez won over Domingo Quina.
The international center-back opened Morcillo, who continued to Sancet and the latter to a Villalibre that cleared Germán's doubts as to whether he was left-handed or right-handed. He is left-handed and with his left foot he crossed before Rui Silva.
The clash continued alive and dynamic and always heeled towards the visiting goal, before which, however, the young local forward lacked a bit of finesse to make more chances in actions of Villalibre, Nuñez, Lekue, this after a play from area to area that ended with a centered shot and Morcillo, who did not take advantage of a superiority counter near the break.
Before that last option, the meeting had already been gradually balancing out. Although Granada also showed the lack of edge of the premises in promising plays by Montoro, Jorge Molina and Antonio Puertas.
The second half began similarly, but the plays in the areas did not materialize on occasions either. Neither a shot from Ibai that was cleared by a defender nor a shot by Duarte from one of the many corners that the visitors forced
The game fell asleep somewhat despite the slight Nasrid insistence and did not activate until the first changes of the second half arrived. More specifically those of Athletic.
Just jump onto the pitch Raúl enabled Villalibre, but the one from Gernika did not decide to finish off and ended up losing space and angle.
At the kickoff of that corner, a new chance for Buffalo and Kenedy's demolition of Vencedor inside the area. Penalty thrown by Raúl García and stopped by Rui Silva in a great intervention next to the right post of his goal.
He missed his opportunity to sentence Athletic and Granada took advantage of his. A crossed ball that reaches Antonio Puertas, who gets rid of Capa and centers the small area so that Jorge Molina heads at pleasure 1-1.
The game seemed to die when, in one of Morcillo's many runs down the left, Berenguer hit a spectacular near-angle shot at the near post that beat a surprised Rui Silva.
It was the 91st minute, the discount, a time in which Athletic believes like no one else.
Well, things did not end there because Jorge Molina, in 93, had the opportunity to tie the match again. But he was deflected by a shot in good position, although slightly rushed by the local defense.
Data sheet:
2 – Athletic: Unai Simon; Capa, Nuñez (Yeray, m.46), Balenziaga, Lekue (Berenguer, m.84); Ibai (De Marcos, m.69), Dani García, Vencedor, Morcillo; Sancet (Raúl García, m.69) and Villalibre (Williams, m.77).
1 – Granada: Rui Silva; Foulquier, Germán, Domingos Duarte, Quini (Víctor Díaz, m.46); Montoro (Yan Eteki, m.86), Yangel Herrera; Antonio Puertas (Adrián Marín, m.82), Domingos Quina (Soldier, m.60), Fede Vico (Kenedy, m.60); and Jorge Molina.
Goals: 1-0, m.3: Villalibre. 1-1, m.78: Jorge Molina. 2-1, m.91: Berenguer.
Referee: Juan Martínez Munuera (Valencian Committee). He showed a yellow card to the locals Dani García (m.28) and Vencedor (m.68) and to the visitor Yangel Herrera (m.58).
VAR referee: Antonio Mateu Lahoz (Valencian Committee).
Incidents: Match day 25 played in San Mamés behind closed doors.