At what age should children learn business and financial concepts? | Talent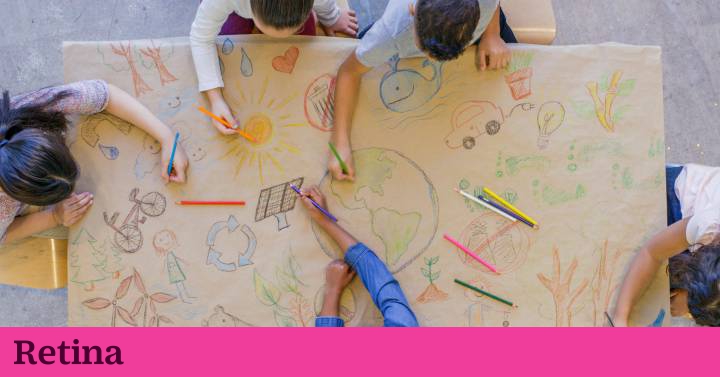 Children entrepreneurs who manage their finances. Sounds like an antithesis, to little ones who prepare the VAT invoices of their Lego, who make the declaration of the income of their payments and their expenses in sweets and look for the best mortgage for their dollhouse. Joining childhood with business and finance may sound weird but there are more and more educational centers that design subjects to train entrepreneurial children and a great international unanimity that promotes that training in finance begins as soon as possible. But let's go step by step. For starters, there are important differences between teaching children to manage their finances and training them in business matters.
Spain is below the average among OECD countries in financial training for children and adolescents: 22% of 16-year-old Spanish youth do not reach the basic level of financial education, according to the latest results published by the PISA report . That is to say, once the compulsory education is over and having the age to work, young people do not know how to manage their income, make the income statement or do not differentiate between a loan and a credit. In general, there is consensus that this situation can harm the economic development of citizens.
Just a few weeks ago, Patricia Casado, commercial director of the collective investment platform of Investor Partners, assured in an interview that this knowledge must be instilled from an early age. "In order to make decisions you need to have basic knowledge. A stronger financial culture would have helped to cope with the crisis (of 2008) and would have affected many people differently. Anyone should be able to interpret their finances and know how to keep their accounts." .
This argument is reinforced by various studies and international organizations such as UNICEF, which, in their report Social and financial education for children, explains the importance of children acquiring this training and proposes different measures to stimulate it. The work, carried out jointly by Aflatoun and the UNICEF Education Section, concludes that "promoting financial education in children and young people is essential to ensure a population that is capable of making informed decisions." And he continues: "Providing this kind of knowledge is an important component in the transition from childhood to adulthood and the training of financially responsible citizens."
Along the same lines, the OECD, in its report Improving Financial Literacy, maintains that the lack of financial education makes individuals and families "more prone to indebtedness and bankruptcy." He also defends the position that "financial education should begin at school: citizens should be educated about financial matters as soon as possible." But how do you do it? When is the right time?
One of the reasons behind the lack of current training in finance is that, in general, in public schools or institutes there is barely room for this matter. The inclusion of this type of training occurs mainly in private centers or through external initiatives. This is what happens with Junior Achievement, which teaches programs in educational centers of all autonomous communities through professional volunteers and teachers, with the aim of training children and young people in three pillars: financial education, entrepreneurship and career guidance.
"It seems daring to go to school with these issues, usually considered adults," acknowledges Francesco Vanni d'Archirafi, president of Junior Achievement. "But children have a lot of potential and, with the appropriate methodology and adapted to age, we can get them to develop their sense of responsibility, financial management, critical sense and decision-making capacity." Vanni d'Archirafi defends that at an early age the plasticity of the brain (its ability to adapt and assimilate information) allows faster and deeper learning.
It seems that the key is how these concepts are taught. "The skills we teach children are the same as the older ones. We teach programs from childhood to university, the difference is in how these contents are given." For children, non-cognitive skills are stimulated, that is, those that are not related to the acquisition of theoretical knowledge. The dynamics of play and learning by doing become allies to get children to grow familiar with those concepts and have more knowledge when they have to manage their finances.
The debate is served when we talk about teaching children subjects related to entrepreneurship and business concepts. Are they not too small? The Junior Achievement approach focuses on teaching children skills such as the postponement of reward, perseverance and autonomy. "We have carried out a study to analyze the impact of our programs on students and we see that perseverance levels and 24% improve their mentality of development, that is, their belief that effort is the variable that gives them it will allow you to achieve your goals, "explains Vanni d'Archirafi, who relates these skills to the ability to be autonomous and undertake.
In other centers, business training is more evident but is specifically designed for secondary school students. This is what happens with the San Francisco de Paula International College, in Seville. It is a private and foreign center – as happens, for example, with the Lyceum – which gives them total freedom to design their teaching programs. As part of them, they include career guidance electives; a startup day, in which they develop small business projects and make a pitch to present them; and even an internship program in companies for those who have finished ESO, which brings students closer to learn how to do a resume or a first job interview.
"They go through a selection process like any other worker. What we want is for them to acquire skills and experience how they feel when they pass an interview or not and the rest of the process," explains Luis Rey, director of the center. During the practices, which last two weeks, the tutor evaluates them according to specific criteria: adaptability, punctuality, collaboration or initiative. The idea is that at the end of the training, young people have "capacity for autonomy, a basic knowledge of the functioning of the world and to manage the resources they have," explains Rey. "That they are aware that money does not grow on trees and that things are not there for them to take them comfortably whenever they want." The baccalaureate is not only conceived as preparation for the University, but also as preparation for the professional world.
A report of the European Commission supports this conception, even in children between three and 12 years. The document is intended as a guide that describes the basic needs to train entrepreneurs in entrepreneurship so that teachers can design programs to apply to their students. "With the Action Plan on Entrepreneurship 2020 and the Communication "Rethinking Education", the European Commission has insisted on the need to incorporate entrepreneurial learning in all sectors of education, "reads the report." Both documents urge Member States to provide all young people a practical experience of entrepreneurship before completing compulsory education. "But qualifies:" it is not necessary for entrepreneurship to be a specific subject: it would rather be a way of teaching in which learning based on experience and achievement of projects have an important role. "
. (tagsToTranslate) age (t) must (t) learn (t) child (t) business concept (t) financial (t) time (t) have (t) center (t) design (t) subject ( t) train (t) entrepreneur (t) unanimity (t) international (t) promote (t) training (t) finance (t) start



Source link