At least five injured by a fire at Yedá AVE station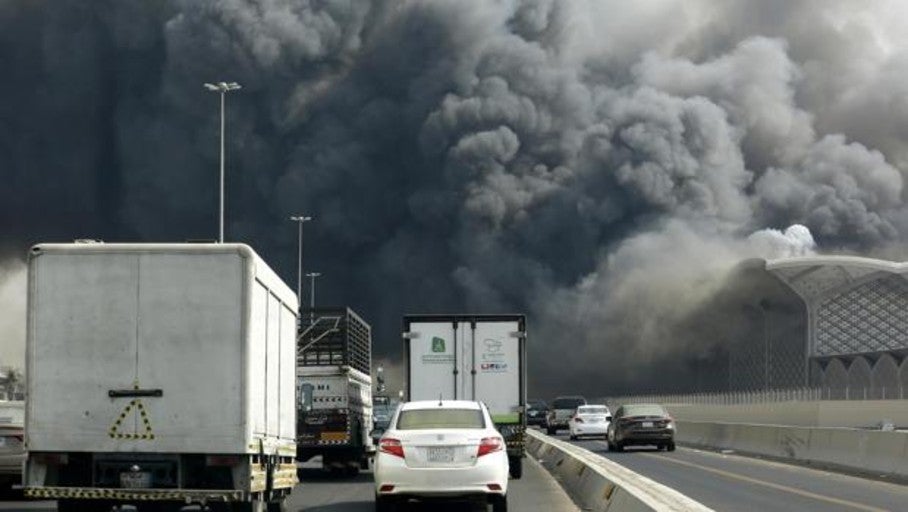 Updated:
Five people have had to receive medical attention as a result of a declared fire at the high-speed train station of the Saudi coastal city of Yedá, as reported by the authorities.
The fire has caused a dense column of smoke still visible four hours later of the beginning of the fire, at 12.35 p.m. (11.35 p.m., Spanish peninsular time), as reported by Saudi public television Al Ejbariya.
Cash of Civil Protection deployed to fight fire with the support of aerial means, with what they have managed to control much of the fire.
Five people were transferred to a hospital, as reported by the official Twitter account of the Mecca region, which highlights that there are 16 sanitary equipment present in the place. Al Ejbariya has reported that up to four people have been treated in the immediate vicinity of the station.
The Via Haramain or AVE of the Desert adds 450 kilometers and joins the Saudi holy cities of Mecca and Medina with the city of Yedá, in the Red Sea. It was opened in 2018 after an investment of 6.7 billion euros from a contest that won a Spanish consortium.
Company statement
From the organization, on the other hand, they have issued a statement trying to clarify the causes of the fire and have indicated that they are «Gathering information» about it.
«Our disposition is maximum to collaborate with the Saudi authorities and Civil Defense in everything that is in our hands and they consider necessary to prevent personal injury. We remind you that the station of Jeddah, unlike that of Medina and KAEC, is not being managed at this stage of the operation by Al Shoula Consortium (ASC), since work is still pending on the termination and adaptation of various stations. We reiterate, however, Our maximum willingness to cooperate to restore normalcy as soon as possible. We will continue to inform by the usual channels of communication of ASC », they refer.
. (tagsToTranslate) yeda (t) fire



Source link