Astou Ndour returns to the National Team together with Maite Cazorla and Leonor Rodríguez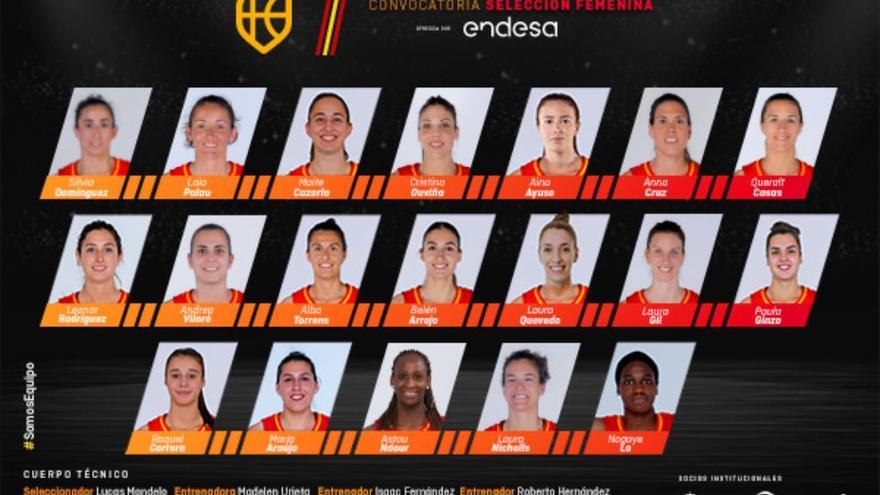 Astou Ndour He puts on the national team shirt again. The MVP of the last European Championship returns to a call from Lucas Mondelo to prepare the national team for the Tokyo Olympics and EuroBasket2021. He is joined by the call of the Hispanic-Senegalese Leonor Rodríguez and Maite CazorlaTherefore, the Canarian representation in the Spanish first team is quite large.
After Ndour took time off and did not go to the Pre-olympic in which Spain got its ticket for the Tokyo Games, which were finally suspended by the coronavirus, Mondelo once again has its best bastion on the track. The player formed in the ranks of CB Islas Canarias will travel to L'Alquería to enter the bubble organized by the FEB (Spanish Basketball Federation) and begin planning the Games and the European next summer, in which Spain is already classified as an organizing country.
Along with the pivot, the Canarian duo of Perfumerías Avenida, Maite Cazorla and Leonor Rodríguez, also attend the call. The base also returns to the National Team after the 'impasse' of the Pre-Olympic, to which 'Magic Leo' did attend and who hopes to continue on the path of Mondelo's calls to attend their second Games.
In addition to the concentration in L'Alquería, it is planned that the summoned will dispute a friendly match between them on November 12 at 7:20 p.m. and will be broadcast by Teledeporte.
The complete list of the call is made up of:
Silvia Domínguez, Laia Palau, Cris Ouviña, Anna Cruz, Queralt Casas and Andrea Vilaró, Alba Torrens, Laura Gil, Astou Ndour, Laura Nicholls, Maite Cazorla, Leo Rodríguez, Belén Arrojo, Paula Ginzo, María Araujo and Nogaye Lo, Laura Quevedo , Aina Ayuso and Raquel Carrera. To which we should add María Conde, who is injured and has recently undergone surgery.