Astou Ndour, pivot and activist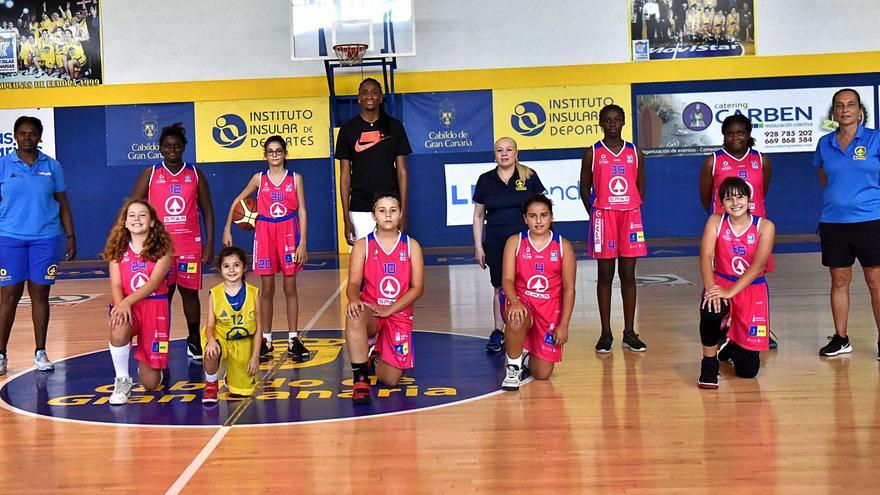 Astou Ndour is back in Gran Canaria to spend a few days with his other "parents", Domingo Díaz and Begoña Santana, after closing a season in the WNBA shaken by two major social issues: the Covid-19 health crisis and the movement against racial discrimination started in the wake of the death of George Floyd, suffocated during a police arrest in Minneapolis. The motto Black Lives Matter [Las vidas negras importan] it flooded the United States and also the major professional leagues.
"Nobody is born being a racist. From the beginning you have to educate in equality"
"It has been a pride. We have a players association. Whatever happens, talk first. Every time we are going to do something, we talk about it beforehand through the association, where we are 144 players. We expose our ideas, people take what they have in their hearts and we decide what we are going to do, we propose and value it. The truth is, I think it has served a lot because there have always been pacts. I think they have listened to us and that changes will come ", explains Astou Ndour, who this year played for the Dallas Wings in the best league in the world, which was played in a bubble at the IMG Academy in Florida.
The Bucks break
The Milwaukee Bucks decided to stop the NBA competition when a police officer shot, up to seven times in the back, an African-American citizen Jacob Blake in Minneapolis. A decision to which they later joined, in a dominated effect the rest of the professional leagues: baseball, soccer …
"Not even my own colleagues understand what is happening. If the judicial or police system always fails in this way towards the same side, how is a country going to advance? They don't get it. We are in 2020 … These events happen and children grow up with these images in their heads. Suddenly that happens and you don't know how to react. Everything can change in a second, "says the Spanish-Senegalese, MVP of the last European Championship.
A racism that Astou Ndour has touched. More before than now. At least, more explicit, although difficult to understand when he landed in Spain. "Since I didn't know much, I didn't understand it, I didn't get it right when they said something to me. It didn't affect me. You grow up with it and you still don't understand it. When you are a girl, you don't notice it and it doesn't affect you either ", specifies one of the best talents that has come out of La Paterna.
In the WNBA bubble, Astou Ndour enjoyed it despite everything. "They were locked up for two and a half months, with tests almost every day. It was the only way to do this league, with prevention and hygiene. We ate separately, there were a lot of cleaning staff everywhere: courts, rooms, common areas. Of everything. It is different, because you do not feel free. A sacrifice, but basketball is our passion and I've really enjoyed it ", he says.
After a difficult season due to a knee injury, the pandemic caught him in Russia where he played for Dynamo Kursk. "Physically I have finished saturated, but also mentally", she explains.
Astou Ndour transformed his foundation into a food bank for his community
And all with a look at Dakar with its Foundation. "I want to give future generations a good future. I want them not to go through what others of my generation went through, so that they can play sports, have facilities and means to practice it. It came out like this to be able to help them ", he specifies. During the most difficult months of confinement, Astou Ndour transformed his foundation into a food bank for his community. "I was there for three months and there was no one on the street, but it is very difficult to do that because people have to make a living, survive … They are small houses with many people and many mouths," he says.
Now he is rushing his last days of vacation before leaving for Turkey to start the season at Hatay. "Next summer there will be Olympics and Eurobasket. It will be a very important year for me and I would like to get to those appointments ", he points out. For now, generations who dream of emulating Ndour, pivot and activist, have been steeped in La Paterna.