Asean, the pending journey towards the future epicenter of the world economy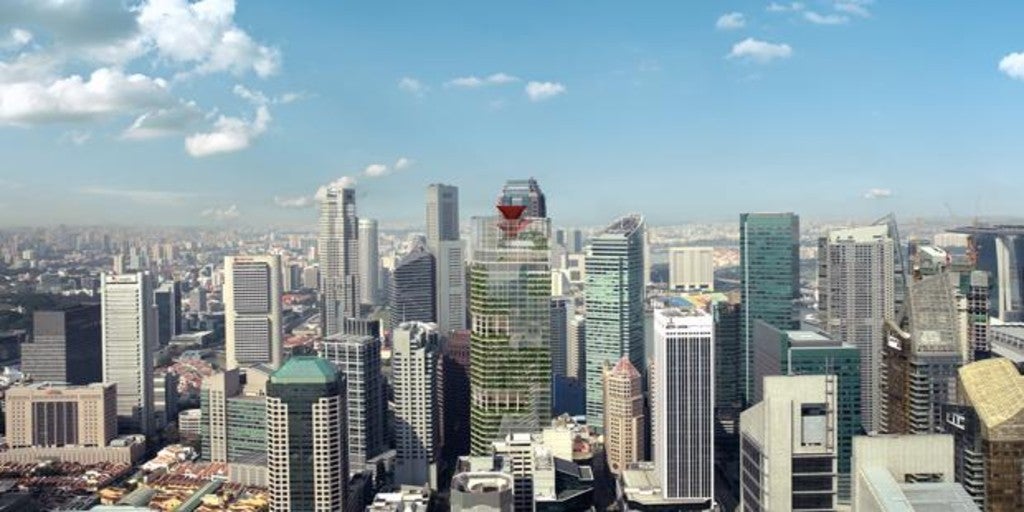 MADRID
Updated:
save

A great unknown. And a gigantic opportunity barely explored by Spanish companies. With the world economic focus placed on China, and very close to Japan and India, the countries that make up the Association of Southeast Asian Nations (Asean) They add a commercial appeal that has not gone unnoticed by companies around the world. "Southeast Asia is the most dynamic region in the world in economic terms. And the ten Asean countries form the third largest market, with 650 million inhabitants (more than the EU), and the fifth world economy in terms of wealth, with a GDP of almost three trillion dollars ", he explains Antonio Bonet, President of the Club of Spanish Exporters and Investors. As highlighted in "Economic Relations between Europe, China and Asean", a recent and comprehensive HSBC report prepared by ESADEgeo, the Asean countries (Malaysia, Indonesia, Brunei, Vietnam, Cambodia, Laos, Burma, Singapore, Thailand and the Philippines ) also coincide, and despite their heterogeneity, in their interest in increasing the integration of their economies, deepening the liberalization of strategic sectors and reducing trade barriers.
The report also states that Asean already it is a key market for the EU. The community bloc is its third largest trading partner, behind only China and the US (the exchange of goods totaled 237 billion in 2017, with a negative balance of 43.2 billion for the EU). It is also the main investor in the region (337,000 million in 2017). However, Spain's presence is more than modest: 3,586 million exported in 2018 (1.3% of the total), compared to imports of just over 9,000. The reduced investment stock totaled 2,375 million in 2017.
"There are important companies there, such as Repsol, Indra or Técnicas Reunidas, But despite being one of the fastest growing areas in the world, we still do not have a large presence. It should be borne in mind that Latin America and Europe still account for 80% of our business relationships. Perhaps we need bigger multinationals, like the North American or the German ones, that will drag and facilitate the work to the smallest ones in other markets ", he argues Tomás González, president of the Spain-Asean Business Association (Asempea) and director of International Expansion of the Idom company.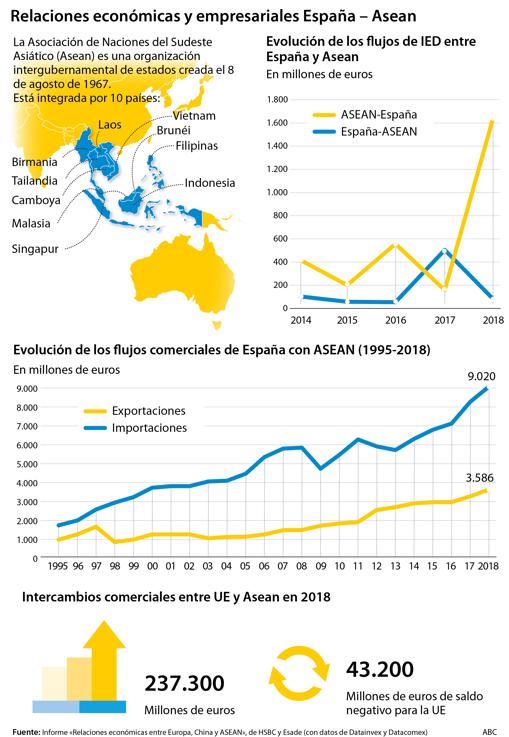 But the Covid outbreak forces to change scripts and expand horizons. "The geographical diversification of our international activity is now more important than ever to compensate for the drop in demand in our most important export and investment markets. And here Southeast Asia can play a key role, "explains Bonet. A region that, until now, «has managed to minimize the impact of Covid and it foresees a faster recovery than other regions ", explain sources of CEOE.
Due to the great differences between its members, "The region offers opportunities for practically all goods, services and investment sectors", Bonet stresses. Agri-food is a very attractive sector, especially for companies prepared to respond to the demands of halal products. Renewable energies, innovation, housing construction, tourism, training, infrastructure and waste management are other cross-cutting niches for most of the countries in the region, according to CEOE.
Varied dishes
«Talking about Asean is like doing it about Spanish gastronomy. There are very different dishes, but they are all good. Indonesia, for example, is a very important market, with 270 million inhabitants and great growth. In the Philippines, private groups (many with Spanish origins, which works in our favor) are perfectly comparable to any large multinational. They move in those parameters. And that in countries like Thailand is not easy to find. However, in states such as Malaysia everything is very procedural and there is a lot of support for commercial activity, "says González.
Despite its small size, Singapore, at the forefront of global innovation, is another key market. A free trade agreement with the EU, in force since November "has eliminated all tariffs on European products and facilitates the entry of investment," says Bonet. In the absence of a global pact between the two blocks, trade barriers are falling. Another EU-Vietnam agreement, ratified in February, will mean the elimination of 99% of tariffs on European products. And by the end of the year another similar agreement with Indonesia was expected to be closed.
To land in the area with guarantees, "Spanish companies must carry out a market analysis to identify the most suitable country or countries for their activity," explains Bonet. From CEOE agree that "It is necessary to be physically present in the region to serve the client and learn about the peculiarities of each country." But the president of Asempea insists that "it is not a complicated market. Finding a local partner helps a lot, even if it's not always easy to do. And, against China, Asean may be a counterpoint. Not being so powerful, with these countries you can negotiate better, more from you to you. We are looked upon with more affection than in countries that are already on a pedestal, and that set their rules. In any case, our companies must export sophistication and innovation. It is very difficult to compete in commodities and for price ».
The opportunity is visible, but there is still a long way to go before it is at hand. "Some of the measures that would boost our presence would be greater public-private collaboration, promoting a greater exchange of visits and high-level meetings that help to know in depth the opportunities offered by Asean and a greater institutional presence in the region," they claim. from CEOE. «Except for Singapore, the rest of the countries do not appear in the Trade promotion plans. It is a whiting that bites its tail. As they are little known markets, companies do not demand them and little investment is made in them. I know that resources are limited, but support is precisely important in an area where we are inferior and that everyone points to as the future epicenter of the world economy, "González said. The journey, full of possibilities, has only just begun.
Tigers in the shade
The long Chinese shadow forces Asian tigers to promote their integration, as explained by Javier Solana, president of EsadeGeo, in the recent presentation of the HSBC report. "Neighbors like China or Japan are complicated travel companions for the Asean countries, and so they would like to have an ability to relate to them from a more collective and coordinated perspective. It is true that this attempt is tinged by its bilateral relations with China. There are countries with an intense relationship with China and others who would like to have it, but not only with it, "explained the former minister. A difficult balance in which Washington also has its role. "USA. It is encouraging companies and institutions where it has weight to move away from the Chinese world. And, for example, Indonesia has already opened a special program to attract these companies, "reveals González.