As a family and without leaving the islands, the plan of politicians in summer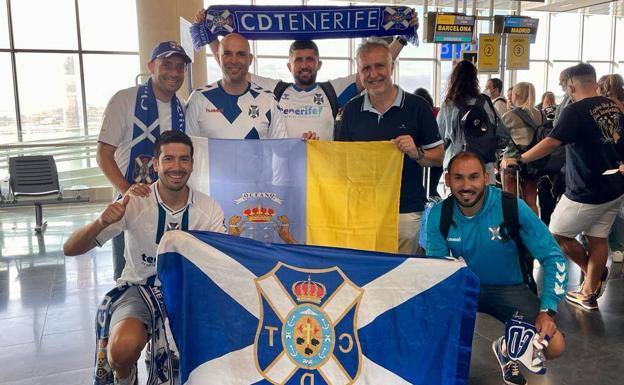 Neither exotic trips, nor risky activities, nor tour the geography following the festival agenda...
What do Canarian politicians spend their free time doing? Well, resting and spending time with the family is their main plan, which they will mostly enjoy without leaving the archipelago and with Lanzarote as their favorite destination.
Though
the goal is to relaxwill continue to be aware of their responsibilities and current affairs.
The phone It will remain as an appendage to your body whether you are in the hammock, fishing rod in hand or enjoying reading a bill.
Eight days is the average vacation that public leaders will take, although they will resume a
lighter agenda during this month of August with evenings and weekends off.
Lanzarote is the most common destination of those who decide to change the island on these days of rest and none of the interviewees intend to go abroad. Neither are the parents of the Canarian homeland for physical activity. only the counselor
Elena Máñez signs up for surfing.
The President of the Government, Ángel Víctor Torreswill take a few days off after visiting
Pedro Sanchez in
Lanzarote. With a young son, his greatest aspiration in the summer is to spend as much time as possible with him, although he also likes to work in his vegetable garden
Zumacal.
Pending
official actswill be like every year at the party of
Candelaria Y
will accompany CD Tenerife to the Vatican, where they will be received by the pope. The president is 'cookies' and will probably prepare some of his best dishes, such as fideuá.
Interest in gastronomy

Also known is the passion for the cuisine of the
leader of the Canarian Coalition, José Miguel Barragán. More adventurous than Torres, he promises to experiment with new recipes for family and friends to try.
Your summer tour arrives
from Gran Tarajal to Corralejo and the island of Lobos. Listening to music, watching 'films' or reading -not only literature but work texts- will complete your leisure time, as well as
prepare for the next political year.
Counselor Noemí Santana, in a file photo in Las Canteras. /

arcadio suarez

Studying "some bills» will be one of the summer activities of the
CC deputy, María Fernández. Just arrived at the Congress, she wants to catch up, but she will look for opportunities to jump around different islands and enjoy their beaches and their
gastronomy.
The head of Social Rights, Noemí Santana, will also give an account of the delicious things that are eaten in the Canary Islands. He will spend a few days in Lanzarote where he hopes to enjoy delicacies such as
a fish sandwich at Casa Ginory.
With the mobile nearby "in case you have to fly away", you will take the opportunity to "recharge batteries". She will count on the family for this, which lends her a hand with her son.
Among his pending books is 'The Underground Railroad', by Colson Whitehead since he loves, he says, the lives of extraordinary women.
Family

The main plan of
Vice President Roman Rodriguez it is "family, family and family". With some friends she has scheduled six days in
Asturias and Cantabria to "walk, eat well and read and rest physically because it is more difficult psychically."
after, and
without losing sight of public and party affairs, will spend a few days in Tenerife. Although summer "is well invented", he comments, it seems "very long" to him and he is in favor of dividing vacations.
Also to the north of the peninsula, in this case to
Galiciathe leader of
Canary Coalition, Fernando Clavijo, with the family. He will remain "only a few days" before returning to the archipelago where he will dedicate himself to preparing for the intense political year that is expected.
In the islands

The Minister of Employment, Elena Máñez, is the most intrepid of the Government. The 12 days that he will spend in Lanzarote will be dedicated to
surf and to "search the sea" with his camera, which always accompanies him on his travels.
The Minister of Tourism, Yaiza Castilla, divides her summer between La Gomera and the Algarve. /

c7

For its part,
the head of Tourism, Yaiza Castillayou will enjoy a week in
La Gomera. The
calvary beachin San Sebastian, stroll through
The Cedar "to decompress" or the
Candelaria festivities in Chipude are their summer rituals. The second week is reserved for friends.
This year he will travel to
Algarve where, incidentally, he will be interested "in what the competition does."
Homemade declares
the person in charge of Ecological Transition. Jose Antonio Valbuena will try to spare one or two weeks "depending on the volume of work" and
his intention is not to leave Tenerife and, probably, neither of the Lagoon.
In the image, Poli Suárez in the south of Gran Canaria. /

c7

In the same circumstance is
the leader of the PP, Manuel Domínguezwho went to Lanzarote for five days before "returning to the pit", although he has been in
la Rama and will be in Cala de Cotillo.
The rest of the time he will be in Tenerife and will take the opportunity to be with family, friends or play sports, which he will combine with meetings in September.
Their
'number two' in the PP, Poli Suárezhave a plan
rural vacation without leaving Gran Canaria:
Moya and Artenara and, of course, you will attend your appointment with
San Bartolomé in Fontanales.
enjoy the grandchildren

And although it may seem incredible, the most remembered vacations of the
Minister of Public Administrations, Julio Pérezare precisely in Gran Canaria, his wife's native island.
In Maspalomas and Playa del Inglés he spent the holidays when his children were small and he wants to enjoy this island again "without commitments in between".
For now, the next ten days will be dedicated to his grandchildren in Tenerife. "It's the first time they've come without their parents and I'm training." Swimming pool, cinema, burger...
what is said exercise of grandfather.
always football

The
President of the Parliament, Gustavo Matos, is a recognized fan of Real Madrid and he will dedicate his free time to this passion. Watching football will be his great activity this summer, whether in
the gracefulwhere he will spend a few days, or in La Laguna.
Archive image of Anselmo Pestana in a photo by Carlos Aciego.

Relaxed and making plans with his family, he hopes to spend the
Government delegate, Anselmo Pestanathe scarce ten days that he will free in August.
Latin America, the pending destination

Cultural proximity, landscapes or gastronomy are aspects of South America that attract the attention of Canarian politicians.
Román Rodríguez remembers as one of his best trips -along with Syria- a "very intense" month touring Argentina that allowed him "to get closer to the history, culture and people of this country." Slope has Colombia and Southeast Asia.
South America is also the destination to visit for Poli Suàrez. He would love to get to know Chile and among his most enjoyed trips are Florence and Porto.
A fan of photography, Elena Máñez aspires to get to know Cuba and portray its "fantastic landscapes" while enjoying "good music".
Although "all" have been his best vacations, he especially remembers the ones he lived when his son was little at Eurodisney: "exhausting but to remember for living the illusion through his gaze."
Also in South America, in this case in Venezuela, are the childhood memories of Manuel Domínguez (PP), a country to which he would like to return.