Artificial intelligence joins the fire department | Innovation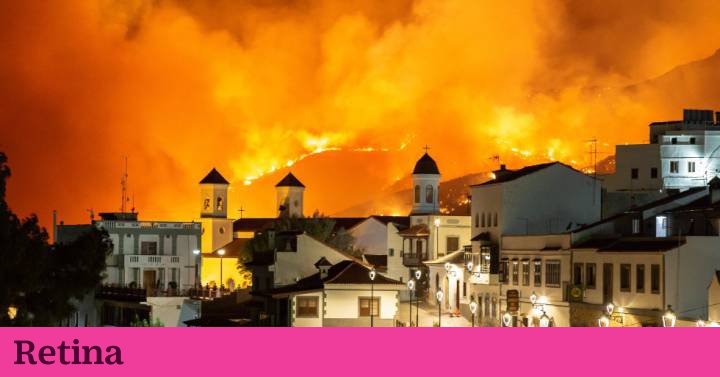 The climate crisis was this. More than 55,000 hectares razed by fire so far this year in Spain, according to data from the Ministry of Agriculture. And it can only increase with devastating fires like these days on the island of Gran Canaria and the Sierra de Guadarrama. The flames have taken ahead an extension similar to that of a country like Singapore. Behind these numbers do not start adding zeros are always the extinction services. Services that recently they have incorporated new troops that do not load hoses or step on the scorched earth. Artificial intelligence, among other technologies, has been enlisted in firefighters.
Watson, the artificial intelligence of IBM, has found its place among the flames thanks to the Portuguese company Compta. Its fire detection, combat and prediction software, called Bee2FireDetection, has incorporated it in order to improve its performance. "As we do not face the same things as a decade ago, the same thing happens with fire. Now the fires are stronger, worse. They occur at all times of the year, not only in summer, "explains Vasco Correia, head of Compta business, while remembering that the best prevention would be not to have to resort to these artificial beings.
Precisely, one of the fields where this technology has shown the greatest help is in fire predictions. With the introduction of data, such as relative air humidity, earth temperature and wind direction, the algorithm works the necessary magic and estimates a percentage of risk. This same information also acquires great value to determine the spread of the flames, even to detect them at their most incipient moment. "We train Watson to distinguish a fire from what is not. Drones help us a lot in this regard. Thermal and spectrometry cameras are also very valuable tools, "Correia adds.
When forests become fire, there is little doubt that what we witness there is a forest fire. This is the obvious natural disaster. To avoid this catastrophe as much as possible, artificial intelligence must perfectly recognize the slightest glimpse of a flame or smoke that puts its sense as a firefighter on alert. You cannot run into false positives or false negatives. "It is the worst thing that can happen to us. Among millions of images, cameras and their own learning, Watson is increasingly effective, "says the head of Compta about his software, which they use in Brazil and Portugal.
While Bee2FireDetection reaches more countries, including Spain, Watson is not always the technological solution available for firefighting services. Its troops are somewhat smaller, although not worse. In the case of the Community of Madrid, mobile telephony will be a great ally against fire. As Antonio Crespo, emergency officer of the Community fire department, argues, adapt the smartphones Radio communications – what they are working on right now – will make their work easier. "Monitor firefighters, transmit in real time, position the troops … they open a wide range of advantages as soon as we exceed the current technology systems (known as TETRA), whose limit will not exceed 10 years," he adds.
Crespo would love to have artificial intelligence among his teammates, but the plans, for the moment, are on another digital path. This is the case of three-dimensional cartography to determine the exact location of both the fire and the seals. Until recently, their maps didn't even let you know if the flames were near a ravine or there was a house around. "With the help of TomTom Systems, forest areas also have the same accuracy as urban areas. Before they were only large green spots, "he said while announcing that next year he will have drones to take 3D images of more inaccessible places.
The digitization progresses little by little among the fire brigades, although the fire does not give truce. Watson has become a containment dam capable of anticipating some disasters. On its own, it also cannot extinguish outbreaks and outbreaks of burned hectares. Even less when technology does not reach everywhere equally. "Two years ago our fire team realized that we had to change the solutions we provided," concludes Correia. The time has come for the seals not only to be present on the ground. The most artificial will gather data and information, they will even try to learn, so you don't have to regret so many ashes.
. (tagsToTranslate) artificial intelligence (t) (t) add (t) body (t) firefighter (t) company (t) Portuguese (t) Portuguese (t) compta (t) incorporate (t) watson (t) ibm ( t) software (t) bee2firedetection (t) detect (t) combat (t) predict (t) forest fire (t)



Source link