Artenara turns against sexist violence with solidarity masks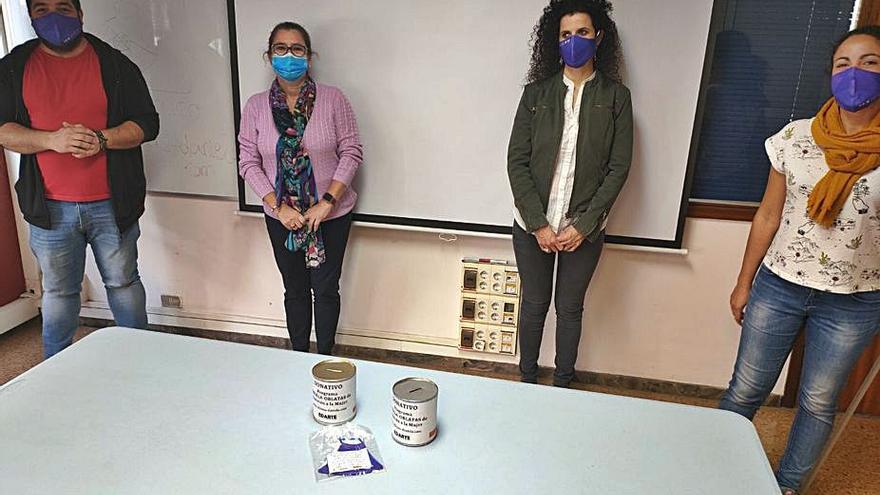 Members of the Daniela Oblatas program of comprehensive care for women, received yesterday the collection of the piggy banks with the money obtained by the Artenara Business Association (Edarte) and the Department of Equality of the Municipality of the municipality, through the Prevention and Prevention Service Attention to Women and Minors Victims of Gender Violence, for the delivery to the public of 100 reusable masks approved and manufactured in Spain, with a unique design, in commemoration of November 25, International Day against Violence against Women. The people who participated made a donation at Autoservicio Tamadaba and Supermercado Udaco Artenara.
Asunción Bartolomé, director of the Daniela Oblatas program, thanked them for remembering the women "with whom we work and make a joint journey." He also thanked the help, but more than that, "the sensitivity and commitment to a reality that is not seen, but that exists." For her part, Elena Díaz, a gender violence technician at the Artenara City Council, pointed out that the Artenara Council and Edarte jointly carried out the project "for the design of specific masks for November 25 that were bought and distributed in the town supermarket to that the people who wanted to collaborate with the cause made a donation that we would later allocate to Oblates. We created the campaign, publicized it and distributed masks that contain messages in their bag with specific information about how Daniela works, about sexual exploitation and trafficking ".
Miqueas Sánchez, president of the Artenara Business Association, highlighted that this is the second action for the International Day for the Eradication of Violence against Women. "Last year we assumed the cost of creating ties, under the same dynamics, with an informative and awareness-raising message against violence. We wanted people to place the visible loop on their car, either on the antenna or the rear-view mirror, and stay there over time to emphasize that it is not a one-off but constant fight. We believe that it is a way for the Artenara companies, which are a very small family, to give visibility with optimal strategies. The fact this year offering the mask in exchange for a donation creates a bond of taking and giving something in return that is different and more conscientious than free delivery ".
It is about actions among the citizens of the people. According to Sánchez, "we understand that in rural areas slow and conscientious work is needed to educate the population about the reality and the different types of gender violence, not just physical. From the Service for Prevention and Attention to Women and Minors Victims of Violence, people in the area are cared for so that they have access to information in this regard ". "We must support this social work because we know that it is one of the few urgent and that is why we seek to make it better valued.
Díaz emphasizes that "we try to make people see that certain situations should not be normalized, that there are times when violence appears." Begoña Vera, a member of Oblata adds that "we want to open our eyes also to men about the fact that prostitution and trafficking, in short, sexual exploitation, enter the field of sexist violence. We think it's very good that Artenara has included us in the mask project to highlight our mission that seeks to prevent such abuse and to dignify and give visibility to the women with whom we work ". "At Artenara we want rural men to know that going to the brothel is not a social action but rather an exploitation of women."