Art, luxury and money meet again in Maastrich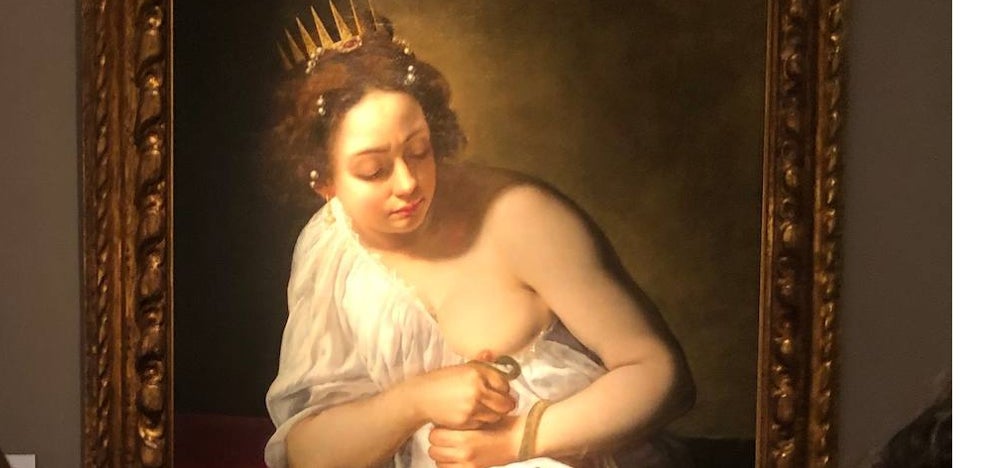 A De Chirico for 12 million euros and a portrait by Artemisia Gentileschi for 7.5, among the most expensive pieces at TEFAF / The great Fine Arts and Antiques fair recovers its pulse with an overwhelming offer that covers 7,000 years
Art, luxury and money have been going hand in hand for centuries. Now they meet again at TEFAF (Fair Europe of Fine Arts), the most important art, antiques and jewelery fair in the world. Galleries, dealers and collectors meet again in the city of Maastricht, in the south of the Netherlands. In its 35th edition, TEFAF recovers a certain normality and all the enthusiasm after the pandemic and getting around the crisis, changing March for June and with a seven-day edition instead of eleven but with an overwhelming offer that covers seven millennia.
It offers more than 20,000 pieces, from ancient Egyptian figures to canvases by Goya, Picasso, De Chirico, Gentileschi, Cubert or Miró at prices suitable for very solvent pockets. Among the most expensive, a De Chirico for 12 million euros, a fabulous self-portrait by Artemisa Gentileschi for 7.5 million or two Goya canvases for six million. There are many pieces for over or around a million euros by authors such as Morales, Ribera, Lucas Jordán, Munch, Miró or Baskiat. Another star is a Van Gogh that is not for sale and that receives thousands of visitors in the lobby.
Giorg de Chirico fabric painted on the side of the sides /

ml

With art as a refuge value in times of crisis, and without the powerful Russian buyers, outside the circuit due to the sanctions against the Putin regime, its organizers know that the sales figures can be unbeatable in Maastricht, the world capital of the art market Until June 30th. In addition to its offer, the fair is unrivaled in scope and relevance, with 242 galleries -five Spanish- and antique dealers from 20 countries. "There's a buzz of excitement about this return to the real world," says director Hidde va Seggelen.
TEFAF welcomes this year's fair to the Boijmans van Beuningen Museum. It presents in the hall 'Poplars near Nuenen', a canvas by Vincent van Gogh from 1885 whose restoration, sponsored by the fair, will be carried out for the public in its original museum. It is a dark landscape of the Dutch stage that in the market would exceed 25 million euros.
Like a magnet, 'Il Ritorno del figlio prodigo' ('The Return of the Prodigal Son') by Giorgio De Chirico (1888–1978), an oil on canvas painted on both sides from 1924, attracted the camera and the gaze, and for which the gallery owner asked for 12 million euros. Next to him a Picabia of 1.1 million and a Marí Blanchard of 600,000 euros.
The Swiss gallery Jean-Francois Heim offered for 7.5 million a self-portrait of the Italian Artemisia Gentileschi, a pioneer in portraying empowered women and protagonists and with penalties work on the market. In this work the artist portrays herself as 'Cleopatra on her deathbed'. Painted around 1620, its attribution is recent and belongs to a private Belgian collection.
Sleeping

Christopher Bishop Fine Art, from New York, offered an appetizing 'sleeper' rediscovered by the gallery owner, a drawing Jan Lievens that sells for 1.4 million euros. It turned up in 2020 in a small room in Massachusetts, where it was advertised as a drawing of "an unidentified gentleman" dated 1652. His estimate was just over $200, but Bishop would end up paying half a million for the drawing that had been missing since 1888. It is the 'Portrait of Admiral Maarten Harpertszoon Tromp' copied throughout history and is one of the most appreciated prints in the Netherlands
Drawing by Jan Lieves. /

rc

The Spanish

The offer of Spanish gallery owners is first class. The Madrilenian Caylus offers for 6.2 million the superb 'Portrait of Juan López de Robredo', chamber embroiderer of Carlos IV, painted by Francisco de Goya between 1798-1799, one of his best periods as a portraitist. He waits for offers for this Goya that can travel to any country, but as soon as it opened he sold the 'Virgen de la Leche', by Luis de Morales for 1.5 million. Alonso Cano, a genius of the Spanish Baroque, has a Saint Francis of Assisi for 180,000 euros.
'Portrait of Juan López de Robredo', by Goya /

RC

"Perhaps it is easier to sell a Goya for six million than a piece for 3,000 euros," said Enrique G. Calderón, a gallery owner who called for "the need for the Mcenzago Law in Spain." Next to it, the British Stair St. Gallery offered two other 'goyas', one early, 'Adoración de la Cruz', and another very late, 'San Pablo', for 2.3 million and 6 million euros.
Artur Ramon, from Barcelona, ​​is offering 'Portrait of Thor Lütken', an early work by Edvard Munch, painted in 1892, one year before 'The Scream' for less than a million euros. He alternates his offer of archaeological pieces with contemporary art, with a 1996 Barceló, 'Des citron cupupés', for 750,000 euros. He also has a lurra from Chilida for 175,000 and a little Sorolla for 90,000 euros.
'Portrait of Thor Lütken', an early work by Edvard Munch. /

CR

In the veteran Colnaghi Gallery, founded in 1760 and with offices in Madrid, London and New York, shines 'The Triumph of Galatea', a large-format mythological scene by the Neapolitan Luca Giordano. Dated in 1675, the oil comes from a Venetian collection, and is for sale for 1.1 million euros. For 800,000 it is possible to acquire a San Jan Batiststa by José de Ribera.
Pieces by Chillida and Barcelo in the Artur Ramon gallery. /

ML

Mayoral, also from Barcelona, ​​competes with paintings, drawings and sculptures by Miró, Picasso, Dalí, Tàpies and Chillida. In his selection, three pieces worth around one million euos stand out: 'Cuadro 26', an arpillera by Manuel Millares, dated between 1957-1958; 'Femme entourée d'un couple des oiseaux', a watercolor by Joan Miró from 1964, and 'Gris amb tres ratlles roses', where Antoni Tàpies' and from the same year.